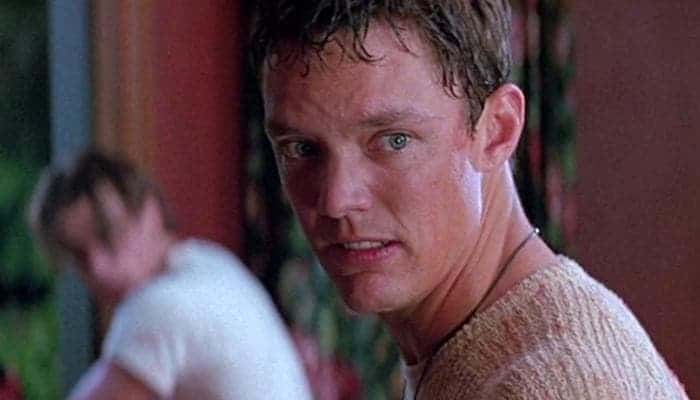 Sometimes 'the internet doesn't know enough about what it wants, and the mere mention of Stu Macher from the original Scream movie, and his current status, is one of those desires that might end up biting a lot of people in the end if they continue to push for the inclusion of Stu into yet another Scream. At this point, it almost feels like a foregone conclusion that the next movie would be made, unfortunately, but the fact that Billy Loomis managed to get a young woman pregnant before his death, in high school no less, is disturbing enough. But to think that Stu might have been around, perhaps in a coma, in jail, or something similar is enough to make a person shake their head while rolling their eyes and blowing out a breath of frustration before uttering a groan of irritation. Yes, it's that bad. The fact that anyone would think that Stu might be alive after the massive amount of blood loss and then having a TV not just dropped, but thrown onto his head is proof that Scream fans aren't interested in realism any longer.
Anyone that wants to use the argument that Stu's death wasn't announced or shown in graphic detail is the type of person that isn't going to be convinced of anything until it reaches out and slaps them since the implication isn't proof and blah, blah, blah. There is an argument to be made for not seeing the killer dead and assuming that they might survive. But here's the trick, the human body can take a lot of damage and keep going, but let's tally up what happened to Stu and why it should be impossible for him to return for another Scream movie. As I mentioned, he'd been cut badly enough that he was bleeding to death, since clotting wasn't going to save this guy in a miraculous sort of way and he didn't have a healing factor since the tenets of Scream stretch belief, they don't break it entirely. Then there's the idea of having a TV thrown on your head. Let me take a breath before I go on.
Between the blunt force trauma, the possible damage from glass shards, and the obvious danger of electrocution (sparks were shown and it's possible that Stu might have come into contact with a live wire), there's not a lot of hope for Stu at that point. Plus, keep in mind that paramedics didn't reach the house that quickly, meaning that he was lying there, still bleeding, still suffering, and likely dying even quicker after Sidney's contribution to his demise. This isn't like the movie Faster, where despite being shot in the back of the head, the bullet skirted around the main character's skull and was remedied with a steel plate and a lot of time to heal. Stu was stabbed, pummeled, and left to die, and more than that, he's had 25 years to recover and decide if he really wanted to come after Sidney or just leave her alone since it's likely that she might kick his ass even worse if he did somehow survive and decided to come back at her. But there's one method that would be even worse than the others.
Imagine if Stu was somehow the one pulling all the strings since the second movie on? Maybe he would be the silent puppetmaster type, guiding people where they needed to go and laying everything out so that people such as Mickey, Mrs. Loomis, Roman, and even Sidney's cousin were right where they needed to be and were in the right frame of mind to get into the action. That might be one idea that people would want to consider, but it would be one of the worst decisions ever, and here's why. It would undermine everything that had come before, and retcon the franchise in a way that would make it appear that there was no semblance of random vengeance or mindless violence taking place. In other words, it would indicate a horrible sense of control that was perpetrated by someone who didn't have the guts to take on his aggressor once again for fear of being discovered or, in Stu's case, possibly taken down a second time.
At some point, it would be nice for the internet to put up a big sign that says 'Gotcha' and claim that any mention of Stu being alive and ready to come back was just a hoax, but it doesn't appear that this will happen. The moment a theory on the internet is given any support and validity is the moment when some of the most insipid ideas have come forth. This might work in a comic book or fantasy movie, but in a franchise like Scream, Stu is dead, and that's kind of how things need to stay.