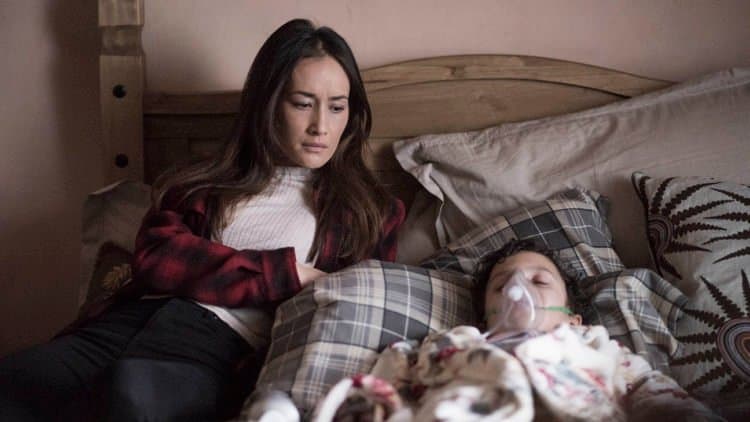 It does feel that when Maggie Q. finds herself in a horror movie that she ends up becoming part of a truly disturbing tale that's also quite interesting at the same time. The story starts as Alice Arnold, a well-respected sleep doctor, is having a dream of her childhood in which she sees her brother speaking to a presence that she can't see. When her brother is pushed out of a window by the same presence she wakes up, coming back to the waking world, where she believes that it was a horrible accident and nothing more. As a doctor that measures the sleeping patterns of others and the effects of sleep paralysis, she shows that she has a very clinical mind that doesn't believe in much of anything that can be measured, studied, and researched from a logical standpoint. In this light, she doesn't put much stock in anything that doesn't have a logical explanation. When she meets the Morgan family however she ends up hearing their story of how they each sleepwalk at night, and how their son is being 'attacked' by something they can't understand.
Those that have suffered sleep paralysis might find this movie to be a little bit goofy, but some might find it kind of intriguing since the thing about the condition is that it does feel as though one can't move and that something is keeping them still. The terror this causes in people is very real since being restrained in your sleep can be insanely frightening, not to mention disorienting. But what happens with this story would be enough to set a lot of skeptics down a long road filled with doubt, especially when it comes to an entire family sleepwalking and having issues that are tough to explain. The bruises and wounds that are found on the youngest son, Danny, are the most troubling since there's a strong belief that his father is responsible.
This idea is pushed even further when the family comes to Alice and her colleagues so that they can be studied. The family exhibits a few very interesting habits as they each begin to sleepwalk, save for Danny, who can be seen reacting to something as though he's being restrained. When Alice goes to check on Danny she's attacked by Danny's father as he begins to choke her while he's still sleepwalking. When he's finally pried off of her, the father is arrested and sent to jail but is released. The movie is one of those that a person can easily watch while guessing that it will end up delivering a few jump scares and a lot of exposition, but when it comes time for the climax it's easy to see that things aren't quite done, and the movie is about to stretch even further as the story continues to roll forward. If there was enough interesting material to go on when it comes to the Night Hag and the manner in which she appears, and what she's about to do to Danny. The basic idea is that she's going to kill him, as it's revealed, but the question is why especially when so many demons and spirits appear to prefer to possess and harass people continually.
Throughout the length of this movie, there are plenty of chances for the type of exposition that could have ended up giving the audience more to go on, but the thin plot that this story attempts to push never gets quite as deep as it could, and while there is enough to go on in the way of supernatural phenomena, it's not quite enough to elevate the movie in any meaningful way. The downside of this is that Maggie Q. and several of the other actors in this movie are skilled enough to take part in a movie that would leave actual chills running down a person's spine, but something about how this story is written almost makes it appear as though the writers were a little too hesitant to add a serious wow factor the tale that might have set it apart from others. In a way, this movie could have pushed the envelop a bit more and done just fine, but the writers decided not to pull the trigger.
At the end of the story there is a nice twist since while it's revealed that Alice was admitted to a psychiatric ward and is speaking to her husband, she hears their daughter humming a familiar tune in the background, the same one that her brother used to hum, and the same one that Danny hummed when under attack by the Night Hag. In a lot of ways, this movie could have been a lot better, but in some ways, it wasn't that bad. It wasn't all that good, but it could have been worse.