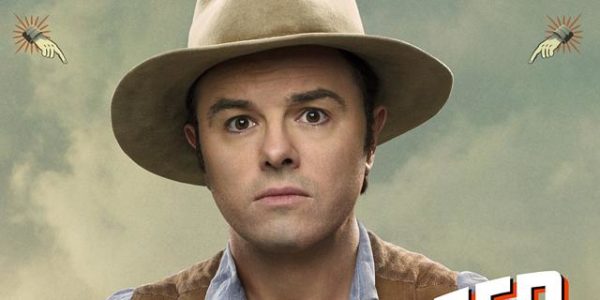 The simplicity of this is what a lot of people might look at and what might cause them to roll their eyes. The reason why this reaction would be problematic is that Seth MacFarlane is lucky since he was supposed to be on the plane that was used to enact the tragedy of 9/11, which is coming up fairly quickly as people might recognize. Almost two decades after the tragedy that occurred in New York people are still looking back and remembering those that lost their lives and those that showed exceptional bravery and courage in attempting to help those that had been affected. Seth was no doubt quite shocked along with everyone else, especially since he'd somehow been allowed to escape his demise in the crash by being ten minutes late to his flight. One might wonder what his reaction was to this situation, but obviously that was about to change very quickly once he realized what had happened to the flight. There are all kinds of luck, but those that didn't make this flight or couldn't book it that day were lucky on a scale that's hard to fathom. It's the kind of luck that one can't help but think is almost akin to fate since it would appear that fate was working in some way to spare some people and take others.
There are plenty of people that would be able to argue this under the table since the simple question of 'why this person and not that person' is more than just a vague argument, it's an important question that too many people gloss over since they don't want to think that they could be either person. It's very easy to see how Seth is lucky enough to have avoided disaster, but the morbid part of this is that so many others didn't. Calling anyone lucky at that point appears to be kind of controversial in a way that's hard to explain, but it's true at the same time. It is kind of interesting to think about what might have been going through Seth's mind at that point, along with many others that were realizing that they could have been on that flight if not for some apparent twist of fate. That type of memory is going to live on for a long time in the minds of those that weren't able to gain a flight or be in the general vicinity of the towers on the day the tragedy happened.
Just about anyone that a person could talk to has a memory of that day since it struck everyone in a profound manner and made them either grateful that they weren't there or shocked without any idea as to why it had just happened. Some of us were at work, some of us were home, and a lot of people were too young to recall just what happened since they were kids or they weren't born yet. But calling someone lucky is accurate, even if it's a bit crude in a way since it implies that those that were on the ill-fated flights weren't nearly as lucky. It sounds like a very morbid way to say such a thing, but the fact is that saying anyone's lucky for not having caught the flights just sounds wrong to some folks, no matter that it is true, that they were somehow able to skip out on a design that wasn't going to end well for anyone involved. It's a spot of good fortune to be certain, and recognizing it as such is still fairly important. But to give it any more hype than it might deserve does feel a bit perverse since from a personal standpoint it's something to be respected and recognized, but from a public forum, it does feel a bit cringe-worthy to congratulate anyone or even continue to recognize how lucky they were during such moments.
There's nothing to say against Seth MacFarlane in this instance since to be fair he's done nothing wrong and nothing worthy of ridicule, it's simply the idea that anyone would think to highlight this moment of his life for anything other than remembrance. With 9/11 coming up swiftly it's bound to happen that many people will begin to speak on the matter and will likely state where they were and what they were doing when this horrible tragedy occurred, and it's bound to happen that many people will talk about 'luck' and 'fate' when the date does roll around. Whether or not they'll mean what they're saying or will be paying lip service to the event is hard to say, but those that talk the loudest might be those that care the least. It's risky and even controversial to say, but since Seth doesn't appear to be talking that loudly, it might be that listening to him when it comes to 9/11 isn't that hard.