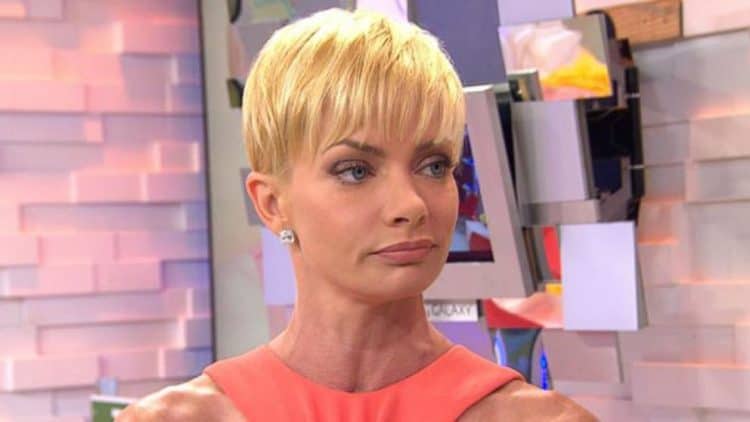 If you've ever seen Jaime Pressly on TV or in movies you'd have seen that she usually acts a bit stuck up and in some cases like a true witch with a capital B, but in real life it would seem that she's a rather down to earth and caring individual. Her level of acting has been overlooked by a lot of people over the years and while it's true that she hasn't show up in a lot of major mainstream shows or movies like several others she's still been an invaluable asset to each and every project she's worked on. One thing that doesn't always work in her favor is that it doesn't take much for her to look as though she's too much like one of her characters to be believed. The picture above is just one of many that shows how people might think she might be kind of snooty or uppity in a way, but that's just not the case. If anything she's the kind of person that likes to have fun on set and tends to be one of the most professional talents around.
Here are a few things you might not have known about Jaime.
10. She really hates doing love scenes.
Even a kiss on stage is a little too intimate for her. This is kind of funny though since throughout a lot of her roles, a few in particular, it's been seen that she's had to get intimate from time to time with her costars. If this is how she feels then it might have been kind of tough during certain takes.
9. Jaime legally emancipated from her parents when she was 15 years old.
It sounds like this was agreed upon so that she could take a modeling job in Japan. One thing her parents didn't want to do it seems is squelch her dreams, though you have to think that they must have made arrangements for her to be taken care of before her departure.
8. She's struggled with bulimia in the past.
For those that need a refresher course on this, bulimia is indeed a condition, or eating disorder, in which the individual goes on a binge that sees them eating anything and everything they want. But the compulsion only ends when they purge afterward, meaning that they force themselves to vomit to get rid of what they just ate. It's a rather disturbing disorder but one that many people have suffered from.
7. Apparently she almost purchased a ticket on one of the planes that crashed on 9/11.
The only reason she didn't buy the ticket is that she felt it took off too early. You can easily imagine the feeling that she received upon hearing the news that the plane she would have been on had crashed into the World Trade Center.
6. Jaime was a gymnast for 11 years.
She's still a big fan of gymnastics which makes sense considering that she knows just what goes into the training and how hard it can be on the athletes. She's even had a friend that went so far as to earn a medal. One has to wonder at this point if she can still perform any of the movements that might have, at one time, been like second-nature to her.
5. She was a teen model.
This is what brought Jaime to the show so to speak since she left her family and her home to go and find her way into the spotlight where she wanted to be. Obviously things did manage to go well after a while since she's been a popular figure ever since.
4. Jaime has described herself as a bit of a tomboy.
A lot of women seem to say this but there are those that make the effort to go out and prove it since it's the lifestyle they live and cling to. Being a tomboy is, to many men, actually kind of attractive and makes a woman more appealing for the simple reason that they'll get down and dirty and have fun doing it without worrying too much about whether they're looking good while they're at it.
3. She posed for Playboy once.
So it seems like this might contradict her whole intimacy thing on camera, but then again Playboy isn't known for love scenes in their magazines and as a result it could have been a lot easier for her to pose since she knew she wasn't going to be pressured into anything in full view of the camera.
2. She's played a lot of low-brow characters in her career.
One thing you can say for Jaime is that despite being cast as such a hick character in so many shows or someone that's kind of bratty and has no regard for others, she's done it well and she's been convincing.
1. She won an Emmy for her work on My Name Is Earl.
First as Joy Hickey and then as Joy Turner she was first and foremost one of the biggest witches in the whole show, in fact you could say she was the queen to be honest. But no one else could have done this role so well.
She's enjoyable every time she's on TV, but in movies it would seem that she has to have the right film to really shine.
Tell us what's wrong with this post? How could we improve it? :)
Let us improve this post!