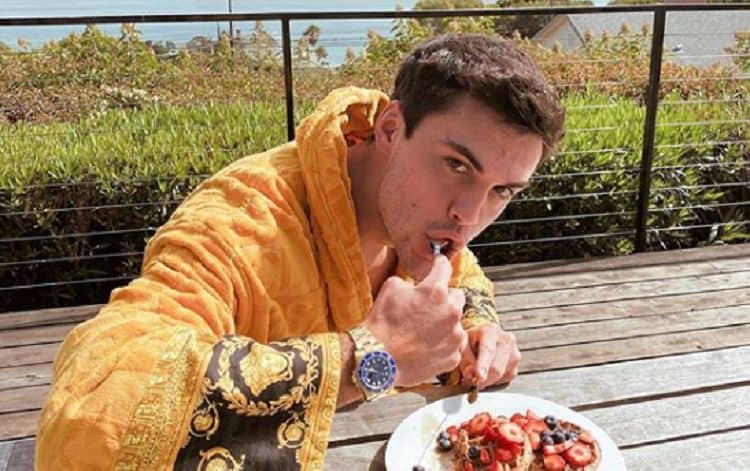 Ethan Dolan and his twin brother, Grayson, began their rise to internet fame in 2014. In the years since starting their YouTube channel, Ethan and his brother have gained over 11 million subscribers. In addition to the success he's had on YouTube, Ethan has also gained a large fanbase on Instagram. At the moment, he has 9 million followers. However, Ethan's reputation has recently taken a hit after an old video resurfaced that appears to have been taken out of context. In the video, the twins used a slur aimed at the LGBT community, but it appears they were referring to names they had been called and not actually using the name for someone else. Regardless, some people have decided to cancel Ethan, and only time will tell if he's able to successfully bounce back. Keep reading for 10 things you didn't know about Ethan Dolan.
1. He Got His Start On Vine
Many people believe that Ethan's career as an influencer started on YouTube, but that's actually not true. He got his start on social media back in 2013 by posting videos on Vine. The platform has since been shut down, but at that time it was one of the most popular social media apps.
2. He Was A Competitive Wrestler
Ethan grew up playing sports and was a competitive wrestler for many years. He didn't just like to wrestle, he was also very good at it. He and his brother were fierce competitors in the local circuit. They even got the chance to compete at Madison Square Garden in 2013 when they were still in 8th grade.
3. He Started A Business
Ethan isn't just a social media influencer, he has also started his entrepreneurial journey. He founded a fragrance company called WakeHeart. According to the business' website, WakeHeart aims "to discover inspiration for our fragrances and convey that inspiration through scents that provoke confidence and encourage memorable experiences."
4. He's The Oldest Twin
Lots of siblings have a close bond, but there's something extra special about the bond twins share. Even though Ethan is a twin, he is technically the oldest. He was born about 20 minutes before his brother. The Dolan Twins also have another sibling named Cameron who is two years older than her brothers.
5. His Father Passed Away
In 2019, Ethan suffered a tragic loss when his father, Sean, passed away after a battle with cancer in 2019. Ethan shared an Instagram post in his father's honor in which he said, "Dad, you were so much more to me than just my Dad. Although we were only granted 19 years here together it feels like we've spent a million lifetimes together. You are such a strong soul and you've made such a strong impact on more people than you would believe. I know you will always be with me but I want you to know that I will always be with you." The Dolan Twins respectfully asked that their fans not attend their father's services.
6. He Suffered From Acne
For many people, acne is more than an inconvenient condition that comes and goes during their teenage years. Oftentimes, it can be a persistent and painful condition that can result in permanent scarring. In February of 2020, Ethan opened up about the struggles he's faced with acne.
7. He's In A Relationship
People have speculated about Ethan's relationship status for several years. In a recent video on YouTube, Ethan confirmed that he is in a serious relationship. He didn't go into much detail about who his significant other is, but Dolan Twin subscribers think they know who the lucky lady is.
8. He's Won Teen Choice Awards
Some people may turn their nose up at internet popularity and say that it is nothing more than a fad, but people like Ethan Dolan are proof that internet fame can lead to much more. Ethan and has already won five Teen Choice Awards for his YouTube channel.
9. He Loves To Stay Active
Staying in good shape is one of Ethan's top priorities. He's a very active person and he likes to get out and enjoy what nature has to offer. Ethan spends a lot of time outdoors. Some of his favorite ways to pass the time include hiking, traveling, swimming, and hanging out at the beach.
10. He Has Learned To Ignore The Haters
Being in the public eye seems fun on the surface, but it can also be very stressful. After all, it's no secret that not everyone has nice things to say. After years of being well-known on social media, Ethan has gotten used to the haters and he does his best not to let their comments bother him.