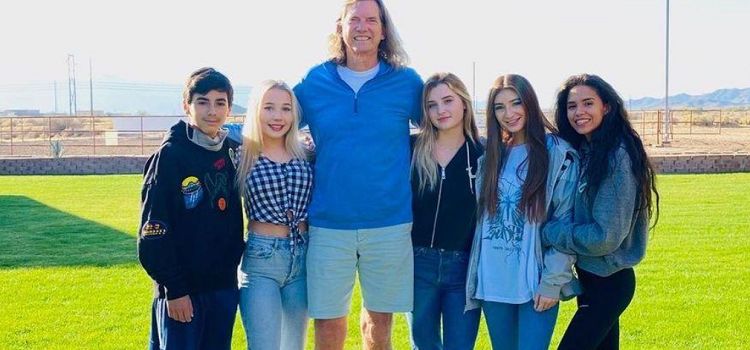 When Bill Hutchinson ad his girlfriend, Brianna Ramirez, signed up to be cast members on Lifetime's Marrying Millions, they probably had no idea what they were in for. Since being on the show, however, the couple has gotten a lot of attention and it hasn't always been good. Their almost 40 year age difference has raised a lot of eyebrows and other aspects of their relationship have also left viewers scratching their heads. Despite some of the criticism they've received, the couple has always managed to keep moving forward and Bill hasn't let any of the haters bring him down. Keep reading to learn 10 things you didn't know about Bill Hutchinson.
1. Some Of His Children Are Older Than Brianna
Trying to create a blended family can be difficult on its own, Bill and Brianna's age difference has made things a little more complicated than usual. Briana is actually younger than Bill's three oldest children. It's a little unclear how Bill's children feel about his relationship with Brianna. However, one of Bill's ex-wives, Kathleen, has made it very clear that she isn't the biggest fan of Bill and Brianna's relationship.
2. He's A Michigan Native
Bill was born in the Detroit area where he spent for the first several years of his life. Bill's parents have always been very active in the church and when he was in third grade they decided to move the family to Mexico so that they could do mission work with the Methodist Church.
3. He Is A Drummer
Bill's rockstar hair isn't just for show. He really is all about that rock and roll lifestyle. He started playing the drums when he was in high school and he began playing with a local band. In 2018, he got the chance to play drums for the Stone Temple Pilots at the KAABOO Festival.
4. He Is Billingual
During his time living in Mexico, Bill fell in love with the culture. He learned how to speak Spanish fluently – a skill that has probably come in very handy for him over the years. Although he no longer lives in Mexico, the country and its people will always have a special place in his heart.
5. He Has A Business Degree
Bill's journey towards being a successful businessman started before he even realized that he was on it. During the late 1970s, Bill attended Southern Methodist University in Texas where he earned a bachelor's degree in business administration. Upon graduation, he immediately began looking for work although it proved to be more difficult than he thought.
6. He Loves To Stay Active
Bill may be in his early 60s, but that hasn't stopped him from making the most out of every moment he has. He loves to stay active and he has made it a point to incorporate exercise into his regular routine. Whether it be going for a run or on a scenic hike, Bill is always looking for ways to get his blood pumping.
7. He Met Brianna At A Restaurant
Since Bill and Brianna have such a large age difference, a lot of people may be curious to know how their paths even crossed in the first place. The couple actually met at a local Tex-Mex restaurant. Brianna was working as a waiter and Bill frequented the location. After having a few conversations, Bill decided to ask her out on a date.
8. He Works In Real Estate
Anyone who watches Marrying Millions knows that it's no secret that Bill is extremely wealthy. However, since the show is focused on his relationship with Brianna, we don't really get to see a lot of Bill's professional life. For those who were wondering, Bill works in real estate and he owns a Dallas-based commercial real estate investment company called Dunhill Partners.
9. He Is Estimated To Be Worth About $100M
Even though the name of the show is Marrying Millions, how much the cast members are worth isn't something that's explicitly discussed. According to The Cinemaholic, Bill's net worth is around $100 million which might just make him the wealthiest cast member on the show.
10. He Is Active In The Community
Over the years, Bill has used his wealth to give back to the causes and things that are important to him. The arts are something he has always been especially passionate about and he has been very active in the art scene in Dallas. He has built great relationships with many of the gallery owners in the Dallas Design District. His company owns much of the real estate in the area.
Tell us what's wrong with this post? How could we improve it? :)
Let us improve this post!