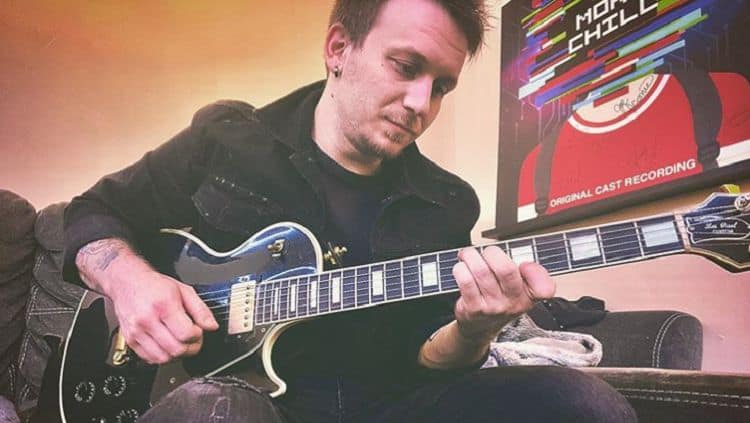 Gerard Canonico has had a very successful theater career. He has appeared in plays both on and off Broadway musicals. Some of his best known appearances have been in Les Misérables and American Idiot. Outside of his work, Canonico has been mostly quiet throughout his career – until now. He recently accused former Glee star, Lea Michele, of being a 'nightmare' after another Glee cast member, Samantha Marie Ware, accused Michele of being a bully. Canonico worked with Michele on the play Spring Awakening where he says she treated him and other understudies "like they didn't belong there". His accusation has gotten the internet buzzing, and has also resulted in people wanting to know more about him. Keep reading for 10 things you didn't know about Gerard Canonico.
1. He Was In A Band
Gerard has loved music ever since he was a kid. He grew up playing the drums and the guitar. He has been in several bands over the years including Taking Chances which released a self titled debut album in 2008. Gerard is currently a member of two bands, The Dude Ranch and Imperial Cities.
2. He Originally Wanted To Be A Model
Gerard isn't the type of actor who has always known that he wanted to act. Instead, he just knew that he wanted to be an entertainer. To him, this initially meant becoming a model. When he was 7-years-old, his mother helped him set up auditions, and within four weeks he landed his first nationwide network commercial with Burger King.
3. Both Of His Parents Are Teachers
Gerard was born and raised in New Jersey where both of his parents worked as teachers. His mother was a special education teacher, and his father taught instrumental music. He cites his parents as his biggest inspirations and said, "My parents taught me everything I needed to know. My mother's wisdom continues to inspire me and my father taught me everything I needed to know about music. I feel very lucky to have learned from them."
4. He's A Fan Of West Side Story
Not only is Gerard a Broadway actor, but he's also a theater fan. As you can probably imagine, he's seen lots of plays and musicals over the years. West Side Story is one of his favorite productions and he says he wishes he could have seen its original Broadway production.
5. He's A Supporter Of The Black Lives Matter Movement
Like many other celebrities, Gerard has used his social media platform to address the recent protests against racism and police brutality that have been taking place all over the United States and in other parts of the world. Over the last week or so, he has shared several posts explaining how he and others can support the Black Lives Matter movement.
6. He's A Big Billy Joel Fan
Billy Joel is one of the most iconic musicians of his generation. Over the years, he sold millions of records and won 5 Grammy Awards. Gerard is a big fan of Joel's work and says that Billy Joel is one artist who he would drop everything to see. Other musicians Gerard enjoys include Green Day, Blind 182, and James Taylor.
7. He Has A Specific Pre-Show Ritual
Lots of actors are superstitious – especially those who work in theater because there's so little room for error. For that reason, there are a few things that Gerard is sure to do before each performance. He says, "I usually try to stretch and roll out any tight muscles so I don't hurt myself during the show. I try to sing anything just to stay warm whether it be fooling around backstage singing something stupid or actually singing with my guitar."
8. Footloose and Rent Inspired Him To Act
One of the best things about acting is that it creates a space for people to be creative and tell stories in lots of different ways. However, there are still some things that are considered 'standard' and for a while, Gerard believed that things had to stay that way. However, he credits both Footloose and Rent with helping him realize that there is room for all sorts of different kinds of musical theater.
9. He Was Bullied In Middle School
Kids in middle school can be some of the meanest people in the world. Gerard experienced this first hand during his middle school years. He said that he was bullied both emotionally and physically on a daily basis. The fact that he was into theater didn't help, and he says it resulted in lots of kids calling him gay.
10. He Used To Work At McDonald's
If you've ever had a job that you really didn't like, it's something you'll probably never forget. For Gerard, that job was working at a local McDonald's in New Jersey. He says he worked at the drive-through, and although he was only there for about 6 months, it was a "pretty terrible" experience.