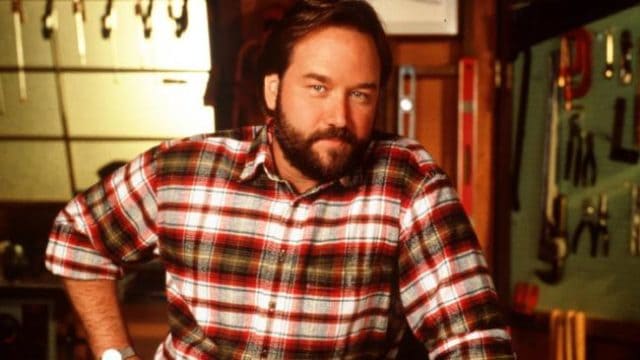 Richard Karn managed to land his role as Al on Home Improvement in a pretty awesome way. It kind of started when his wife convinced him to move them to Los Angeles where he took up a job managing an apartment complex and catering events at a Jewish synagogue on the side. He'd already been in a beer commercial by this time and joined the Screen Actor's Guild. He'd dropped his last name, which is Wilson, due to a Richard Wilson already belonging to the Guild. When he was in LA however he was required to go to traffic school after receiving a citation. While there he was seated next to an agent that told him about the casting session for the show. Home Improvement had already cast an actor for the role of Al Borland, but the original actor had to bow out due to scheduling conflicts. Richard, who had already been a guest star on the pilot, was quickly put into the role of Al, where he proved that he was more than ready to take on a full-time part.
Talk about being in the right place at the right time. I do hope he thanked his wife for convincing him to even move to LA since without that he wouldn't have gotten the chance he needed in the first place. I wonder what it would have been like to have someone else playing the role of Al, and whether it would have been as memorable. After all he brought life to the character in a way that was hard to ignore. Al was the balance to Tim that was really needed since Tim Taylor was kind of a live wire that was ultimately way too destructive at times to not have a backup in place that could fix the things he damaged.
If you remember Al was almost always the voice of reason and the guy that picked up after Tim, which was no small job. He was also the butt of the joke most times and played a very sensitive man that had a lot of heart. To think that he was almost relegated to just being a guest star on the pilot is hard to fathom. For so many episodes he was the one guy that was reliable and always there when people needed him, and yet he was the one that got taken advantage of the most since he was so kind-hearted. He's even appeared a couple of times on Tim Allen's show Last Man Standing as one of the contractors that Outdoor Man, the company that Tim's character helps to run, depends on. He's done other things since Home Improvement but really Richard Karn was able to shine the brightest on Home Improvement since it seemed to be just as much his show as it was Tim's, even though that wasn't always the case. People wanted to see Al quite often and could even do without Tim at times. That shows you just how much he was meant to be there.