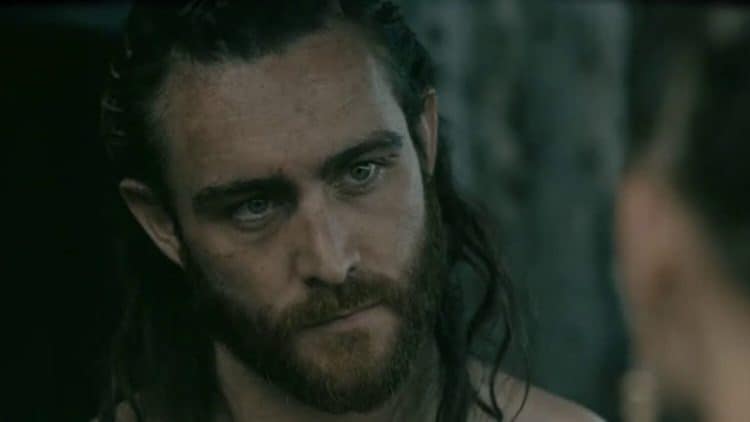 Since making his debut screen appearance in 2015, Laurence O'Fuarain has been working hard to make a name for himself and his work has been paying off. In just a few short years, he has become known in countries all over the world and his career is about to be taken to new heights. It was recently announced that he's been cast in an upcoming Netflix mini-series called The Witcher: Blood Origin. The project is a prequel of The Witcher and will be released on Netflix. The highly anticipated mini-series has the power to open up even more doors for Laurence and people are excited to see what he brings to the role. Here are 10 things you didn't know about Laurence O'Fuarain.
1. He Was In An Episode Of Game Of Thrones
Laurence is still relatively early in his career, but he's always gotten the opportunity to be a part of some very successful projects. In 2015, he appeared in an episode of the popular TV series Game of Thrones as a character named Simpson. Even though he was in just one episode, he will always be ale to say he was a part of the show.
2. He Likes To Travel
Living life to the fullest is what Laurence is all about. For him, that means having as many memorable experiences as possible. He has done lots of traveling throughout the years and has visited several countries including Italy and Luxembourg. He also enjoys traveling to various places in his home country of Ireland.
3. He Has A Great Sense Of Style
As a creative person, Laurence loves getting the chance to express himself and fashion has become a way for him to do that. We weren't able to find any information on how Laurence would describe his personal style, but it's clear that he has a great sense of what he likes to wear and he enjoys putting outfits together.
4. He Enjoys Connecting With His Fans
Laurence's fan base has been growing a lot as of late, and he's thankful for all of the people who are taking this journey with him. He loves using social media as a way to interact with fans. It's become very common to see him retweeting posts from fans or thanking them for their support.
5. He Loves Spending Time Outdoors
Laurence loves the fact that he gets to do something he is passionate about for a living, but no matter how much a person loves their job time off is always a must. When Laurence isn't working, he enjoys being outside surrounded by the beauty of nature. Some of his favorite outdoor activities include exploring trails and going fishing.
6. He Is Family Oriented
From what we can tell, Laurence is not married and doesn't have any children, but family is still one of the most important things in his life. He appears to have great relationships with his loved ones and he always looks forward to attending family celebrations and events.
7. He Has Theater Experience
TV and film roles are what has gotten Laurence the most notoriety, but he's no stranger to the stage. According to his resume, he has been in two plays, Cash On Delivery and The Playboy Of The Western World, both of which were performed at The Civic Theatre.
8. He Is A Very Active Person
Laurence always likes to make sure he is looking and feeling his best, and regular exercise allows him to do that. For Laurence, however, working out doesn't always mean going to the gym. Instead, he likes to utilize other methods of staying active such as boxing and hiking.
9. He Likes Taking Pictures
While there's no mention of Laurence ever referring to himself as a photographer, his Instagram profiles makes it very clear that he enjoys taking pictures. Any time he's out on an adventure, he loves to snap a shot of his surroundings. His natural eye for capturing beautiful moments is undeniable.
10. He Is All About Positivity
When people work in the entertainment industry it can be easy for them to get disconnect from the things that are going on outside of their celebrity bubble. As a result, there are a lot of actors who are simply out of touch with the realities of most people's daily lives. Although Laurence understands that life isn't always easy, he does his best to look beyond the negatives. He is a firm believer in the greater good and he encourages other people to focus on positivity as much as they can.