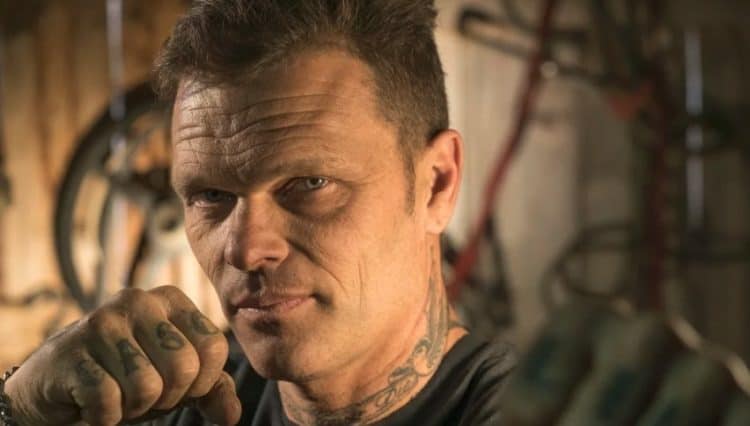 Chad Hiltz and his show, Bad Chad Customs, is proof that the saying 'one man's trash is another man's treasure' is absoloutely true. In the show, Chad takes a very creative approach to building customer cars out of materials that most people would haul off to the dump. Using things like old scrap metal, Chad is able to come up with some beautiful creations. Even if cars aren't your thing, you'll still be in awe of all of the cool things he's able to do. With his show back for another season, his fans are pumped to see what kinds of awesome things he's going to come up with this time. Keep reading for 10 things you didn't know about Chad Hiltz.
1. He Never Imagined He'd Be Doing What He Does Now
Chad didn't have the easiest life growing up, and he eventually dropped out of school. He worked a bunch of off jobs and wasn't sure what he wanted to do with the rest of his life. Owning his own shop and being on TV were two things he never imagined for himself. With that being said though, he's very grateful for how things turned out.
2. He Sells Merch
The first season of Bad Chad Customs was a huge success. Both Chad and the shop have developed huge followings. He decided to start an eCommerce store so that his supporters could purchase branded merchandise to show their love for the Bad Chad Customs community. On the website, he sells everything from hoodies and t-shirts to sneakers and posters.
3. He Got The Opportunity For The Show From Social Media
Social media has proven to be a very powerful tool. Putting effort into building a social media presence can lead to major busiess opportunities which is exactly what happened for Chad. His fiance, Jolene MacIntyre, began posting weekly updates of a custom car Chad was building for her, and TV producers began to take notice. Eventually, they reached out to Chad and Jolene, and the rest is history.
4. He Started A YouTube Channel
Tuning into the Discovery Channel isn't the only way for you to see Bad Chad in action. He also started a YouTube channel where he uploads videos several times a week. Currently, his channel has more than 20,000 subscribers. What's more impressive is the fact that the channel has over 2 million total views.
5. He's Gotten Fired A Lot
Before opening up his own shop, Chad wasn't having the best luck in terms of his career. He had actually been fired from every job he'd ever had. He told Salt Wire, "I thought I better do something I was good at because what I was doing wasn't stimulating my old pumpkin. You know what I mean? When I'm working on cars, that's my medicine"
6. He's A Rockabilly Fan
Chad is a big fan of rockabilly music and hosted The Rockabilly Weekend Car Show the last 10 years. In addition to showing off some of the coolest custom and classic cars, the event also features live rockabilly performances. Unfortunately, this year's event had to be canceled due to the COVID-19 crisis.
7. He Hopes To Expand Into Other Business Ventures
Chad is thankful for all of the success he's had, especially since the start of the show. He is already making plans for the future and thinking about how he can capitalize on the momentum and continue to grow. At some point, he would love to open up a diner and a store.
8. He Loves Sharing His Knowledge
Watching Bad Chad Customs is definitely an entertaining experience, but Chad hopes to do more than just entertaining. He loves sharing his knowledge of cars with others and hopes to teach people in the process. Many of the videos on his YouTube channel are centered around education.
9. He Encourages People To Chase Their Dreams
As someone who never thought he'd be doing what he's doing today, Chad is a big believer in going after what you want. He believes that anything can be accomplished through hard work and he hopes that his story will inspire other people to keep working and never give up.
10. He Likes To Keep His Team Close
Running a business isn't easy, and it's important to have people around you who you can trust. Chad is lucky to have a solid team and he likes to keep it in the family as much as possible. His fiance, Jolene, is the manager of the top and his son, Colton, is an apprentice who works under him.