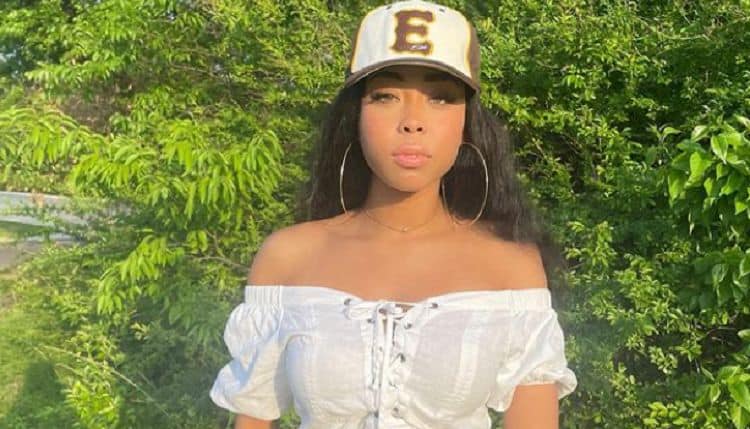 If the name Puma Curry doesn't mean anything to you, perhaps her mother's name might mean a little more. Her mother is famed music artist Erykah Badu's daughter. She's got a lovely voice, and she is her mother's mini-me if ever there was a mini-me. She could be her mother as a teenager, and the resemblance is uncanny. She is lovely, and her mother's fans are starting to learn as much as they can about the star's daughter. Who is she, and what is she currently up to in life?
1. She Has Very Proud Parents
Her mother and father, rapper D.O.C, are very proud of their daughter. She is the light of their lives and the sun that shines upon them. They shared very sweet messages that they made for her together when she turned 16, and it is clear to the world that they adore their little girl.
2. She is One of Three Kids
Puma Curry is her mother and father's only child together. She is the middle of three kids that her mother gave birth to, but she does not share a father with either. Her oldest sibling is her brother, Seven, whose father is Andre 3000. Her younger sister is Mars, and her father is Jay Electronica.
3. She is a Model
She's spent some time in her life working as a model. She might want to go into the music industry at some point, but for now she focuses on modeling. She does share her songs and her talent with the world, but modeling is something she's done more of at this point.
4. She is On TikTok
If you want to follow along and get to know the young star, you should. She's online, and she's ready to share her talent with the world. She spends a lot of her time on the internet singing for the world to hear, and it is nothing short of completely amazing. To say she is talented is an understatement.
5. She is Still Young
Puma Curry is still so young. She was born on July 5, 2004. She celebrated her sixteenth birthday in the middle of the pandemic quarantine where she lives, but she still spent the evening hanging out with the people she loves having fun with her friends. It was a good day for her.
6. She Has a Lot of Instagram Followers
She might not be a celebrity herself, but that certainly doesn't mean the world is not curious to know as much as they can about the famous celebrity child. She has more than 74k followers on Instagram alone, and that is not even where she does the majority of her posting.
7. She is Very Private
Being that she is just a teenager, we do get that. She is only 16, so it's natural that her family would like for her to maintain some privacy. We don't know much about her other than the fact that she likes to have some fun with her friends, but she doesn't share too much of anything online.
8. She is From Dallas
She is a Texas girl at heart. She was born in Dallas, but we don't know where she's living now, but we do know it's probably in Dallas with her mother. Erykah Badu lives in the Dallas area, so we have a feeling that she has her daughter with her, too.
9. Her Mom is the Reason For a Song
We all know the OutKast song, "Ms. Jackson," that went wildly popular years ago. The song is catchy. When you hear it, you sing along. That song was allegedly inspired by the relationship that Andre 3000 of OutKast had with Badu in the 90s. They were together for some time, they share a son, and it seems that she and her own mother are the inspiration behind the song. Imagine being Puma Sabti Curry and knowing that fun fact about your mother and grandmother.
10. Fans Want her to Release an Album
From all we know about her, she does not have any plans at the moment to release an album or get into the music industry in any capacity. However, her fans continue to ask her to do so almost every single time she posts a video of herself singing. They love her, they want more of her, and they cannot seem to get enough of her. She's a huge hit, and we cannot wait to see what she does with her immense talent.
Tell us what's wrong with this post? How could we improve it? :)
Let us improve this post!