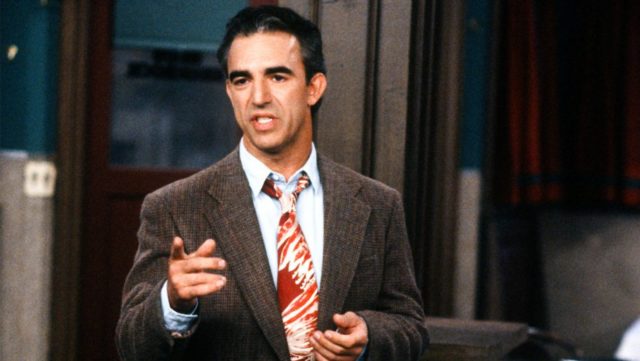 Jay Thomas was an actor, a comedian, and even a daytime radio personality. He might not have been as recognized by the current generation largely because he was and wasn't the same caliber of star that many would choose to follow. He was involved with a few new and up to date projects but a lot of his fame came from older sitcom and lesser known movies that helped to elevate him to stardom. He was one of the better supporting actors in the business and could always be depended on as a solid actor for nearly any role. Sadly Jay passed away only a few days ago after having battled cancer for an undetermined amount of time. At the very least he was surrounded by family when he went, and at the very most he will be fondly remembered as one of the most solid actors in the business.
Here are a few roles that you might remember him in.
5. Ray Donovan – Marty Grossman
Playing a role in one of the newer shows on TV had to be a very big boost for Thomas. He's not an unknown by any means but he's not the kind of person whose name you see getting top billing all the time. Like it was said in the beginning of the article he's the solid supporting actor that's there to make the others look good by providing a professional and believable role, which he does perfectly.
4. Santa Claus 2 – Easter Bunny
How many of you knew this was him? Be honest now. He played in the Santa Clause 2 and 3 as the larger than life version of the Easter bunny, though he had only a few lines. Thomas was still an important of the production as the script called for legendary characters and apparently the Easter bunny qualifies for that role. Not sure why, he does.
3. Murphy Brown – Jerry Gold
In this show he played the obnoxious talk show host and was Murphy's on again off again boyfriend. His character wasn't truly a sleaze but he was someone you'd love to smack upside the back of the head every now and again just to remind him to close his mouth. Plus it seems like it might have been somewhat tough to be associated with Murphy for so long.
2. Cheers – Eddie LeBec
Eddie was Carla's onscreen husband and a professional hockey player. He was kind of a goofy character but he was interesting enough to keep around until one show when he apparently got killed by a Zamboni. That must take some doing right there considering that a Zamboni doesn't ever get up to that great of a speed. He'd have to have been unconscious when it ran over him.
1. Mork and Mindy – Remo Davinci
This is part of where being a supporting character came in. He wasn't all that important to the plot but people liked him so well that he was kept on the show for a while. He was the deli owner where Mork and Mindy started spending a lot of their time.
Jay Thomas had a very impressive career. Rest in peace sir.
Save