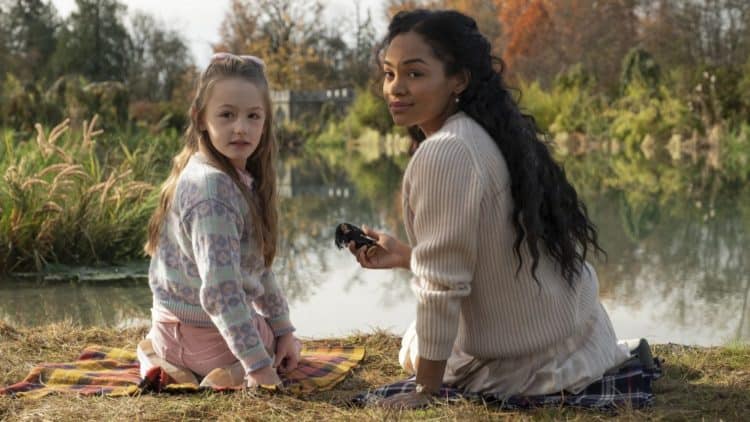 Every October, TV and film fans look forward to the a new scary production to get them in the Halloween spirit. This year, Netflix's The Haunting of Bly Manor is on everyone's list and actress Tahirah Sharif is proud to be a part of it. Tahirah, who plays Rebeccs Jessel on the show, has been acting professionally for the last decade. Viewers in the UK may know her best from her role as Ella Ashford in the BBC series, Casualty. Now that she has established herself as a true international star, there are people all over the world who can't wait to see what she decides to do next. Continue reading for 10 things you didn't know about Tahirah Sharif.
1. The Haunting Of Bly Manor Isn't Her First Netflix Project
Tahirah isn't exactly a newcomer when it comes to working with Netflix. She previously appeared in two Netflix original movies: A Christmas Prince: The Royal Wedding and A Christmas Prince: The Royal Baby which were released in 2018 and 2019 respectively. Unfortunately though, these movies never reached the same level of popularity as The Haunting of Bly Manor.
2. She Is A Personal Trainer
Regular exercise has lots of great benefits. Not only is it a way to tone muscles and reduce fat, but it's also a great stress reliever as well. With that being said, it's easy to see why staying active has always been important to Tahirah. On top of her work as an actress, she is also a certified personal trainer, however, it's unclear if she is currently taking on clients.
3. She Has A Diverse Background
Tahirah was born and raised in England, where she still lives today. But her family's roots trace back to places far beyond the United Kingdom. Her mother is Pakastani and her father is Jamaican. She is incredibly proud of all of the cultures that have come together to make her the woman she is today.
4. She Can Relate To Miss Jessel
If you've seen The Haunting of Bly Manor, you may be wondering what on earth Tahirah could possibly have in common with her character, however, she definitely understands the feeling being trapped in once place. She told Town and Country Magazine, "Even pre-COVID, there were many things that I could relate to her about. But I think the feeling of being stuck somewhere, definitely, during quarantine or during lockdown, was kind of magnified." Honestly, I think we can all relate to Miss Jessel in this aspect.
5. She Has Theater Experience
Like many other talented actors, Tahirah actually got her start doing theater work. Over the course of her career, she has appeared in several stage productions including a 2012 production of Crawling in the Dark and productions of Moon on a Rainbow Shawl in 2012 and 2014.
6. She Is A Formally Trained Actress
Finding success an actress isn't just about the amount of natural talent you have. Studying the craft goes a long way in helping actors reach their full potential. Tahirah is a trained actress who studied at The BRIT School for Performing Arts and the Identity School of Acting.
7. She Was In A Skype Commercial
Doing commercials is a great way for actors to get the opportunity to work with major brands. On top of that, they can't as time consuming as other larger projects. Tahirah has appeared in quite a few commercials throughout her career begenning with a Skype commercial in 2009. She also did a McDonald's commercial in 2012.
8. She Is A World Traveler
For Tahirah, being active doesn't just include exercise. Getting out and seeing the world is one of her favorite things to do. She has been blessed to be able to be able to do lots of traveling over the years. She has visited several countries including Canada, Portugal, Romania, and South Korea.
9. Family Is Very Important To Her
Having a strong support system can make a world of difference in a person's life; especially when they work in a demanding field like entertainment. Tahirah comes from a very close knit family and she continues to have tight bonds with her loved ones including her sister and her niece and nephew.
10. She Wants To Do An Action Role
Tahirah has already gotten the chance to act in multiple genres and play a variety of characters, but there is still one kind of role she's really looking forward to doing in the future. She told Who What Wear that she would love to do an action role and get the chance to show off her badass side.
Tell us what's wrong with this post? How could we improve it? :)
Let us improve this post!