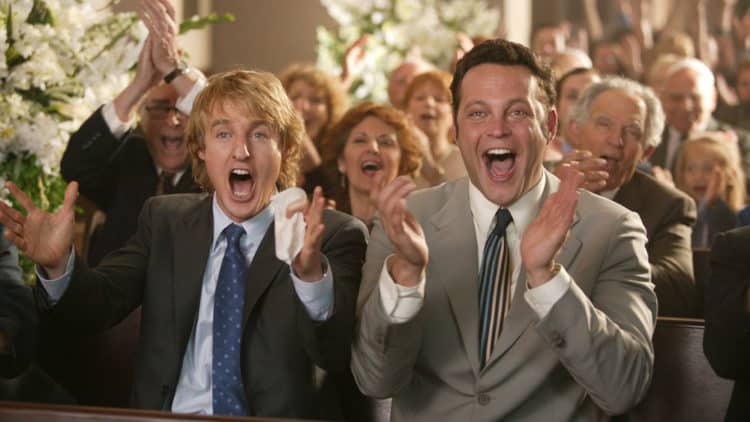 When it comes to romantic comedies, the market is flooded with films that are perfectly suited for the female audience: 50 Shades of Grey (being hilariously bad makes this count as a romantic comedy), Crazy Rich Asians, and The Kissing Booth, are just some of the popular romantic comedies in a crowded genre. However, when it comes to men, you don't get many male-driven romantic comedies that speak from a man's point of view. One of the most popular is the 40-Year-old Virgin. It gives a strong take on the importance of love and sex, and how those two things really helped drive a healthy relationship. Men are usually known as sex fiends. It's mainly known in the culture that men have high body counts. Here, the 40-Year-Old-Virgin flips that on its head as the titular protagonist is a virgin. He's being driven by his male friends to rack up as many bodies as he can before he has sex with Trisha, but the ultimate message is that his true love is the one that deserves his special moment, not some random call girl. The 40-Year-old Virgin made $177 million at the box office, which is pretty darn good for an R-rated comedy.
Wedding Crashers and American Pie would do well at the box office as well. Those aren't particularly romantic comedies, though it does share lessons about love and sex from a guy's perspective. Hitch is a perfect example of a romantic comedy at the box office, grossing $368.1 million worldwide at the box office. However, in terms of male-driven romantic comedies, according to Forbes's top ten list, that's one of the top-grossing, the other nine are female-driven. Male-driven romantic comedies can be successful, but the reality is that it's not something men go out of their way to see. This genre is specifically targeted for women because the general consensus is that they're likely the ones to shell out the big bucks to watch Brad fall in love with Jen. You know what the crazy thing is? This notion is actually false, at least according to a 2018 study done by Insider. The survey done by the publication showcased that action movies were the most popular amongst the female demographic, at least 22%. Romantic comedies came in last, with only 9%. Another document goes deeper into the spectrum, as action is still ahead of romantic comedies, but the percentage is 86%. Romantic comedies are at 84% for women. Men are at a decent 67%.
Given the fact that there are successful films that focus on relationships from a man's point of view and the fact that women aren't so hot about the genre means that the reason that they barely exist isn't particularly because women gravitate towards the genre vastly more than men. It's due to the fact that executives likely think they do. Or at least that's my speculation. There's not a confirmed number, but the average number of romantic comedies released skew are focused more on women than men. At least in the mainstream. It's a shame because these types of movies really do help with getting the male point of view across when it comes to dating or love in general. Don Jon focuses on a porn lover who isn't able to get the same satisfaction from his relationships. Centering issues surrounding men and dating could really open a wide array of topic that are rarely discussed in media entirely. Men and women are both different. I know that's an obvious perspective, but one of the main reasons why the genre doesn't have much diversity because there's rarely different discussions on this topic. It's important to showcase what love means to men that could actually help benefit in real life. Of course, movies aren't particularly a documentary on real life, but the themes and subject matter should still resonate in a way that audiences can relate to. When focusing on the female end, rarely are you getting a balanced analysis on both sexes in the same movie. The film is about a woman's journey and struggles; thus, you're only getting her side of the story.
Plus, there really aren't any directors who particularly specialize in romantic comedies. Quentin Tarantino is more of dark and violence such as actions, westerns, or dramas. Steven Spielberg is more about big action blockbusters, though the director has ventured out thanks to films like The Color Purple and Westside Story. Christopher Nolan is also more about sci-fi, action, drama. You'll see relationships in their films, or any other male director's movie, but it's not the focal point of the story. Male driven romantic comedies just aren't a hot commodity and that could all change in the future, but it's the main reason they barely exist now.