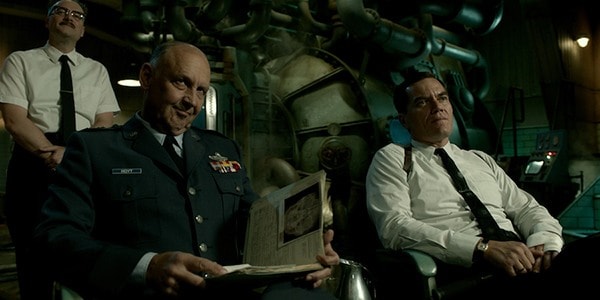 Guillermo Del Toro isn't shy about revealing why The Shape of Water was so difficult to make. From the first glance of the trailer you can tell that it's one of his movies. There are dark undertones everywhere and a very dire feeling to the movie that isn't realized until you get the feeling that something very unpleasant is going on just beneath the surface. When a mute woman and her friend are asked to clean up a top secret lab they discover something, well, the lead character discovers something, that defies all logical explanation and seems to fit in perfectly with the time period this movie seems to be set in.
If you look at the creature and think of a connection to the Creature from the Black Lagoon then it'd be pretty normal. Also the eggs lined up on the lip of the tank from which the creature emerges are pretty indicative of a Hellboy aspect as well. Though it doesn't really say what the creature is it bears a striking resemblance to Ichthys Sapien, which of course was another character in that same Del Toro picture. He seems to like working with monsters of different shapes and sizes, keeping the audience guessing as to what's going to appear and what it will look like. To be honest the creature in this film so far looks like something between Abe in Hellboy and the original Creature from the 1954 classic.
But according to Del Toro the process of making this film wasn't all that easy or enjoyable. In fact Del Toro states "We crammed $60 or $70 million dollars of budget into a movie that had only $19.5….So it demanded huge sacrifices…..But making it was very, very hard."
Coming from someone with such an impressive resume when it comes to films that's interesting to hear and it's also inspiring since the trailer already looks so well done. If this is Del Toro on a tight budget then it's no wonder that he can produce such great hits when he's allowed the money to do what he really wants. His visions are both nightmarish as well as intoxicating in many ways since he knows how to tell a story and creep a person out all at the same time. He also works under the auspices that his stories could be childlike in a way with the amount of awe and wonder that can be seen within each one. But there is also a much edgier and decidedly meaner side to each film as well.
Thankfully Del Toro is one of the few directors that can take very little and make something extraordinary with what he has, so it's easy to assume that The Shape of Water should at least be worth watching in the theaters. After this it's already been announced that Del Toro is going to take some time off and try to find his drive again. We can only hope that he will find inspiration during his long vacation and bring back something truly amazing as he's done before.