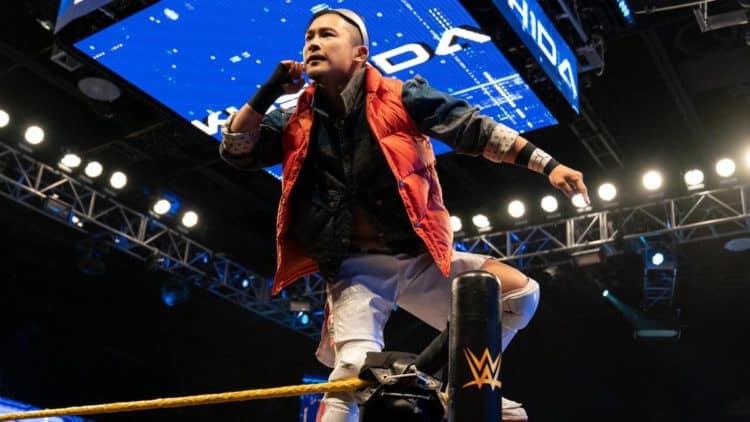 In New Japan Pro-Wrestling, Kusida was one of the top stars of the Japanese company. A former six-time IWGP Junior Heavyweight Champion, the veteran was riding high by the end of his New Japan Pro-Wrestling period. So when Kushida announced that he was leaving the company in 2019, it wasn't much of a shock. New Japan didn't seem to have much interest pushing the veteran into the heavyweight title scene, and he pretty much did everything that their was to do in the company as a Junior Heavyweight. Kushida taking a risk going over to WWE was the right move, but anyone who's studied the company knows that he was doomed from the beginning.
Kushida came into the NXT brand with a lukewarm reception. While the brand hyped him up before his debut, the former IWGP Junior Heavyweight Champion didn't necessarily have the incredible moment that got fans excited for his stint in the company. Shinsuke Nakamura had this incredible battle against Sami Zayn at NXT TakeOver: Dallas that got fans pumped for his WWE stint. Ember Moon wowed fans with her Eclipse finisher at NXT TakeOver: Brooklyn II. Or even Kevin Owens powerbombing then NXT Champion Sami Zayn following his debut match. The main problem with Kushida is that he's not an entertainer. He's a professional wrestler. The former IWGP Junior Heavyweight Champion has never been a man known for gimmicks, unless you want to include his Time Splitters tag team with Alex Shelley.
Even then, it doesn't particularly fit the mold of what WWE typically does. In addition, Kushida was mainly treated as a cruiserweight. Given the fact that the division floundered after he won the belt, it gives you a clear mind state of how Vince McMahon viewed the talents on 205 Live. Kushida's early run in NXT was that he existed. The brand actually treated him well, giving Kushida a nice win streak, but there was never any sort of character development with the NXT star nor was he given any feud to sink his teeth into. He mainly came out every week, wrestled, and left, without doing anything significant that made audiences really pay attention.
It's not completely his fault. It never seemed like NXT truly knew what to do with Kushida. However, they booked him well because they already invested time and energy into this guy, so they likely felt the need to give him something to do. Kushida won the cruiserweight title, but the division was so damaged at this point that it didn't matter. Perhaps it was the language barrier that held Kushida back from his true potential in WWE? Say what you will about Shinsuka Nakamura, but the former Intercontinental Champion has always been dripping with tons of charisma, and despite him not being a strong talker in the English language, he got over with WWE fans because he showcased that he could fit into the WWE entertainer mold thanks to his heel turn back in 2019. Kushida just doesn't have the level of charisma that Nakamura does. This is in part due to the fact that the company hasn't effectively figured out how to use foreign talent who don't particularly speak English too well. Asuka and Nakamura have gotten over thanks to their charisma, but if you look back on their title reigns on the main roster then you'll notice how WWE clearly doesn't have much confidence in either performer when it comes to promos.
Once the company revamped and got rid of the majority of the 205 Live roster, Kushida's fate was all but sealed. He essentially kept the title warm for Roderick Strong. Despite fighting names like Pete Dunne, Johnny Gargano, or Santos Escobar, there just isn't a moment that stands out when it comes to the former WWE superstar. Kushida forming a tag team with Ikemen Jiro was the final nail in the coffin. It was obvious that creative had no plans for him on the brand and the chances of the former cruiserweight champion moving up to the main roster were slim to none. Jacket Time were essentially jobbers for the bigger tag teams, and it was clear that Kushida's heart just wasn't in it. So when it was confirmed that the former NXT star had left the company, it wasn't a big shock. WWE clearly had no plans for him, and given all the strikes against Kushida, it was a slim chance that he would move beyond lower card. He made the right call in taking a risk and jumping ship over to WWE. Sure, he was doomed from the beginning, but there's also a small chance that he could've been a big success in the company. More importantly, life is about risks, and sometimes you just have to take them, even if it falters in the end.
Tell us what's wrong with this post? How could we improve it? :)
Let us improve this post!