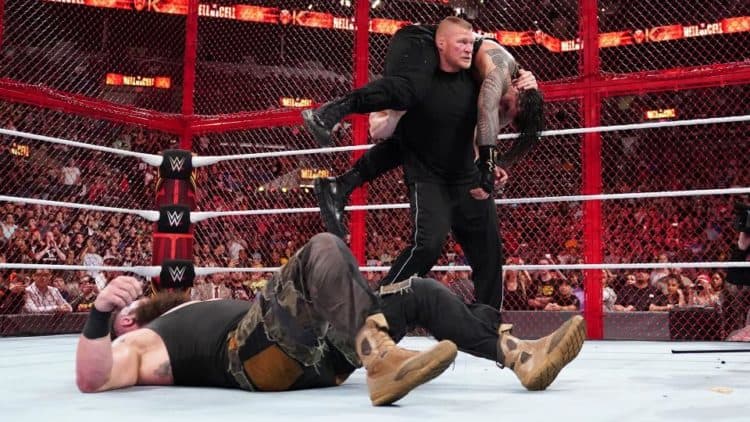 The Hell In A Cell match made its debut in 1997 as HBK took on The Undertaker in one of the most brutal WWE matches up until that point. Since then, it has been used to settle feuds between arch-rivals. In 2009 WWE decided to make it its own branded PPV, which did dilute the significance of the match type a bit, but it has led to some fantastic matches, but also some pretty dreadful ones.
Here are the top 5 worst Hell In A Cell main events of all time.
5. D-Generation X (Shawn Michaels and Triple H) vs Legacy (Cody Rhodes and Ted DiBiase Jr) – Hell In A Cell 2009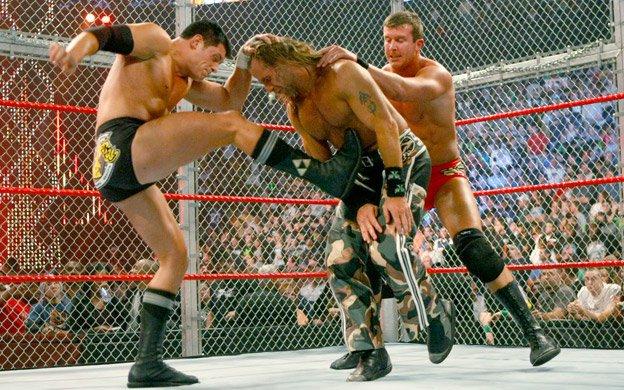 With there only being 11 Hell In A Cell main events at the time of writing this, 5th doesn't necessarily equal bad, it just happens to be the 6th best main event so far. At the very first Hell In A Cell PPV in 2009, D-Generation X members Triple H and Shawn Michaels took on the team of Cody Rhodes and Ted DiBiase. The match pit the veteran DX against the new blood of the WWE, as both members of Legacy were second-generation wrestlers, with Cody being the son of Dusty Rhodes and DiBiase Jr being the son of WWE Legend Ted DiBiase.
With both DX members being veterans of the Hell In A Cell match, it certainly helped with putting together a well-constructed match that would utilize the cell. During the match, Triple H was locked out of the cell which allowed for Legacy to team up against HBK, before The Game made his return and laid out Legacy. The Hell In A Cell was used well without being too over the top and proved that not every match needs a bump off the top or side of the cell. Overall, very good match but it doesn't quite rank up there with some of the future main events that we would see.
4. Alberto Del Rio vs CM Punk vs John Cena (WWE Championship) – Hell In A Cell 2011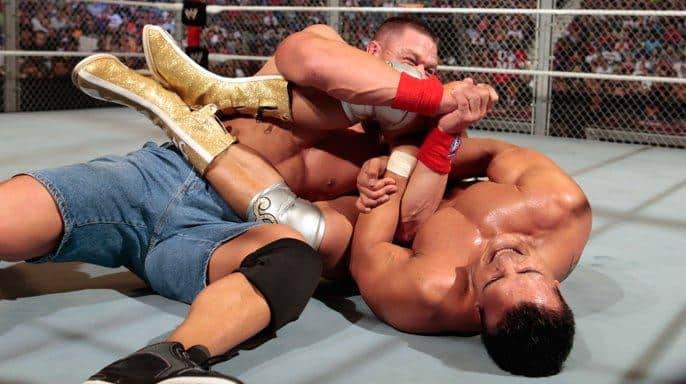 At Hell In A Cell 2011 Alberto Del Rio won the WWE Championship by defeating champion John Cena and CM Punk inside Hell In A Cell. Overall, the match wasn't bad but it wasn't that great either. Had the match been John Cena vs CM Punk it likely would have been a much better match, and the wrong Superstar won too.
3. CM Punk vs Ryback (WWE Championship) – Hell In A Cell 2012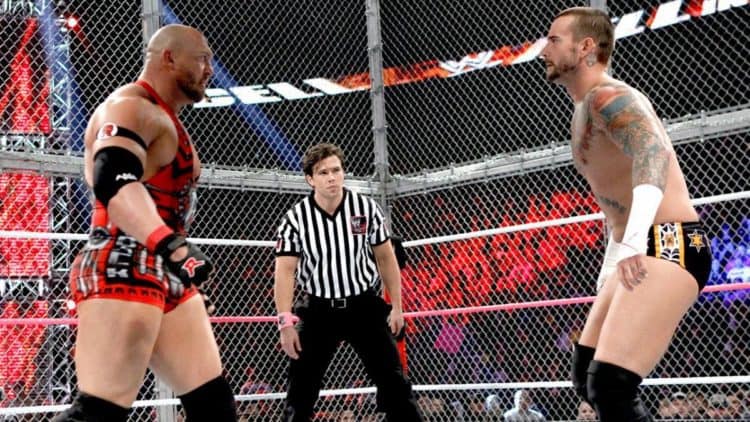 Hell In A Cell 2012 and 2013 both saw CM Punk face Ryback inside Satan's Structure. This was during the time that WWE was attempting to push Ryback as a monster heel, and it's not that Ryback was a bad performer, but he wasn't that incredible either. Like the other previous entries in this list, the match itself isn't necessarily bad, but with only 11 to choose from, some matches do have to get put in this list. But, it was fairly average and overall a pretty forgettable match that you won't miss if you don't go back and check it out.
2. Roman Reigns vs Braun Strowman (Universal Championship) – Hell In A Cell 2018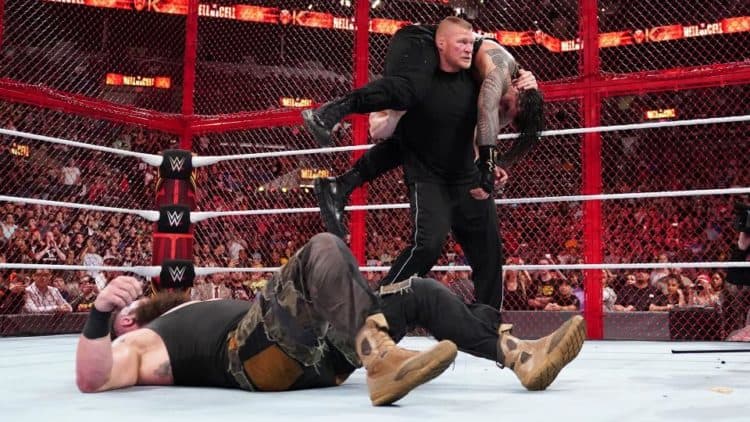 Before the finish of the match, Roman Reigns vs Braun Strowman was overall a really good match, with 2 very physical Superstars giving it everything they've got to try and win. We even saw Dolph Ziggler and Drew McIntyre attempt to interfere in the match before Seth Rollins and Dean Ambrose made the save, with the 4 eventually fighting on top of the cell, ending with a table bump by Rollins and Ziggler. And then, the finish happened which saw Brock Lesnar interfere and layout both men causing the referee to end the match.
The finish didn't make much sense, considering the first-ever Hell In A Cell match saw the debuting Kane interfere which helped Shawn Michaels defeat The Undertaker. Had the match been allowed to end with a pinfall or submission it wouldn't have taken away from the match, Lesnar kicking the door off its hinges before destroying both men was a sight to see. But, stopping the match due to the interference was just confusing to fans.
But, as you'll see, WWE didn't learn from its mistakes and it wouldn't be the last time that we saw a Hell In A Cell match stopped by the referee.
1. Seth Rollins vs The Fiend (Universal Championship) – Hell In A Cell 2019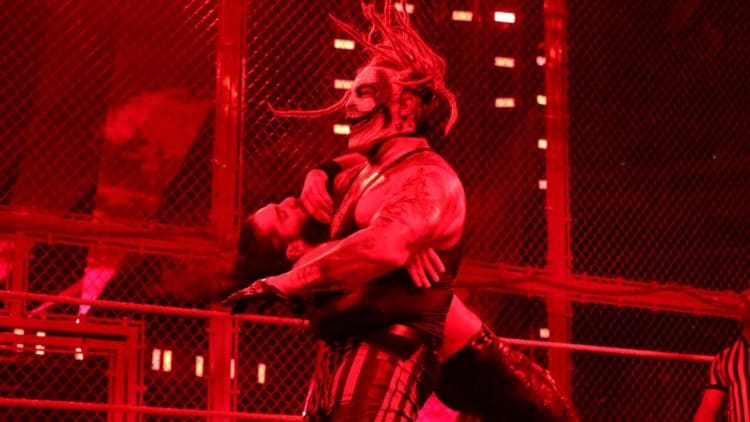 Hell In A Cell matches have long been one of the most brutal match types in WWE, this is where feuds will be settled and more often than not blood will be shed. So, no other match could really take the top spot apart from Seth Rollins vs The Fiend at Hell In A Cell 2019 after the match was stopped by the referee due to the level of violence after Rollins used a sledgehammer to hit a pile of weapons that The Fiend was buried underneath.
This decision made no sense and fans at the arena and at home felt the same, with many fans in attendance chanting "refund", "restart the match", and "AEW". WWE Hall Of Famer X-Pac, who was watching as part of WWE's Watch Along show stated that "how the hell do you get DQ'd in a Hell in a freakin' Cell?", also noting he will likely not be invited back to take part in the show.