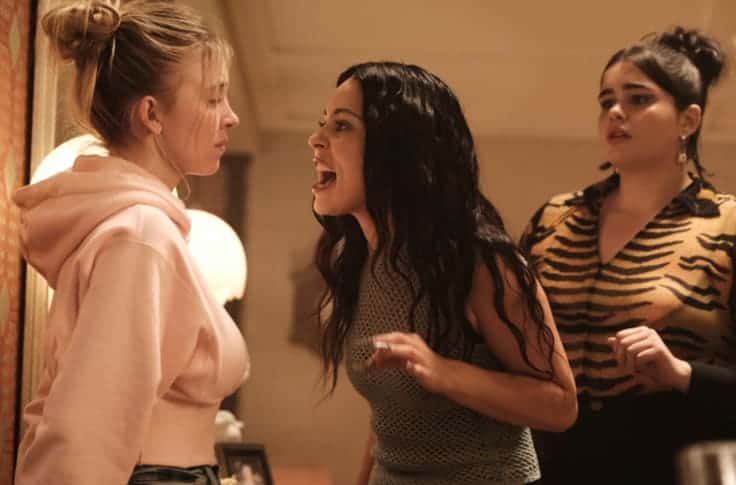 When Euphoria premiered on HBO in 2019, it didn't take long for the show to become a huge hit. With an awesome cast and a storyline that keeps viewers wanting more, it wasn't much of a surprise when the show was renewed for a second season. What did come as a surprise to many, however, was the amount of time it took for the second season to air. Sure, COVID-19 played a role in the season's delay, but the wait was much longer than most people could understand. When season two finally aired in January of 2022, fans were excited to see the show back on air, but now that the second season is over, viewers are wondering when they can expect the third. Keep reading to find out why it takes so long to film Euphoria.
Here's Why The Filming Process Is So Long
If you're a Euphoria fan, you probably already know that the show has been renewed for a third season. However, you probably also know that you shouldn't get too excited because we definitely won't be seeing season three any time soon. That's because filming for Euphoria takes a significant amount of time. More time than many other shows. Apparently, some of the scenes in the show are so detailed that it can take around eight hours just to film one scene. According to Looper, Barbie Ferreira, who plays Kat in the show, said, "Everything is intricately shot. So, let's say I'm walking down the hallway to go to the mall. That will take about eight hours." She also added that it's not unusual for filming to take even longer and that sometimes they can be on set until two in the morning. That isn't the only thing that causes the show to take longer to be made. While the first season was shot digitally, the second season was shot on 35mm film which also lengthened the process. On top of both of those things, Zendaya's schedule could also be a reason for delays. After all, she has projects going on outside of Euphoria so her availability is probably very limited.
When Can Viewers Expect Season Three?
Unfortunately, HBO has not revealed when we can expect season three to premiere. The good news, however, is that it probably won't take as long as season two. Despite the show's filming time, COVID-19 restrictions still played a significant role in why the second season took so long. Now that those restrictions have been lifted, that should mean that the third season will air at some point in 2023. If the show doesn't release a new season next year, it'll be interesting to see how viewers respond. Sure, Euphoria has a large and dedicated fan base, but let's be real, people also have short attention spans. There are new shows being released all the time and people tend to lose interest in things after a while. If Euphoria keeps taking two years to release a new season, it seems unlikely that the show will be able to sustain itself for much longer. No one wants to have to go back and watch the previous season again every year because it's been so long since they've seen the show.
What Will Season Three Be About?
In addition to not knowing when the season will be released, HBO also hasn't shared any details on what viewers can expect from the third season. That said, season two ended with somewhat of a cliffhanger which will need to be addressed. For example, is Fezco still alive? Will Ru be able to overcome her addiction? What's going on with Nate? Hopefully, the third season will provide answers to all of these questions and then some. One of the best things about Euphoria is that there are quite a few directions the story could go in and it's always interesting to see what happens to the characters. That said, if there's one thing viewers can expect from season three, it's a lot more drama. Unfortunately for Ru and the rest of her friends/classmates, drama is one thing that none of them can seem to avoid. Hopefully, though, the season will also incorporate some good times as well. All of the characters on this show have been through a lot, and they've had very few moments of happiness to balance it all out. Either way, viewers can rest assured that the cast and crew of Euphoria are going to bring it and like season two, season three will be worth the wait.