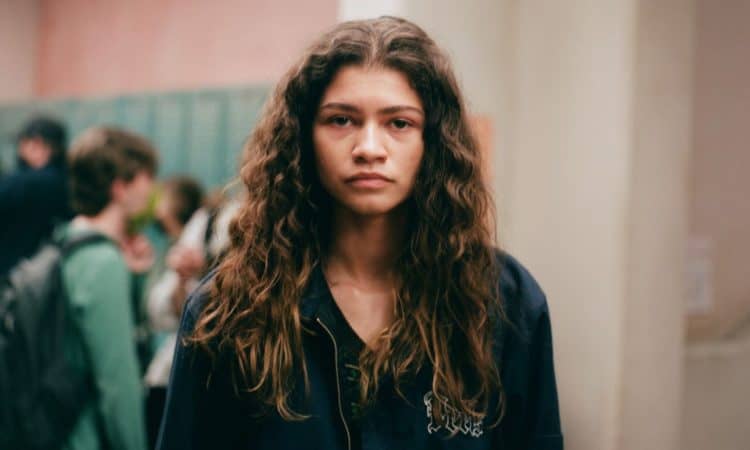 After months of anticipation, Euphoria Season 2 finally premiered Sunday with a dramatic yet intriguing introduction to Fez's grandmother, the sick woman wasting away in the back bedroom that we've seen glimpses of Season 1. Fez grandmother was the definition of a gangster. She was beautiful, yet hard-core and she saved Fez from his abusive father, taught him the game and raised him the only way that she knew he how. Grandma Fez picked up Ashstray, Fez's younger brother along the way. Ashtray's mother left him as collateral on a drug deal and never came back for him. Grandma Fez may not have been an ideal parent figure ( I mean Ashtray did get his name for attempting to swallow cigarette butts) but she loved her boys. She raised them to have a close bond and how to be self sufficient. That's why when she got sick at a young age and could no longer care for them they were able to take cause if themselves and keep her business up and running.
Fast-forward a few years later and in an act of brotherly love Ashtray kills an overly aggressive fetus dealer with a sledge hammer. It doesn't take long before Ashtray realizes he's created a mess and that the spontaneous act wasn't exactly nessacary. Now Fez and Ashtray has to smooth things over and make a new arrangement with the slain drug dealer's boss. Of course, Rue happens to find herself mixed in all this. She's always in the wrong place at the wrong time because she's always trying to score something. When they arrive at the drug dealer's house, they are forced to strip butt naked to prove they aren't wearing a wire. They all end up standing in the kitchen in their birthday suits until the boss, a former school teacher named Lauren says that they are good. Euphoria's drug scenes are always melodramatic and intensely unreal.
Back in the car, Rue is exhilarated from the adrenaline rush of almost being killed. Fez is furious. And reminds her that not everything is a joke. They end up spending the night at a wild back to school party where there is enough drug, sex and violence to cover the entire season. Maddie, Katt and Jules arrive at the party together. They run into Lexi who's frantically worried about Cassie since she's not yet at the party. But Cassie is perfectly safe, or as safe as she can be in the care of sociopath Nate. Yes, Nate stumbled upon Cassie sitting outside of the liquor store, her face stained with tears and offered her a ride to the party. Cassie and Nate's has one of the most intense scenes of the episodes. Nate is speeding while gulping down beers and somehow this ends up turning Cassie on big time before long her pantries are off.
Cassie and Nate end up making out in the bathroom at the house party. A knock on the bathroom door brings them back to reality. It's Maddie and if she finds her best friend is screwing her abusive ex-boyfriend they are both dead. Once Maddie realizes that it's Nate in the bathroom she grows more impatient and insists that he hurry up so that she can pee. Nate convinces Cassie to lay down flat in the bathtub and he conceals her by spreading out the shower curtain. The plan works. Cassie spends quite some time in the bathroom as Maddie invites Travis inside to smoke his joint. Fortunately, Maddie was too obsessed with the idea of making Nate jealous with Travis to even notice her best friend hiding in the bathtub.
Meanwhile, Rue was able to sniff out drugs in the house like the true addict that she is. She makes friends with Elliot when she catches him hiding in the laundry room sniffing a line. Elliot and Rue become good friends quick. They share their drugs with each other have a party of their own in the pantry. Rue experienced a rush like no other from the Cocaine and Adderall mix and for a moment we think she's overdosed. But the Adderall in her bloodstream brings her back down enough to where she's lucid. Elliot sighs in relief and they smoke a blunt together. What a "beautiful" start to a friendship. Although Fez feel like somewhat of an outsider , he's got some company, Lexi another self-proclaimed outsider who prefers the shadows rather than mingle with the attention seekers. Lexi and Fez exchange numbers. It's about time Fez gets some loving especially since everyone else is. Lexi isn't the only person that catches his attention. Fez spots Nate.
Fez approaches Nate and pretends to make peace with him. Instead he beats Nate to a bloody pulp and if nobody pulled him off of the diy he bag he probably would've killed him. Last season ended with Nate getting Fez in a great deal of trouble by anonymously calling the police on him. Beating Nate up wasn't just revenge but it was an ode to his grandmother who taught him at the very beginning of the episode that sometimes you have to show you mean business.
Tell us what's wrong with this post? How could we improve it? :)
Let us improve this post!