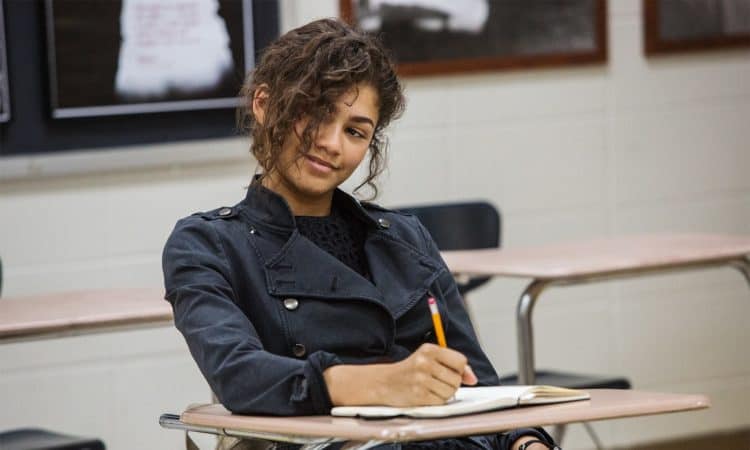 In 2010, Zendaya made her debut in the acting industry with such force, instantly gaining a massive fanbase. With a little over a decade in the industry, the Spider-Man: No Way Home actress has reached a height of success that her peers can only dream of. At the age of twenty-five, Zendaya is proving to be an actress to watch, if her numerous awards and business savvy are anything to go by. It's only a matter of time before she joins the list of highest-paid actresses. Here's how she's gained notoriety through the years:
An Artistic Background
Born in September of 1996, Zendaya got her name from the Shona tribe of the South of Africa. As early as the age of six, she was already exposed to the world of art. She and two of her friends participated in her school's Black History Month celebration by performing a play. At the time, Zendaya attended a school in which her mother was a teacher. She would later nurture her craft as a performer at the Californian Shakespeare Theatre, where her mother worked during the summer. When she was eight, she became a part of Future Shock Oakland, a hip-hop dance crew. Zendaya was part of the group for three years. She later attended Oakland School for the Arts, all while horning the art of acting through theatre. She was a part of a number of productions including Caroline, or Change, As You Like It, and Richard III.
Breakout Show: 'Shake It Up'
It's not every day that an actor's first job becomes the one that throws them into the spotlight. In rare cases, for actors like Zendaya and Cameron Diaz, who dropped a modeling background to become Hollywood's It Girl at her first try, the first time is a charm. Zendaya made her television debut on Disney's Shake It Up. On the show, which premiered on the channel in 2010, Zendaya portrayed Rocky Blue, an extremely intelligent animal rights activist who had a passion for dancing. Rocky, the daughter of a beautician and a doctor, made it her mission to get her best friend CeCe ( Bella Thorne) out of trouble. Unlike Rocky, CeCe was smart on the streets. For her role as Rocky, Zendaya instantly rose to fame. She gained herself a massive teen fanbase, given that an estimated six million people tuned in to watch Shake It Up when it first went on air.
Road To 'Euphoria'
Soon after gaining an audience through Shake It Up, Zendaya appeared in many a television film including Frenemies, in which she portrayed the role of Halley Brandon and Zapped, in which she played Zoey Stevens. In 2013, Zendaya was a contestant on the 16th season of Dancing with the Stars. At the time of her appearance, Zendaya was the youngest contestant to have ever appeared on the show. Her dancing background came in handy since she ended up as a runner-up. Soon afterward, Zendaya starred in a self-titled series dubbed The Story of Zendaya. She further appeared in the dance-themed shows The Making of SWAY and SWAY: A Dance Trilogy. From 2015 to 2018, Zendaya played the leading role of K.C. Cooper on K.C. Undercover. She would later make appearances in a number of shows, including Black-ish, Walk the Park, and OA. In 2017, she appeared alongside Tom Holland on an episode of Lip Sync Battle. In between, she bagged roles in several films, including The Greatest Showman and Spider-Man: Homecoming. In 2019, Zendaya landed yet another significant role, that of Rue Bennett in Euphoria.
Starring On 'Euphoria'
Euphoria made its debut on HBO in June of 2019 and was immediately renewed for a second season. The show was derived from an Israeli series that bears the same name. In it, Zendaya's character Rue Bennet is a recovering drug addict who's trying to figure herself out. Almost immediately, it was met with great reviews. Sadie Walsh, a fan of the show, wrote: " I honestly could not believe how amazing this show was. From the beginning to the end, the cinematography that the show had created was incredible, from Rue spinning around the room to Jules riding home on her bike ready to meet 'Tyler'. It blew my mind how clever the crew was…And the scenes that Zendaya had shot on Rue's drug life were amazing. From knowing that the creator, Sam Levinson, had problems exactly like Rue's showed how real and truthful the storylines were in this show, and it proved that one person can flip somebody's life upside down…In conclusion, this show was made excellently, and I cannot wait for season 2."
Becoming The Youngest Emmy Winner
Just like Walsh, the television academy thought Zendaya's role on Euphoria was exceptional, and she got highly rewarded for it, making history in the process. In 2020, Zendaya became the youngest actress to win the Best Actress in a Drama Series award at the Emmys. She was up against actresses Jodie Comer and Sandra Oh, both from Killing Eve, Jennifer Anniston, who had been nominated for her role on The Morning Show, Olivia Colman, nominated for The Crown, and Ozark's Laura Linney. While accepting her award, Zendaya was surrounded by friends and family. Elated, she gave an acceptance speech about hope. " I know this feels like a weird time to be celebrating, but there's hope in the young people out there. I know that our TV show doesn't always feel like a great example of that, but there is hope in young people," she said.
Joining The A-Listers
With an Emmy in her pocket, Zendaya has sent the message that she's here for the win. Despite barely clocking the age of 30, she's established herself as a force to be watched in the industry. While attention has shifted to her relationship with Tom Holland in recent months, it doesn't take away from the talent she oozes. She continues to appear on Euphoria and has landed roles in a number of films, including Dune, where she plays the role of Chani. To say that she has joined the A-Listers is an understatement. Zendaya has managed to use her influence to successfully pursue other ventures, thus diversifying her sources of income. As a public figure, she has leveraged her influence to market brands such as Lancomé, Bulgari, and Valentino. Given her age, Zendaya is yet to shatter glass ceilings and surprise us even more, both as an actor and an entrepreneur.
Tell us what's wrong with this post? How could we improve it? :)
Let us improve this post!