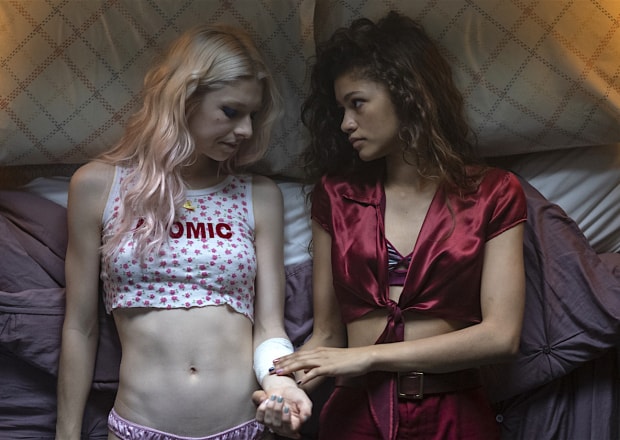 Unless you've been living under a rock for the past few months, you'll have seen the headlines about HBO's controversial new teen drama, Euphoria. With its frank, unflinching depiction of modern teenage life, the show follows the lives of a group of teens as they navigate their final years of high school… with all the drugs, sex, love and drama that entails. Created by Sam Levinson and based on an Israeli series of the same name, the show features an ensemble cast of some of Hollywood's brightest and most talented young stars. Let's take a peek at some of Euphoria's main characters, and the actors who play them.
Zendaya
Taking the role of Rue Bennett, a recovering 17-year-old addict fresh out of rehab and struggling to find her place (and sobriety) in the world, is Zendaya, the 22-year-old Disney graduate who wowed us with her performances in such films as Spider-Man: Homecoming, and The Greatest Showman. In addition to her stellar acting career, Zendaya has also released several highly successful albums and singles, including her self-titled debut album in 2013 and "Rewrite the Stars" in 2018.
Maude Apatow
The part of Lexi Howard, Rue's childhood friend and Cassie's younger sister, is played by the daughter of renowned director Judd Apatow and actress Lesley Mann, 21-year-old Maude Apatow. Prior to her casting in Euphoria, Apatow was best known for playing Mann's on-screen daughter in such features as Knocked Up (2007), Funny People (2009) and This is 40 (2012). Outside of her budding acting career, Apatow is perhaps best known for her Twitter feed, which has amassed a huge following and the title of "Best Twitter Feeds of 2013" by Time.
Angus Cloud
Playing Fezco, the town's local drug dealer, is Angus Cloud, an actor who, prior to Euphoria, was best known for the TV series IWA Pro Wrestling TV. Despite his shady dealings, Fezco proves a positive influence on the former addict Rue as he attempts to show her that drugs are the cause of, and not the solution, to her problems.
Eric Dane
Eric Dane stars as Cal Jacobs, Nate's father and the keeper of some pretty dark secrets. Dane's casting in the teen drama comes off the back of a successful career in TV and film that's included starring roles as Jason Dean in the supernatural drama, Charmed, Dr Mark Sloan in the medical drama, Grey's Anatomy, and appearances in films such as Marley & Me (2008), Valentine's Day (2010), and Burlesque (2010). In addition to his acting roles, Dane has also tried his hand as a producer, with credits including The Last Ship, in which he also starred.
Alexa Demie
Nate's on-again, off-again girlfriend Maddy Perez is played by Alexa Demie, an actress who has recently risen to prominence thanks to her roles in the Jonah Hill directed feature, Mid90s (2018) and Waves (2019). Other TV credits include Sara in Miles, Meredith in Brigsby Bear and Shairee in the Showtime drama, Ray Donovan. Outside of acting, Demie is a part-time model, fashion designer, and singer, whose virtual EP, DEMIEGOD, was released in 2014. Of all her accomplishments, Demie cites "staying faithful to myself' as her proudest.
Jacob Elordi
Nate Jacobs, a confused teen whose tempestuous nature conceals a score of sexual insecurities, is played by Jacob Elordi, an Australian actor who rose to fame as Noah Flynn in the movie, The Kissing Booth (2018). Despite being active in the industry for only 4 years, Elordi has already achieved a long list of film and TV credits, with roles including a St Martine's Marine in Pirates of the Caribbean: Dead Men Tell No Tales (2017) and Rooster in Swinging Safari (2018). In addition to Euphoria, 2019 will see Elordi take the part of Jake in The Mortuary Collection, Chris in 2 Hearts, and Noah Flynn in The Kissing Booth 2.
Barbie Ferreira
Insecure teenager Kat is played by Barbie Ferreira, a model, and actress who came to international attention when untouched photos from her fashion shoot with Aerie were released in 2016. Ferreira has since become a shining light in the body positivity movement, and has even been named as one of Time's "30 Most Influential Teens". When it comes to acting, Ferreira has won acclaim for "Divorce', which saw her star alongside Sarah Jessica Parker and Thomas Haden Church as Ella.
Nika King
Taking the role of Rue and Gia's mother, Leslie Bennett, is Nika King, a comedy veteran of such shows as the web-series Funny Married Stuff, 2 Broke Girls and Hannah Montana. King has drawn on her childhood experiences as the inspiration for playing the mom of drug addict, Rue. "I used moments and people from my childhood to give me a foundation for Leslie," King told Forbes. "I grew up in impoverished areas of the city. I remember seeing addiction full-on as a kid and having it in my family. It fueled my character's theme and the overall objective of dealing with her daughter, seeing her going down a wrong path."
Storm Reid
Storm Reid plays Gia Bennett, Rue's younger sister. The 15-year-old actress began acting at the age of 3, and in 2013, she earned her big break as Emily in the Academy Award-winning 12 Years a Slave. Since then, she's taken on numerous roles in TV shows such as The Thundermans, Adam DeVine's House Party, NCIS: Los Angeles and Chicago P.D. She's also starred alongside Oprah Winfrey in the 2018 fantasy feature, A Wrinkle in Time.
Hunter Schafer
Taking the role of Jules Vaugn, a trans girl who befriends Rue, is Hunter Schafer, an actress, model, artist, and outspoken LGBT activist. Prior to landing her first acting gig in Euphoria, Schafer was best known as a favorite of such fashion houses as Dior, Rick Owens, Helmut Land, and Versace.
Algee Smith
Actor Algee Smith takes on the role of Chris McKay, a footballer who faces difficulties in adjusting to the demands of college life. Smith is best known for his portrayals of Ralph Tresvant in BET's The New Edition Story, and as Larry Reed in Detroit.
Sydney Sweeny
Playing the role of Lexi's promiscuous older sister, Cassie Howard, is Sydney Sweeney, an actress best known for her reoccurring roles as Eden in The Handmaid's Tale and as Alice in the HBO miniseries, Sharp Objects. 2019 is set to be a big year for the up-and-coming actress; in addition to Euphoria, she's also set to star in the Jason Orley directed film, Big Time Adolescence, and in the upcoming horror film, Tell Me Your Name.