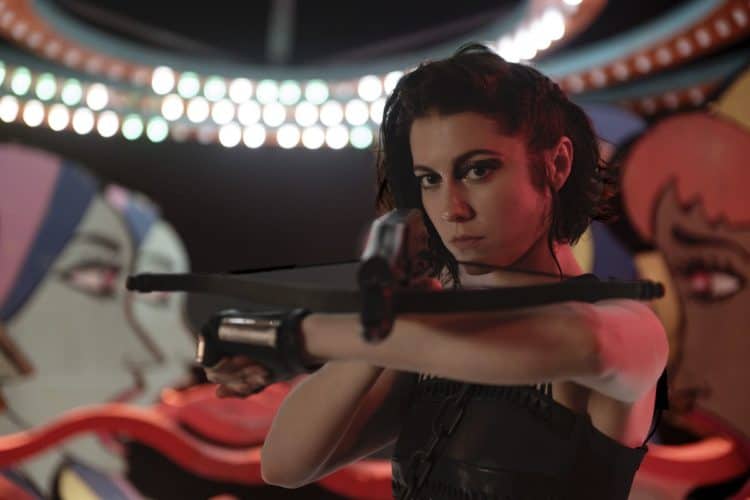 Unfortunately, Birds of Prey (and the Fantabulous Emancipation of One Harley Quinn) was a box office dud. However, despite being a financial disaster, the film did introduce several characters into the live-action DC realm for the first time, including Huntress, played by the talented Mary Elizabeth Winstead. Huntress is the former heir to the Bertinelli crime family who turns into an assassin hell-bent on revenge against the people that murdered her family. There are actually three versions of the character in the comics, with the other two being Paula Brooks (introduced in Sensation Comics #68) and Helena Wayne (introduced in All-Star Comics #69). Preferably, it would be great to bring back Winstead for the role of Huntress as she was fantastic. However, the more interesting version of Huntress is actually her being the daughter of Batman and Catwoman.
Wayne is in the crossfire of two different worlds. Selina Kyle is a sly criminal who's on the side of good more often than not; however, Batman is a hero through and through. There are definitely versions of Batman being the villain or in the case of live-action films, a murderer in Zack Synder's version. The dark knight is still a good character with high moral standing, with the usual portrayal of Batman not stooping down to the level of criminals by resisting the urge to kill. It's that juxtaposition in regard to their characters that makes it interesting how Helena Wayne grew up. Obviously, with Bruce Wayne and Selina Kyle being together, Catwoman is no longer up to her thieving ways, but that doesn't mean that Ms. Kyle's moral standards match with Bruce. Perhaps Selina taught Helena about the criminal underbelly that she used to thrive in? Maybe Selina was still working underground with the thugs and criminals of Gotham City under his nose? In the original comics, Huntress is born following the death of her parents. This Huntress isn't as murderous as the Bertinelli version, but it would be silly not to dance between light and dark with her character.
There's no way Batman is dying in the live-action version. Given that The Flash will be Ben Affleck's final go as the caped crusader in the DC universe, it's possible that his end meets a grim fate, but it'll highly be unlikely that both of the popular DC characters will be axed just to see the rise of Huntress. But that's not where the interest lies as we won't get the psyche of Batman who is possibly a raising a murderous fiend who thinks killing is okay for the right reasons. Having a Batman crime fighting family would be a cool way to also showcase a different side of the dark knight, while balancing the complex dynamics of each character. However, the DC universe usually shines when it focuses on the criminal aspect of the world.
Focusing on the Bertinelli crime family as they run rough shot throughout Gotham could be a fun diversion, if they manage to standout in a world of criminals who bring a unique sense of character to the DC universe. Following Helena through the ups and eventual downs (the murder of her family) could be a rare character study that DC doesn't particularly go for in their films outside of Batman. Watching her world crumbling and trying to recoup after such a devastating loss can introduce a new side that's rarely seen when it comes to the female spectrum in comic books. Harley Quinn is crazy, but she's not necessarily a shattered mess who's hellbent on murder and mayhem. This is a different side of grief that's well worth exploring and it should be a bloody fun and emotional ride seeing Huntress track down the men (or possible women) responsible for the loss of her family. Either way, including Huntress in the DC world can open up the possibilities of a future debut in the Matt Reeves series of Batman. Maybe the amateur detective made a mistake that costed her family their lives? Batman has yet to have a true female villain on his level. Miranda Tate is more of the brains of the operation in The Dark Knight Rises. Catwoman is more of a love/hate relationship. There's not a desperate need for a female villain but shaking the status quo by incorporating a new antagonist can help expand the world of Batman and Gotham. Whether the focus is on Paula Brooks, Helena Wayne, or Helena Bertinelli, Huntress deserves her own movie after standing out in Birds of Prey, and given her rich backstory, she'll make a fine addition to the live-action world of comics.