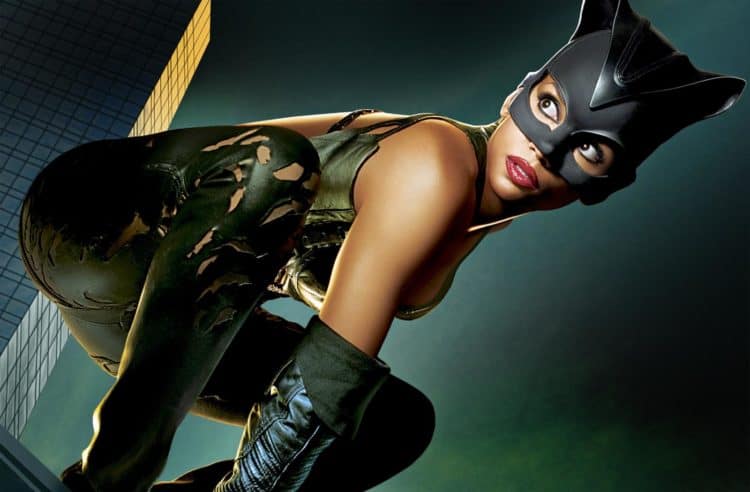 Let's get something straight, Catwoman is a bad movie. Incredibly bad. Following Halle Berry's Oscar winning turn in Monster's Ball, she went on a noticeable string of misfires and this solo feature was a massive one. What's worse? It has nothing to do with the DC canon. The 2004 feature was rightfully bombarded with negative reviews upon release and flopped hard at the box office. To add more insult to injury, Catwoman was nominated for multiple Golden Raspberry awards, though the Oscar winning actress took her Razzie win like a champ. So exactly why does Halle Berry's version deserve a proper ending? Because the actress was the only bright spot in the horrendous feature. Though none of the DC related films ever connected themselves to this terrible vehicle (and for good reason), Halle Berry's character deserves some type of closure. Am I asking for a sequel to Catwoman? No. That's a terrible idea. It would fail at the box office again because of the first film.
However, given the fact that The Batman currently has an actress of color in the role of Selina Kyle, then this could work as a supporting character to the modern version of the DC hero (or villain?). However, Catwoman does deserve another solo feature focusing on Selina Kyle. At this point, we already know what and who Ms. Kyle is: an expert thief who grew up in the criminal underbelly of Gotham City. An interesting fact about Ms. Kyle's origin story is that her mother was murdered when she was seven. This is actually the perfect opportunity to sneak Halle Berry's version into the film. Now, there's going to have to be several tweaks made. I understand that Patience Philips was the exact opposite of the popular DC character, but it's been nearly ten years since we've seen the character, who says she can't change from that moment. Perhaps years after fighting crime, Patience slowly becomes a deep part of Gotham and becomes an unknown vigilante to the world. To protect loved ones, she fakes her death, effectively offing Patience Philips. She changes her name to Maria Kyle and ends up getting knocked up by one of the gangsters in her city.
She gives birth to her daughter, Selina Kyle, and from a very young age, the mother teaches her daughter her Catwoman ways. This eventually leads to Maria being murdered right front of her daughter. In reality, DC can continue to ignore that Halle Berry's version is non-canon and that's fine. But this is a fun way to incorporate the past into the modern Batman world while still highlighting the new Ms. Kyle and going deeper into her character. The spotlight should always be about Selina Kyle, but giving Berry a proper goodbye can close a chapter in her life that arguably slowed down her career. It wasn't Berry's fault that she had to deal with a horrendous script that was doomed to fail the moment executives greenlit the feature. In truth, Selina Kyle doesn't particularly need a backstory, though surprisingly, we haven't got a live-action version because she's always been a supporting player. Catwoman and Batman are ying and yang, so it's natural that Ms. Kyle hasn't had another solo film yet, but that doesn't mean she can't be a compelling character on her own. Could Halle Berry's Catwoman make a solo feature? Sure! As I previously mentioned, it wouldn't be greenlit because of how much of a disaster the first film was, but that doesn't mean that Berry's version can't lead another film.
The big advantage that Catwoman would have is that its been nearly 20 years since the first film. Meaning, it doesn't have to pick-up where they left off. Perhaps Catwoman is beaten down and broken at this point. She's been fighting crime in such a corrupt city that Gotham has taken away any happiness that's left in her life. She's near death and her mental state has deteriorated. This would be in vain of Logan, where Professor X's is a shell of his former self. Catwoman wouldn't be down that bad, but she's pretty much near that point. I know it sounds crazy to say that the least liked version of the popular DC character deserves a good ending, but there's a good story to tell with this version and it could be a fun easter egg if we ever get a look at Selina Kyle's mother. Halle Berry deserves one more opportunity as the masked heroine, though she'll likely never get one in the end.
Tell us what's wrong with this post? How could we improve it? :)
Let us improve this post!