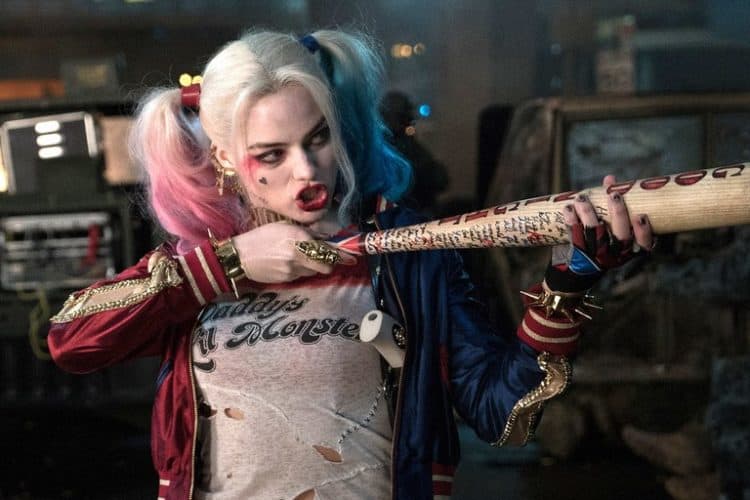 When it was first announced that Harley Quinn would make her live-action debut in David Ayer's Suicide Squad, there was a lot of excitement and nervousness in regard to the popular DC villain finally making her movie debut. There wasn't much blowback when Margot Robbie was cast as Quinn, but most of that excitement turned into nervousness when pictures of the character were released. While Quinn's looked were straight from the modern comics, many were disappointed that she didn't have her classic attire in her early incarnations of the character. Many felt that Quinn looked more like an edgy hot topic character who was purposely being sexualized for young men. Still, Suicide Squad came out and the reviews were not pretty for the David Ayer feature, but Margot Robbie's performance as the character was highly praised. While Robbie didn't originally know too much about the character itself, the actress made such to dive into the world of the popular DC villain. She trained hard for six months by getting into gymnastics, boxing, aerial silk training and researching women with schizophrenia. Her hard work clearly paid off and while the reviews for Suicide Squad weren't great, the film made over $700 million worldwide.
This allowed Margot Robbie to explore the character in her own setting and the actress was the main reason for Birds of Prey (And the Fantabulous Emancipation of One Harley Quinn). The film focused on the DC character following her break-up with The Joker and it was supposed to be an introduction of a new all-girls squad that included The Huntress and Black Canary. Upon release, the solo Quinn adventure was highly regarded, but sadly, the film didn't meet box office expectations, only garnering $201.9 million worldwide. Robbie was given one more chance to play Quinn in the sort of reboot/sequel of James Gunn's The Suicide Squad. Once again, the 2021 film was met with high praise including Robbie's performance, but the feature was way below box office expectations. At the moment, the future of the character is currently up in the air. In Zack Synder's Justice League, it's actually revealed that the character died, but Synder's film is no longer canon to any of the DC-related films so it's a separate thing of its own. Now, the actress has stated she's always game to return as the popular DC character, but is that a good idea? Here's the thing, Margot Robbie was simply perfect as Harley Quinn. It's rare that casting for a comic book film is a natural fit, but Warner Brothers has managed to find an actress who's done the role proud. Whether you hated the fact that she wasn't wearing the traditional red and black and jester hat, to the more feminist character in Birds of Prey, or that she is a bit more super powered in the films itself, there's no denying that Robbie is knocking out these performances. Sure, there may be minor nitpicks here and there, but there should never be a question on whether Robbie is a perfect fit for the role.
Now, the biggest issue lies on whether Robbie should return to the role. Perfect or not, Birds of Prey (And the Fantabulous Emancipation of One Harley Quinn) and The Suicide Squad flopped. There's no exact reason why. Maybe guys weren't into the feminist "all men are sexist assholes" angle. Seriously, that film draws a line between men and women. Robbie may be perfect casting, but Birds of Prey doesn't exactly nail down the original character like many audiences wanted. The Suicide Squad does a better job, and it's truly baffling that the James Gunn film tanked during its initial run. There was nothing controversial going on during that time and the cast in total is generally liked. In fact, Gunn is the reason Guardians of the Galaxy is a huge part of the Marvel universe, and many fans have praised him on the way he's handled the source material. But there's no denying that Margot Robbie's Quinn is associated with both flops. Is it her fault that these movies tanked? I don't know. Again, there was never any outrage regarding the actress or her portrayal of her character. There is a vocal minority who don't particularly like the path that Quinn has taken since her introduction. However, I can't outright state that its Quinn's fault without some hardcore facts first. Warner Brothers executives might think differently and opt to search for a new Quinn. Having a new Quinn would disassociate the Robbie versions in audience's mind and they might be interested in checking out the new incarnation of the character. At the end of the day, it's all about the way the character is written. Of course, performance is important, but you can have a great performance but a terribly written character. Robbie should be given at least one more chance as the character, though not in a lead role. Perhaps she has a minor role in the next Batman film? Either way, it's better to test the waters on how to move forward then trying to do another solo feature. Harley works best with Joker or even Poison Ivy by her side. It's a shame they didn't go for Gotham City Sirens instead. If the next film with Robbie's Quinn flops, then yeah, it's time to move on to another actress for the role. Robbie may be a perfect fit, but if she's just not connecting with the audience then it would be silly to continue using her in the role.
Tell us what's wrong with this post? How could we improve it? :)
Let us improve this post!