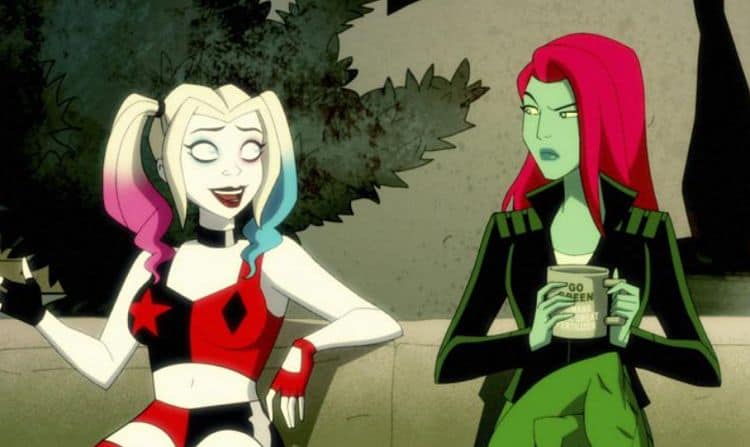 With the recent release of The Suicide Squad film featuring none other than Harley Quinn, we're going to take a look back at America's most loveable psychopath on her animated series on HBO Max. The adult animated cartoon follows none other than the woman herself, Harley Quinn, in a series of misadventures along with other notable characters in the DC universe such as Poison Ivy, Batman, and King Shark. Here we'll revisit the best episodes from the second season of the DC show. Let's get started.
New Gotham
So Gotham is in a state of ruin and the villains run the show. The problem? Everyone DC bad guy (or girl) wants to rule the place that's no longer apart of the United States of America. The second season started off on a bit of a somber note but the show's dark humor once again took center stage with Harley Quinn celebrating Gotham's demise. The twisted humor continues to be top-notch here, with Harley sledding across Gotham as two men fight over another man's arm as a strong example. This riotous episode also introduced us to Penguin and Two-Face. The story of the henchmen taking over highlights the strong writing of the adult show, with strong one-liners and visual gags of the goons overstepping their respective DC boss. The introduction of the Injustice arc that plays out through the entire season was a great teaser for the remaining episodes of season two.
Thawing Hearts
In this episode, Harley Quinn was finally going to kill Mr. Freeze! But before their encounter, there was a fun battle sequence on ice with Harley Quinn and crew (Clayface, King Shark, and Dr. Psycho) discussing Quinn's plans to bring a date to Poison Ivy's wedding. The fun didn't end there as the entire Quinn and Mr. Freeze dynamic was hilarious. Quinn defrosting Mr. Freeze's terminally ill wife because she incorporated her toxic relationship with Joker was a great character moment for both Quinn and Mr. Freeze. The later sequence of Mr. freeze, his wife, and Harley Quinn was a funny and heartbreaking gag. Kite man's side story of not being happy with condiment man's congratulations text was also a fun B plot for the episode.
Batman's Back, Man
Batman is finally back in Gotham! The villains had been running afoul throughout season two but a new hero is introduced, Batgirl. The writers once again do an organic job of introducing a new face into the DC world and Batgirl doesn't disappoint. The opening with the two nerds discussing the Harley Quinn show deviated from the usual introduction and this mini-gag knocked it out of the park. This time, the episode focused on Batman and his inability to make a comeback (despite the headlines saying that he's coming back). It's nice to focus on the caped crusader and his story was a nice episode that fleshed out his character a bit more. As always, Jim Gordon continues to be a highlight whenever he's onscreen and Batman's dark character continues to fit perfectly in this world. It was also cool to see Alfred and Batgirl teaming up to kick some ass and save Batman. The B story of Two-Face manipulating Bane provided some great one-liners and visual gags.
There's No Place To Go But Down
Harley Quinn and Poison Ivy are officially sentenced to jail for the rest of their lives due to the murder of Penguin; Can the villainess duo escape Bane's eternal prison? Quinn's quest to take down the Injustice league has been a thrill ride; however, the characters of this wonderful show continue to make the animated series pop. The mock trial continued to give Two-Face and Bane the spotlight and both DC villains never fail to disappoint. Obviously, we knew that Harley and Ivy were screwed here but the dynamic between these characters helps make up for the lack of tension throughout the scene. Quinn and Ivy's time in prison was mainly a set-up for the big moment at the end of the episode, which saw Harley spontaneously kiss Ivy after her best friend saves her life. The writers have done an excellent job building up to this moment and it was a nice progression for both characters. Another highlight of this episode was Commissioner Gordon's arc, where the commissioner went from a loudmouth drunk to a badass by the time the credits rolled. This was a sweet storyline that added important layers to Gordon's and Batgirl's characters.
Lovers' Quarrel
Dr. Psycho has taken over the city and looks to kill Harley Quinn for Darkseid. In this multiple-episode arc, the Justice League made their grand return, Clayface can apparently grow into giant size, and Dr. Psycho gets turned on by two women kissing. This episode was jammed-packed with cool fights and visuals; however, the developing relationship between Harley Quinn and Poison Ivy was put front and center. While it's been clear that Ivy didn't love Kiteman, the Bachelorette episode really pushed the Harley Quinn/Poison Ivy relationship forward and that came full circle. The whole arc with Dr. Psycho being the big bad was entertaining, with Joker realizing his true love, Bethanny, The Riddler being bad at making riddles, and Quinn and Ivy discovering their true love for one another. The good guys ultimately won the war but one steamy view of Quinn and Ivy's sexual encounter put a rift between Kiteman, Quinn, and Ivy, which would pay off to one of the best season enders for an animated show.
Tell us what's wrong with this post? How could we improve it? :)
Let us improve this post!