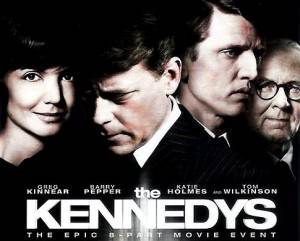 Earlier this week I debunked many of the supposed controversial scenes that would appear in The Kennedys mini-series, which will be premiering on ReelzChannel (read that article). The truth is, The Kennedys shouldn't be considered controversial. I'm not certain if the mini-series was re-edited or whether those controversial scenes were never even filmed, but the finished mini-series is a portrait of the family that spans several decades.
It also appears that a lot of critics are divided about the quality of the series. They also point out whether liberals or conservatives like or dislike it. I don't really see what that has to do with it one way or the other, but in the interest of full disclosure, while the Canadian political party system is different from that in the U.S., I consider myself to be a liberal. I also liked this mini-series. Was it perfect? No. Was it repetitive? Yes. Was everyone flawless in their acting? No. But that doesn't mean I didn't enjoy it.
We begin with a look at Election Night 1960 and get introduced to all of the major players in the first episode: Joe Sr and his wife Rose, Bobby and his wife Ethel and, of course, Jack and his wife Jackie. These six members of the Kennedy clan are featured throughout the remaining episodes, although we also see other Kennedy siblings and children, as well as major political figures, including J. Edgar Hoover and the members of President Kennedy's cabinet.
Many of the episodes are told in non-linear fashion. So, for example, while the Kennedy family awaits the results of Election Night, we also flash back to the years surrounding World War II, when Joe Sr. had been an ambassador and Joe Jr. had gone off to fight in the war. In later episodes we also see earlier scenes such as Jack and Jackie's first meeting and we learn the fate of another Kennedy daughter, which illustrates the struggle between Joe Sr. and his wife.
Joe Sr. played by Tom Wilkinson is not the 'horn dog'that was rumored in the script. Yes, the man is incredibly ambitious and is portrayed to have helped orchestrate the political careers of several of his children. He also cheats on his wife. Not necessarily in a blatant manner (although he does kiss his mistress), but the actions are there. Yet, at the same time, you believe this is a man who loves his family. When he's waiting for news about the possible death of Jack after his boat is sunk, you can see the grief he has at the possibility that his son may be dead. Many times throughout the mini-series he tells his children that he loves them and is proud of them and it doesn't seem like lip service, even if he pushes them to succeed and pressures them to fuel the family's ambitions. Watching the mini-series leaves you with the impression that Joe Sr. was a complicated man: one who wanted success at all costs, but who also cared deeply for his family. Later, after Joe Sr. has suffered a massive stroke and becomes a shell of his former self, you cannot help but feel pity that this man who had accomplished so much, but whose future triumphs were halted by the weaknesses of his own body.
His wife Rose (played by Diana Hardcastle) is actually the character I felt the least amount of sympathy for, even though I understood why she behaved in the manner that she did. Her devout Catholic background and careless treatment by her husband turned her into a bitter woman, who's anger at Joe Sr. becomes more pronounced after his stroke. She is probably the least developed in terms of characters.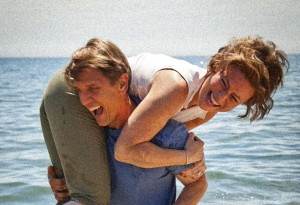 Barry Pepper as Bobby Kennedy was my favorite character and actor of the entire series. Out of all of the actors, I felt he had the best handle on the Boston Kennedy accent. Some of the other actors tend to let it slip through every once in a while, but no one really butchers it in the same way that Kevin Costner did in the movie Thirteen Days. Of all the Kennedy siblings, Bobby was portrayed as the most selfless and moral. He clearly didn't want to have a life in politics and didn't want to become Attorney General, but was pushed by his father. He spent a long time protecting his brother Jack and even cleaning up his messes. I don't know how much of this is historically accurate, but Bobby's struggles for a place in the Kennedy family – being one of the youngest children – and for the love and affection of his brothers and father – even if he's strong enough to stand on his own – touched me more than anyone else's journey throughout the series. I also loved his wife Ethel (played by Kristin Booth), who was portrayed as one of the strongest Kennedy women (even if she was an outsider). Her interactions with Bobby and their children was shown as the most stable and loving of the Kennedy marriages.
Greg Kinear is a decent Jack Kennedy. He doesn't get bogged down with the accent, he's handsome and his ability to portray both the strengths and weaknesses of the late president is believable. You'll cringe at the sometimes callous manner he treats his wife with his affairs, but the protrayal may not even be as bad as the reality. Jack comes across as a man who did love and care for his wife, but simply couldn't control himself. That's not an excuse, of course, but you also have to account for the fact that he genuinely seemed to want to do good things for his country, and that there are many lasting legacies of President Kennedy still around today. He wasn't callous and heavy-handed in his actions as president and this mini-series has no desire to portray him as such.
Then there's Katie Holmes as Jackie Kennedy. She's very quiet throughout most of the first two episodes, but some of her best scenes are those when Jackie is looking silent and stoic. Occasionally Holmes tries – and fails – to achieve Jackie's sometimes breathless voice, but fortunately that doesn't occur very often, and you can see her do the trademark 'Katie Holmes half-smile'that she does in real life. Her acting gets stronger as the episodes pass and Jackie herself becomes a stronger, more independent woman. She portrays Jackie as a loving mother who is conflicted by the classic 'working mother'syndrome – a desire to do her job as First Lady but also spend time with her children – and she loves her husband, even as she hates his affairs and the callous manner that he sometimes treats her.
In the end, the Kennedy family is likely not that much different from other wealthy and politically strong families. It's not as if no other politician has played games and orchestrated events to get elected. It's not as if no other spouses have lived marriages of convenience in order to further their individual and combined ambitions, even while managing to find some common ground and perhaps some kind of love and mutual respect.
In all honesty, my only complaint about The Kennedys mini-series is that it actually could have been longer. There are many events that could have gone into more detail. For example, I liked the portrayal of the Cuban Missile Crisis in the movie Thirteen Days and would have liked to see the mini-series go into more detail about it. And we certainly could have seen more about many of the other Kennedy siblings and cousins that were mentioned only marginally in the series. Occasionally, when the series flashes back to earlier events, I would have liked to have seen these instances told in more detail, as it would have helped flesh out the main characters even more. They also glossed over some of the more important political details – like the war in Vietnam – in favor of spending more time with the characters.
So, no, the mini-series is not infallible. But overall I enjoyed watching it. Am I certain that every scene and occasion is historically accurate? I honestly don't know. Does it portray the Kennedy family in a bad light? The answer is 'not really'. The family wasn't perfect, and no imperfections or dalliances beyond what we already knew are really shown here. As a piece of entertainment, The Kennedys mini-series is worth watching. In the end, whether you, as a viewer, feels the same way is impossible to predict, but I personally enjoyed it, despite it's faults.
The first episode of The Kennedys will premiere on Sunday, April 3. You can view the full schedule and a sneak peek from the first episode here. Below are two trailers and several promo photos from the series.
[imagebrowser id=933 template = flipped]
clarissa @ tvovermind.com