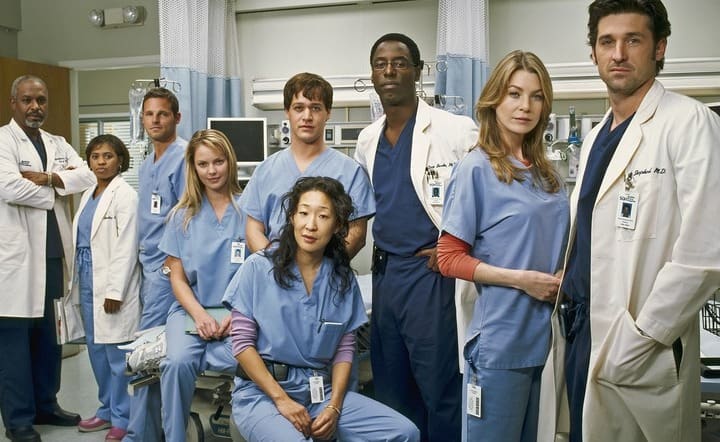 Grey's Anatomy is probably the most successful American medical drama of all time. It has aired the most episodes, surpassing ER, and has enjoyed consistently high viewing figures throughout its fifteen seasons. The series, which was created by Shonda Rhimes, was first aired on March 27, 2005. Some of those who star in the series include Ellen Pompeo, Patrick Dempsey, Sandra Oh, Justin Chambers, Chandra Wilson, and James Pickens' Jr. The series follows the staff at a fictional hospital in Seattle and the accidents, medical dramas, and events that take place in their lives. Although viewing figures have fallen since the first season, it is still ranked as ABC's third most-viewed drama.
Due to the phenomenal success of Grey's Anatomy, there have already been several spin-off series. 'Private Practice' is a series that revolves around the Grey's Anatomy character Addison Montgomery, a neonatal surgeon and Shepherd's ex-wife. There have been several storylines that have crossed-over between Grey's Anatomy and Private Practice. Another spin-off is 'Station 19′, which focuses on the firefighters of Seattle. Finally, 'Grey's Anatomy B-Team' was a six-part series that followed a group of new interns. The three spin-offs have achieved varying degrees of success, so it is possible that there are further Grey's Anatomy spin-offs that could work? Here are some ideas for potential Grey's Anatomy spin-off series.
1. Heli Med Seattle
In many episodes of Grey's Anatomy, viewers see a trauma patient arriving by helicopter or the helicopter transporting the staff or organs to another hospital. These scenes usually only involve the helicopter landing on the roof, loading or unloading, and then taking off again. What viewers do not get to see is the real work of the pilot and the helicopter medical team. An exciting series would be one that focuses on the work that the helicopter team does at the scene of a trauma, the medical evacuations they operate, and the contribution they make to smooth-running transplants. The excitement and drama would make this a series well worth watching as there are already series that follow real-life helicopter medic teams that gain good viewership. The series could also show what goes on at their base and follow the lives and relationships of the characters, just like Grey's Anatomy. Although there are several documentary series in several countries across the globe that follow the work of the helicopter teams, having a series based on their work is a unique idea.
2. Seattle Delivery
The work of the obstetrics and gynecology department only occasionally features in Grey's Anatomy, although Meredith Grey briefly worked in this department during the first half of season eight of the series. Tales of pregnancy and birth rarely feature in the show, unless a patient is admitted due to a trauma or while suffering from a life-threatening condition. However, pregnancy and birth are topics that appeal to people, and the emotions related to these life events would make an emotive medical drama. The series could focus on a combination of unusual cases, stories of people who have struggled to have a baby, difficult births, complications in pregnancies, mothers pregnant with multiple babies, postnatal complications, and other interesting and exciting events relating to birth and pregnancy. Some storylines could be a feature of just one episode, while others could span several episodes. Characters from Grey's Anatomy could guest feature on the series when the storyline related to their specialism. There are already many popular documentary series that focus on the work of the obstetrics and gynecology department that attract many viewers, so a dramatized version may also become popular.
3. Seattle Grace
Grey's Anatomy predominantly focuses on what happens in the emergency or operating rooms. Although some storylines continue beyond what happens in the immediate aftermath of a trauma or a diagnosis that leads to surgery, there are very few that involve the time that patients spend in the hospital during the recovery period. This is a time when people are often having to adapt to a new way of life following life-changing surgery or undergo further treatments involving various specialists. They may also have post-operative complications. There are examples of medical drama spin-offs like this can work. For example, the UK medical drama 'Casualty' was such as success that the BBC decided to create a spin-off series called "Holby City." The latter focused on the wards of the hospital, while the original series focused on the events in the emergency room. On many occasions, there are overlaps between the two series, both in terms of characters appearing in both series and storylines that connect them. Therefore, it is possible that a similar Grey's Anatomy spin-off series that is targeted at an American audience could also work just as well.
4. Seattle Rescue: District 13
Saving the lives of patients is a process that begins long before they arrive in the emergency room and are treated by medical staff. There are other rescue services involved in getting patients to safety and giving them primary first aid before they even reach the doctors at the hospital. One rescue service that plays a vital role in this is the United States Coast Guard. In real life, Seattle and the surrounding area are classed as District 13, and the coast guards cover the Pacific Northwest, which includes Puget Sound, Columbia River, and North Bend. Their work covers various tasks, including coastal patrols, inspections, and search and rescue missions. A series based on the fictionalized activities of the U.S. Coast Guard could tie in with the work of those at the hospital in Grey's Anatomy. However, they could possibly focus on an array of storylines, not just those focused on medical emergencies. Focusing on rescue service is already known to work as the Grey's Anatomy spin-off 'Station 19′ has proven.
5. Grey's Anatomy: Meredith
When Grey's Anatomy was launched in 2005, it starts with Meredith Grey and her fellow first-year interns beginning their careers as doctors at the hospital. It then follows them as they progress through their careers, learn new skills, work in different departments, choose their specialisms, and generally progress in the medical progression. An interesting idea would be to take the storyline back in the form of a prequel. With Meredith as the main character, the series could go back in time to when Meredith was growing up in difficult circumstances, with an estranged alcoholic father and a talented surgeon mother having an affair with a married colleague. It could show how Meredith developed in her teens and decides to follow in her parents' footsteps by pursuing a career in medicine.
6. Webber and Grey
Another great prequel idea is to tell the love story of Dr. Richard Webber and Dr. Ellis Grey. On several occasions in episodes of Grey's Anatomy, the story goes back in time to give a current storyline context. On these occasions, viewers see glimpses of the relationship that developed between Dr. Ellis Grey, Meredith's surgeon mother, and Dr. Richard Webber, who went on to become the hospital's Chief and Meredith's mentor. Their love story is also discussed at many points throughout the series and has clearly impacted on Meredith's close relationship with Webber. With so much backstory there, it has the potential to make a great spin-off series that could focus on both their personal and professional relationship.
7. The Real Seattle Hospital
Grey's Anatomy is set in a hospital that was originally called Seattle Grace Hospital and then later became Seattle Grace Mercy West Hospital when it merged with Mercy West Medical Center. These are both fictional hospitals and not hospitals that actually exist in Seattle. However, the hospital is based on Harborview Medical Center in Seattle, Washington. A documentary series about the hospital that follows the work of different departments and specialist could make interesting viewing. It would allow those who watch Grey's Anatomy to compare the fictionalized events of Seattle Grace Mercy West Hospital with the real-life events that take place in Harborview Medical Center. The series could include a variety of cases, from minor traumas to the story of those suffering from chronic health conditions. It could show how a real hospital operates on a day-to-day basis and the challenges that care providers face.
8. Seattle Social
There are many outside agencies that are involved in the treatment or care of patients. One example of this is the support given by social workers. Many of the storylines in Grey's Anatomy include the involvement of social services. These include storylines featuring both children and adults. Older patients or those suffering from chronic conditions often need additional support after leaving the hospital, and this is something that adult social services can organize. Children's social services have come into play in storylines involving abused children, kids whose parents are in hospital following an accident, and children who will need additional care at home. There is also the memorable storyline of Dr. Meredith Grey and Dr. Derek Shepherd adopting a sick child from Africa. They almost lost the right to adopt the little girl, and the social worker supported them through the process. Although social workers do vital work, they are often seen in a negative light and face lots of pressures in the workplace. Following medical storylines from the perspective of the social workers could make captivating viewing.
9. Grey's Blue
Police dramas are always a big hit, so a Grey's Anatomy spin-off that focuses on the police in Seattle could become a big hit. The police appear in many episodes of Grey's Anatomy already. Sometimes they are shown at the scene of an incident and on other occasions, they are accompanying a patient into the hospital. There are even several occasions where police officers become patients in Grey's Anatomy. This series could differ from other police dramas as it could focus on incidents that involve injuries and accidents, such as shootings and road traffic collisions. This would link the police drama nicely with Grey's Anatomy. There are many occasions when characters from Grey's Anatomy could make guest appearances in a police drama, such as to come as part of a trauma team to treat someone on the scene of an accident or when the police come into the hospital following an incident. The use of two colors in the potential name of the series 'Grey's Blue' is interesting. It links the series to the existing hospital drama and the word blue represents the uniforms worn by police officers in the United States.
10. Joe's Bar
In an episode of Grey's Anatomy called 'Raindrops Keep Falling on My Head', the characters visit a bar called the Emerald City Bar which is located across the road from the hospital. The bar then began to appear in almost every episode, and the cast began to refer to it as Joe's Bar. It is a place where hospital staff go to unwind and have a drink together after almost every shift. At one point, Sandra Oh's character Christina Wang even works there for a night. Following a shooting at the hospital, Wang suffers from post-traumatic stress disorder (PTSD) and decides to quit the medical profession. She decides to get a job at Joe's Bar, but she is fired halfway through her first night. The bar has become an important location in many of the storylines, so it makes sense to extend this to the bar having its own spin-off series. This would almost be a reverse situation of 'Cheers' and Frasier'. 'Cheers' was a sitcom based in a bar and 'Frasier' was a spin-off series based on one of the regulars of the bar .
Tell us what's wrong with this post? How could we improve it? :)
Let us improve this post!