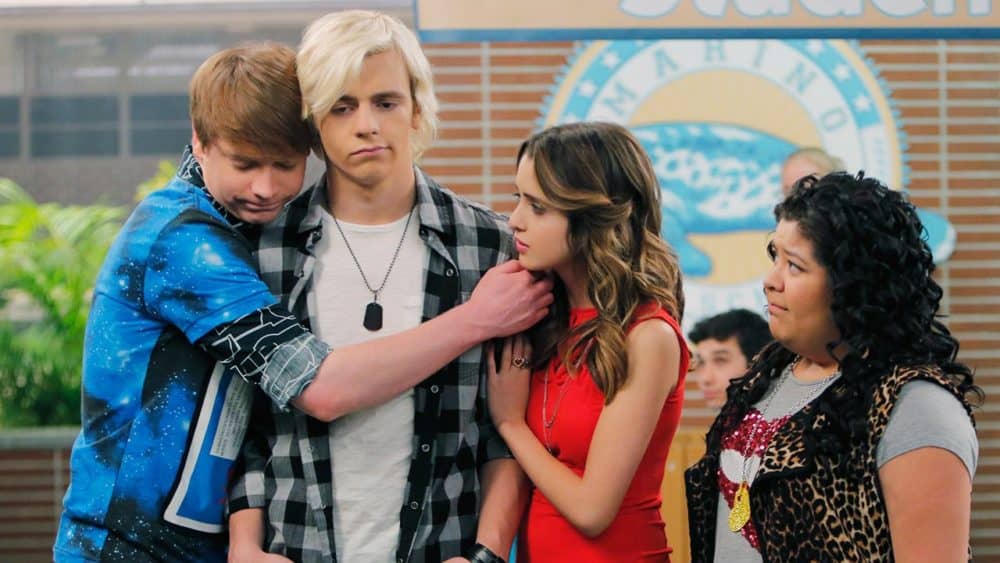 "Austin & Ally" was a comedy television series that aired on the Disney Channel between 2011 and 2016, consisting of four seasons with 87 episodes. The series was created by Kevin Kopelow and Heath Seifert. It is about two young musicians who have very different styles. If you ever watched this series, then you may have wondered what the cast is doing these days. Here is what the cast of 'Austin & Ally' is up to today.
Ross Lynch
Ross Lynch played the lead role of Austin Moon in the series. In addition to this role, he also had many other jobs alongside playing Austin Moon. Since the series ended, he has become one of the main cast members in 'Chilling Adventures of 'Sabrina'. He has also had roles in three films. In 2016, he played Piers in 'Snowtime!', followed by Jeffrey Dahmer in 'My Friend Dahmer' in 2017, then Kyle Moore in 'Status Update' in 2018. His other work includes being a founding member of the pop-rock band R5, a solo musician, and theater work.
Laura Marano
The lead role of Ally Dawson was played by Laura Marano. In her acting career, she played herself in the television film 'Mere at Fille, California Dream' in 2016. Her other film roles since the end of 'Austin & Ally' have included 'Lady Bird', 'The War with Granopa', 'Saving Zoe', and 'The Stand In'. In 2016, she launched her own one-hour radio show called 'For the Record with Laura Marano on 'Radio Disney'. She has also established a career in the music industry and released her debut single 'Boombox' in 2016. This track will appear on her upcoming debut album.
Raini Rodriguez
Raini Rodriguez took on the role of Ally's best friend Trish. Rodriguez has had now regular roles in television since leaving 'Austin & Ally', nor has she worked in films. However, she has appeared in a single episode of 'Mutt& Stuff' playing Gabby Groomer' and provided voices in single episodes of 'Vampirina' and 'The Lion Guard'.
Calum Worthy
In 'Austin & Ally', Calum Worthy played aspiring director Dez. Since the series ended he played Kellan Woods in the YouTube Red film 'The Thinning' and Adam Merkin in 'Bodied. On television, he has played Alex Trimboli in 'American Vandal since 2017 and has the main role of Robbie Baldwin/ Speedball in the 2018 series 'New Warriors'. He has had small roles in several other series, such as in 'Bizaardvark' and 'Wisdom of the Crowd'.
Cole Sand
Cole Sand had the recurring role of Nelson who takes music lessons from Ally. In film, he has had roles in 'Good Kids' and 'Magic Camp'. His work in television since the end of 'Austin & Ally' has predominantly involved providing voices for series such as 'Stars vs. Forces of the Evil', 'Trollhunters', '3 Below', and 'Wizards'.
Andy Milder
The recurring character Lester Dawson is played by Andy Milder, who is Ally's father. In recent years, he has experienced a quiet spell in his career. His most recent work of not was providing voices for the direct-to-video animated film 'Lego DC Comics Super Heroes: Justice League: Cosmic Clash' in 2016. He is married to Dr. Betty Lee and they live in Manhattan Beach, California.
John Henson
Austin's Father Mike Moon is played by John Henson. Following the end of the series, he was a contestant in 'Worst Cooks in America: Celebrity Edition'. He did reasonably well in this series as he won three of the challenges and finished in third position. He also presented the game show 'iWitness' in 2017. This was run for a test series of six episodes. He married his second wife, Jill Benjamin, in 2010. Benjamin worked alongside Henson in 'Austin & Ally' as she played the role of Austin's mother.
Kiersey Clemons
Kiersey Clemons played the role of Kira Starr who was Austin's ex-girlfriend and the daughter of a record producer. She appeared in eight episodes of the series in 2013. Despite having one of the smaller roles in this series, she is the one that has probably gone on to enjoy the most successful career in entertainment. She has played Sophia Preston in 'Eye Candy', Bianca in 'Transparent', and provided the voice of Victoria for 'Michael Jackson's Halloween'. In films, She played Cassandra 'Diggy' Andrews in the 2015 film 'Dope' followed by Beth in 'Neighbors2: Sorority Rising' in 2016. IN 2107, she was in the films ''The Only Living Boy in New York' and Flatliners'. 2018 has already been a busy year for the actress. The films in which she appears that have already been released are 'Little Bitches' and 'Hearts Beat Loud'. She also has two films in post-production; 'An L.A. Minute' and 'Sweetheart'.