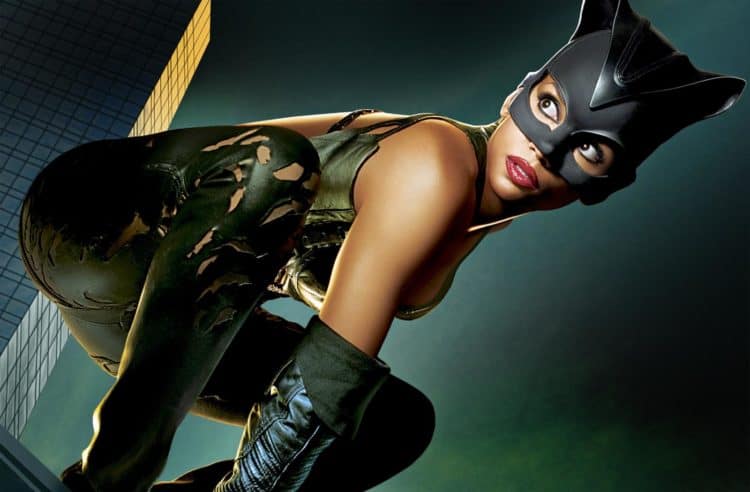 It's no secret. For after the release of the film, Catwoman was regarded as the biggest joke in Hollywood history. Catwoman starring Halle Berry was one of the most anticipated movies, but upon its release in 2004, it was coined as one of the worst films to ever touch the big screen. Despite bad critical acclaim, Halle Berry is doubling down on her role in the movie to this day. In a recent interview with EW, the star revealed that she doesn't regret playing Catwoman at all.
The Warner Brothers film was loosely based around the DC Comics Catwoman. However, the feline-inspired alias and costume are the only similarities the characters have in common. The storyline follows Patience Phillips, who discovers that the cosmetology company that she works for is involved in a sinister conspiracy. Her employer has her murdered in an attempt to keep their secret hidden. Lying dead in an alley, Patience is brought back to life by magical cats who give superpowers. Patience decides to use her newfound superpowers to become a vigilante and fight crimes.
The film had a $100 million production budget, but they couldn't even break even in ticket sales. To put the icing on the cake, the film racked up several Razzie Awards, which is a parody award show dedicated to acknowledging the worst cinematic achievements. That year Catwoman won for Worst Actress, Worst Director, Worst Director, and Worst Screenplay. Ouch! Berry shocked us all when she made a rare in-person acceptance speech at the award show. She accepted the award with her Oscar for Best Actress in Monster's Ball in the other hand. This was such an iconic moment.
Why Was Catwoman A Bad Movie According To John Rogers
John Rogers was one of three writers that worked on the screenplay took to Twitter a couple of years ago to explain why the movie was an epic fail. Roger explains that the movie had been circulating amongst several writers in Hollywood for decades when it fell into his laps. His primary goal was to turn the script into a story that fans would enjoy, but he wasn't successful and hoped that it would even somewhat resemble the comic character. He was unsuccessful. Rogers makes it known that the studio eventually fired him for challenging and making numerous edit requests on the screenplay for aspects that would make the film very bad. Rogers admits that although he has screenplay credits, he has never watched the whole movie through. He skipped the movie premiere to shoot an audition tape for popular Australian actress Jenni Baird for the movie Global Frequency. He ended up getting fired off that project as well.
Two Reasons Why Halle Berry Doesn't Regret Catwoman
Berry says that she doesn't regret Catwoman because it actually was the biggest payday of her life. According to the Los Angeles Times, Halle Berry was reportedly offered 14 million dollars to play the superhero, which is why she jumped at the opportunity. After already being cast as Storm, the first black female superhero on the big screen in X-Men one of the biggest films to date, Berry had already solidified herself in the genre.
In her interview with EW, Halle Berry also mentions how she doesn't want to confine her artistic expressions to award-worthy projects, which is essential for any creative. When you take a look at Berry's filmography, over the last thirty years, the actress starred in movies like James Bond, John Wick and has alone had major roles in smaller movies like Swordfish and Gothika. The movie star has definitely proven that she can handle serious roles and more light-hearted roles. This versatility has gotten Halle Berry far in her career. She has shown that she can be a CIA agent, a housewife, and a strong mother, and our personal favorite, a powerful superhero.
Is Done Halle Finally Done Paying For Her Horrible Role In Catwoman?
For a couple of years after Catwoman's debut, Halle was affected by the movie's failure despite winning an Oscar just a year before. It just goes to show you how fickle Hollywood can be. Yet, Berry's career has been one of resilience. Her role in John Wick 3, which grossed over 316 million worldwide, put her back on the map. Recently, she made her directorial debut in Bruised alongside producer Basil Iwanyk who also produced John Wick 3. She also directed the BET series Boomerang. It's safe to conclude that Halle Berry's horrific role in Catwoman hasn't stopped her success, not one bit.
Tell us what's wrong with this post? How could we improve it? :)
Let us improve this post!