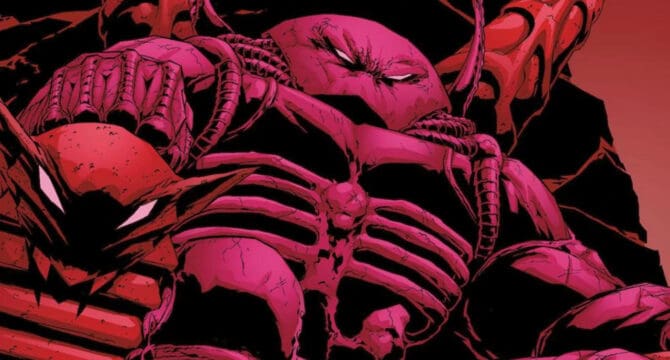 Putting up Cyttorak as a major player would be delving even deeper into the extra-dimensional aspect of the Marvel universe, but seeing as how we've already stepped in that direction with Doctor Strange, it's not that big of a deal. To be completely honest though, Cyttorak might have to be dealt with kind of like Dormammu, as a puppetmaster behind the scenes pulling strings and causing things to happen. The more powerful the character, the less likely it is that bringing them forward would be a great idea since the level of power they hold would need to be dampened and would possibly ruin the character. That's a concern to be sure, but it's not bound to keep such a thing from happening. A movie would likely be the best way to introduce Cyttorak into the MCU if it ever happened though, since not only could it center on this god-like demon, but it could bring the real story of the Juggernaut, who is NOT a mutant but definitely fights against them, into focus. It would also be a great idea to bring Magik, Colossus, and Professor Xavier into the mix as well.
To be fair though, this would be kind of a tough story to write simply because one would have to pick and choose which direction to go since Cyttorak has dealt with a few people in his time throughout the Marvel universe, and the Phoenix force is included in this tale as well. It would be interesting to see how this would play out, but it would also be something that might have to focus on just a few other characters apart from the demon, since bringing up the story of the Juggernaut would be extremely interesting, as would Cyttorak's involvement with Colossus, who was apparently his favorite avatar due to his destructive capabilities. Plus, think about the merging of Colossus, Cyttoark, and the Phoenix force, and it's a wonder how anyone could withstand that trifecta of power.
If this ever happens, and that's a big if, one can likely guess that it will have something to do with Doctor Strange as well since he's been known to use the crimson bands of Cyttorak, which is something that he's done more than once in his long run. But perhaps a Cyttorak movie could lead up to a Doctor Strange 3 if everyone's in the mood to keep going, or perhaps it could bring Doctor Strange in touch with the X-Men or something along those lines. There are so many different ways to connect the characters in the Marvel universe that it's easy to think of a dozen different projects that might be able to bring forth some of the most interesting clashes, but it's also easy to get lost and wonder just which story is going to clash horribly with another and lose every bit continuity that people tend to prize these days. A lack of continuity in the comics is one thing, but a lack of continuity in the movies and TV shows is something that people tend to rant and rave about to no end. If Cyttorak is ever going to be brought into the MCU then he needs a pretty convincing story in order to do so.
One of the big questions, whenever a new hero or villain is being brought in these days, is 'where were they for this or that battle?'. The easy answer is to say that they weren't in the same area and thus they knew nothing about it, as the explanation might go with Captain Marvel and the Infinity War. The other might be that it happened in a different corner of the multiverse that's still being discussed and fleshed out as things go along. But with an extra-dimensional being such as Cyttorak it's fair to say that a being that is this old and this powerful does things on his own time and doesn't worry so much about what doesn't concern him, meaning that he could come in at any time and muck things up just by being himself. If anyone isn't following that then just think of it this way, for thousands or millions of years, however long one wants to put it, Cyttorak has been minding his own business, and for whatever reason, NOW he wants to put a wrench in things, kind of like a bored deity that wants to see some action.
Kind of like Dormammu, it's probably best not to see Cyttorak until some point in the movie when it's necessary, since showing the puppetmaster early on isn't always the best idea. But a movie featuring this character would be pretty cool since it would be fun to see the beginning of the Juggernaut's run and possibly even see Cyttorak possess Colossus. Just imagine a demon-possessed metal mutant running straight at his enemies with no intention of stopping. Yikes.