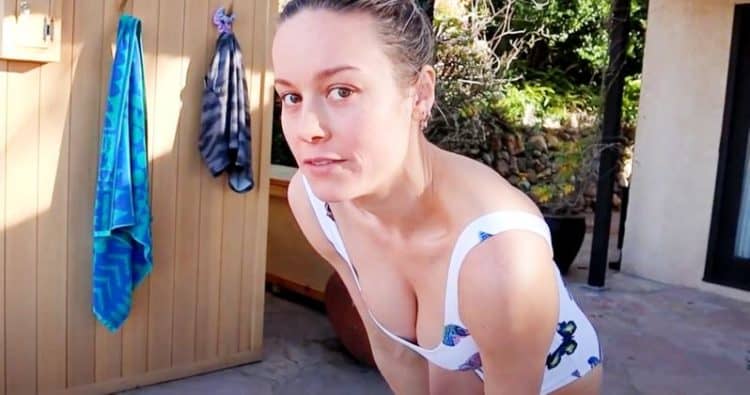 The idea that there are people that will attempt to follow Brie Larson's morning routine to the letter is worrying, and not entirely possible since not everyone has their own personal sauna to stretch and relax in the morning. And on top of that, one has to wonder what time she's getting up since there's plenty of daylight in this video and for many of us it's still winter when the early morning hours when a lot of people wake up to perform their own morning rituals. This usually includes making coffee, breakfast, prying their eyes open so they can get showered, dressed, work out, do whatever, and then getting off to work. Some of us might work from home and have to stare at a screen all day for Zoom calls, but something tells me that she's exaggerating this just a bit since staring at the screen too long isn't good for anyone. But hey, if this works for her then so be it, there's no need to criticize her morning routine relentlessly since it's obviously something that's helping her out and she wanted to share. One can certainly hope she's simply trying to share and perhaps inspire others to follow along with their own version as they find a way to take care of themselves in these difficult times, which would be admirable.
A person can dislike a celebrity all they want for various reasons, but the fact is that the celebrities have fairly normal lives beyond the camera sometimes and do have their own routines and rituals that they enact to keep themselves on the level as well. While it's each to be envious of some of them since a personal sauna would certainly be nice to have, there are other ways that people can go about prepping themselves every morning, but of course, it does take effort and people must be willing to put in the work to get that good feeling that so many want to experience. In the morning it's usually pretty tough to feel ready to go and fully confident that it's going to be a good day. It takes a lot of willpower and a great deal of effort to take care of oneself in order to reach the kind of balance of body and mind that many people desire but rarely ever find. The whole idea of writing a journal is an idea that many people have taken and run with over the years since it's an account of what they've done, what they plan to do, what they're thinking about, and all the random, scattered thoughts that go through their head on a regular basis. It's also a way to declutter your mind in the morning or whenever it tends to happen, and it's fair to say that I agree with Brie on this matter that being intuitive can be a positive for just about anyone since it's an interesting and important skill that most people do have, but many don't utilize in an efficient manner.
Part of the reason for this is that we've become way too dependent on others to tell us what we think, what we want, and what we need, and have in effect allowed that intuition to go by the wayside since keeping it sharp means keeping up the practice and when asking a lot of people it's likely that one might hear that it's just too much effort. When there's so much around us that allows decisions to be made, programmed, and delivered automatically in a way that benefits our everyday needs, intuition becomes a burden to many people unfortunately since it means that we have to listen, pay attention, and at times divine what that intuition is telling us. It does sound as though this might be working for Brie, and it would be advantageous for a lot of people that might want to listen as well. A lot of times it's easy to roll your eyes and wonder just what the celebrities might know about getting up early to get more done, but the truth is that since they are human beings they have their own issues to work through and aren't the weak-willed individuals that some people think them to be. It's true that Brie has rubbed some people the wrong way, and there are those of us that still don't entirely like her, but something like this might appear to, at first, be something that might feel as though she's showing off, but with all honesty, it does look like something that she was simply willing to share, even if parts of it are worth the occasional eye roll.
But oh well, right? She wanted to share a part of her life by showing her morning routine, so it's easy to say 'good for her' and move on in peace.