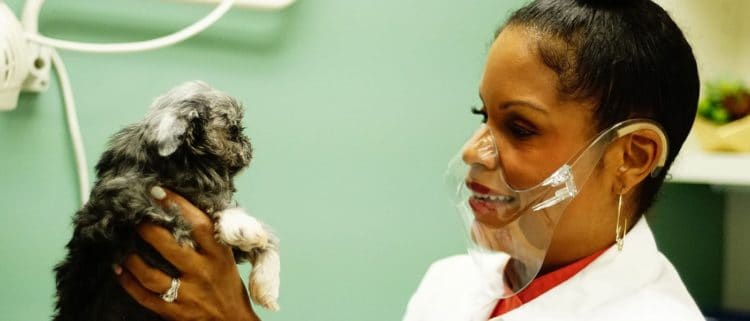 Over the last couple of years, dermatology shows have become very popular. It all started when Dr. Sandra Lee AKA Dr. Pimple Popper gained a large online following after posting a series of YouTube videos that showed her popping large pimples and cysts. Now, the dermatology trend is being extended to our furry friends as well. Early in 2022, there will be a new show coming to National Geographic called Pop Goes the Vet with Dr. Joya. The series will follow a veterinary dermatologist named Dr. Joya Griffin as she works with animal patients to help clear up their skin issues. Not only is the subject of the show interesting, but Dr. Joya's personality is also going to bring lots of viewers in. Keep reading to learn more about Dr. Joya Griffin.
Who Is Dr. Joya Griffin?
Let's be real, every medical show is only as good as the doctor behind it. The good news is that Dr. Joya is the real deal. However, if you're like most people, you probably had no idea that dermatologists for animals even existed. Not only is this a legitimate area of the veterinary world, but it's also much needed. As the largest organ in the body, taking care of the skin is extremely important and it's something that Dr. Joya has devoted her entire career to. Now based in Kentucky, Dr. Joya is originally from Ohio. Unfortunately, we weren't able to find any information on what inspired her to get into the field of veterinary medicine, but it appears that she has been passionate about animals for many years. She attended the Cornell University College of Veterinary Medicine where she graduated in 2006.
According to the bio on her website, "Dr. Griffin became a Diplomate of the American College of Veterinary Dermatology (ACVD) in August 2010 and joined the Animal Dermatology Group. She has a special interest in fungal and immune-mediated skin diseases as well as feline and equine dermatology. She enjoys lecturing to fellow veterinarians, mentoring residents, and teaching the veterinary students who extern with her. Dr. Griffin also stars in the Nat Geo WILD television series, "Pop Goes the Vet with Dr. Joya," which highlights the challenging and mysterious cases she encounters in veterinary dermatology." When she started her career, Dr. Joya probably never imagined that she would eventually become a reality TV star, but life is famous for throwing curveballs when people least expect them. As far as we can tell, being on Pop Goes the Vet is Dr. Joya's first time doing a TV show of any kind.
In addition to her years of experience, Dr. Joya also has a great bedside manner. While some people may think this isn't important for a doctor who works with animals, that isn't true. Dr. Joya's ability to pet her patients and their parents at ease is one of the reasons why she is so well-liked and highly respected. When Dr. Joya isn't busy with work, some of her favorite things to do include traveling and trying new foods. She loves spending time with her husband (who is also a vet) and their children. She also has pets of her own who are very important in her life.
What Will Pop Goes The Vet Be About?
The series will be set at Dr. Joya's veterinary clinic in Kentucky and viewers will get the chance to see her work with animals who have a wide variety of skin issues. Viewers will learn that things aren't always what they seem when it comes to the skin. For example, sometimes skin problems can be indicative of much larger issues, and Dr. Joya has the knowledge and skill to get to the bottom of it. Along the way, of course, she will have to pop and drain all kinds of cysts and abscesses. One of the most interesting things about the show, however, is the fact that Dr. Joya won't only be seeing the typical household pets. While dogs and cats are some of her regular patients, the show will also focus on other animals such as pigs, raccoons, and rats. No matter what kind of animal she's dealing with, though, Dr. Joya treats all of her patients with respect and compassion. Even if you aren't a pet parent, this is still a show you can enjoy. For those hoping to tune in, Pop Goes the Vet with Dr. Joya will premiere on National Geographic Wild on January 1, 2022, at 10 pm est. At the moment, it's unclear how many episodes will be featured in the first season.
Tell us what's wrong with this post? How could we improve it? :)
Let us improve this post!