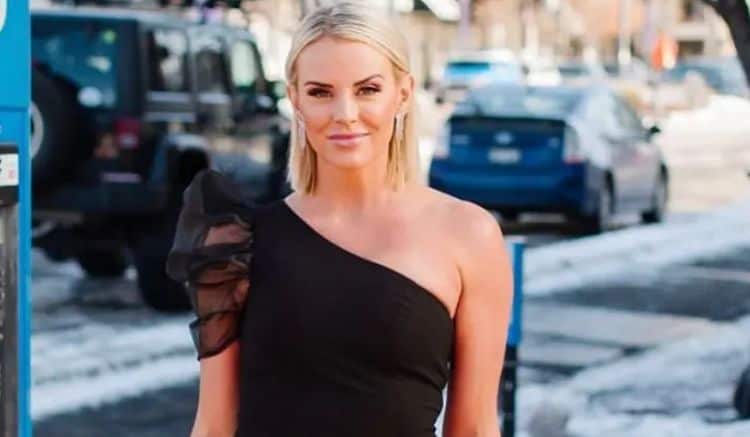 The "Real Housewives of Salt Lake City," are all the rage right now. It's 2020, after all, and wives living in Utah where Mormonism and religion run rampant are more exciting than women living in other cities. We get it. The lifestyle is fabulous, the women are delightfully filled with just enough drama to have us wanting more, and we are getting the proof we need that not even women in Utah who go to church every weekend are above making mistakes in life. It's humbling, for certain. However, we've been keeping an eye on Whitney Rose and what she's been up to, and we thought it was time to get to know her. She's fascinating.
1. She's Kicked Out of the Mormon Church
As Presbyterians, we might not know that much about the Mormon religion, but we do know that if you don't follow the rules that are set forth by the Temple, you have to go. Whitney Rose did not follow the rules, and she's been kicked out of the Mormon Church. It was more than 10 years ago, and it was because of her affair. She was sleeping with her boss. His name was Justin Rose, the man she is currently married to. She was unofficially excommunicated from the church for it, but she has no regrets.
2. She's Married to Her Former Affair Partner
Her husband, as we mentioned above, is Justin Rose. He's the man she cheated on her husband. They have been together more than 10 years, and they renewed their wedding vows on their 10th wedding anniversary. It sounds very sweet.
3. She Doesn't Care to Fit In
It's not who she is. She knows she's judged and she's got people talking about her. She knows what they say and how they say it, and what she looks like to others, and she's not worried about it. She is who she is, and you can take it or leave it. She's not worried either way.
4. She's Got a Sense of Humor
She's a woman who has a wicked sense of humor. Rather than letting the church that kicked her out for making a choice define her, she just lets it roll. She and her friends and family dressed up as a religious group for Halloween, and it's shown us all that she's not letting anything get to her.
5. She's Got a Skin Care Line
Sometime in 2017, she made the decision to launch her own skincare line. It was a good move, too, if you take a look at any of her photos and see just how beautiful her skin is. It's called Iris + Beau, and it's doing quite well. She's taken the term 'boss babe' to a new level, and she is proud of herself.
6. They Were Both Married Before
We mentioned that she and her husband, Justin Rose, were excommunicated from the church when they began their affair. The problem was that they both decided that they wanted to be together more than anything, and they both left their spouses immediately after they began their affair. Her husband had other children with his then-wife, but she did not. While we don't condone affairs (leave if you're unhappy, guys), we do appreciate the fact that they didn't drag this out and they ended their marriages quickly when they realized it was forever.
7. She Did Get Pregnant
Following the demise of their individual marriages, she found out she was pregnant with her lover's baby. After finding out the news, they decided to go ahead and make things official, and they got married right away. That was more than 10 years ago, and they do seem to be living happily ever after now.
8. She Lost Family
Her family is devoutly religious, and finding out that Whitney not only engaged in an extramarital affair and then divorced her own husband, got pregnant out of wedlock, and ended another marriage, was hard on them. Many stopped speaking to her, and they could not believe she was willing to sacrifice eternity for a man right now. However, she's since managed to make peace with some of her family, though not all are approving of her life.
9. She Believes in Owning It
She's had her own fair share of drama in life, and she's big on just owning it. She knows what she did, she knows what people thought of her, and she has never tried to sugarcoat it or make it sound better than it was. She simply owns it. She did what she did, but she's not regretting it because she's so happy where she is. Good for her.
10. She's 34
Imagine being only 23 when you choose to engage in an affair with a man clearly older than you are, who is married, who has kids of his own, and then deciding this is it and making such life decisions. Her family probably thought she was too young to know what she wanted, but they seem to be quite wrong about that.