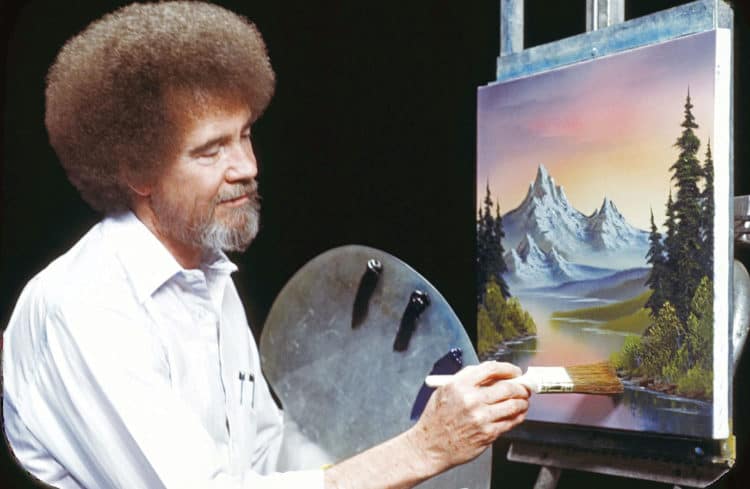 An entire generation of artists and creatives first learned how to work a paintbrush thanks to Bob Ross' instructional videos on landscape painting. The painter, who hosted The Joy of Painting on PBS, encouraged everyday people to set up an easel and paint "happy little trees." His show effectively debunked the notion that painting is only for the naturally creative, opening the medium of art to anyone who would like to try their hands on painting. The show was also full of gems that showcased Bob Ross' wisdom and philosophy. "Maybe in our world, there lives a big old cloud right up here. He just sort of floats around and has a good time all day. You know, clouds are one of the freest things in nature I believe. So, just let them go. Shoot, just let them have fun," he famously said in one of his episodes. A lifelong smoker, Bob Ross died in 1995 at the young age of 52. His legacy remains, however, with newer generations discovering his instructional videos and learning from one of the best art teachers that television has ever seen. Writing on the lasting cultural impact of Bob Ross, NPR wrote: "Maybe what's made Bob Ross so everlasting is really that simple. He reminds people that the dark is there for a reason, and helps them find the light when they need it." Bob Ross has an immeasurable contribution to pop culture, which is why it is bizarre that there hasn't been a lot of on-screen depictions of the painter. If movie execs decided to develop a biopic about the artist, here are a few casting suggestions to help them decide who should play Bob Ross.
Bradley Cooper
Bradley Cooper would portray the legendary painter perfectly in a biopic. He is a multi-Oscar nominated actor who has worked in critically acclaimed films, such as Silver Linings Playbook, Joy, and A Star is Born. He played a lead role in the Hangover series as well as in the Guardians of the Galaxy franchise, which made him one of the most bankable actors in Hollywood. Bradley Cooper is no stranger to biopics. In 2014, he played ex-Navy SEAL Chris Kyle in the acclaimed movie American Sniper, for which Cooper snagged an Oscar nomination. In a New York Times profile of the actor, Cooper explained how he approaches the characters he tries to portray, which should come in handy if ever he's given the opportunity to portray Bob Ross. "Once you get that fire inside you to tell the story, everything's personal. So, you have to bring up everything. Whenever you create a character, at least for me, you have to find anything you can to tell the truth, right? So, yeah, you're always working off of yourself."
Sean Hayes
Sean Hayes' facial similarities with Bob Ross make him a contender for actors who should play the painter in a biopic. Sean Hayes is most popularly known for playing Jack McFarland in the hit NBC sitcom Will & Grace. He's also proven his ability to take on roles from different ends of the spectrum. He's played Moe Howard in the movie adaptation of The Three Stooges. He is also set to play a character in an upcoming drama movie titled Am I Ok? On TV, he's played roles in The Millers, Crowded, and the adult animated show Q-Force. Given this repertoire, Sean Hayes should be able to do Bob Ross justice if ever he's given an opportunity to play the painter on screen.
Tom Cruise
If Tom Cruise wants to take a break from all the action-packed projects he's always involved in, he can decide to take on the role of Bob Ross and honor his legacy in a biopic. This will allow Cruise to return to his roots of portraying well-written characters in drama films. Tom Cruise has plenty of biopics in his repertoire, which means he knows how to play real-life figures on screen. He's played pilot Barry Seal in American Made, German army officer Claus von Stauffenberg in Valkyrie, and veteran Ron Kovic in Born on the Fourth of July.
Tom Hanks
Tom Hanks is in his 60s now, which should make portraying Bob Ross on-screen tricky. But Tom Hanks is Tom Hanks, and with a little makeup magic, he should be able to transform himself into the esteemed painter. Tom Hanks is a master of playing real-life figures, so portraying Bob Ross shouldn't be too much of a concern for him. The actor has portrayed TV presenter Fred Rogers in A Beautiful Day In The Neighborhood, journalist Ben Bradlee in The Post, pilot Sully Sullenberger in Sully, Walt Disney in Saving Mr. Banks, and Captain Richard Philips in Captain Philips. He is set to appear as Colonel Tom Parker, Elvis' manager, in another upcoming biopic, Elvis. In an interview with Oprah, Tom Hanks revealed how he feels whenever he takes on a new role, which should inform us how he might approach a potential Bob Ross biopic if it ever lands on his desk: "I start at square one with every role. If I let myself feel pressure, it would crush me. The truth is that everyone pays attention to who's number one at the box office. And none of it matters, because the only thing that really exists is the connection the audience has with a movie. Sometimes that's a palpable thing, but other times it's not. No actor has control of that. All you can control is your own passion for doing the work in the first place."
Brad Pitt
Brad Pitt, 57, will surely portray Bob Ross well in a potential biopic about the painter. The multi-award-winning actor has made a name for himself for being able to play diverse characters on screen. He's frequently played real-life people in front of the camera as well. In 2011, he portrayed former baseball player Billy Beane in Moneyball. He also portrayed outlaw Jesse James in the historical biopic The Assassination of Jesse James by the Coward Robert Ford. In Seven Years in Tibet, he played legendary mountaineer Heinrich Harrer.