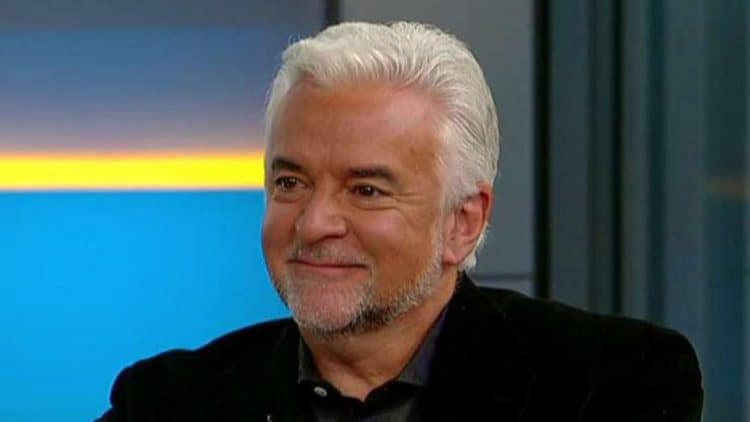 John O'Hurley is an actor, voice actor, comedian, television personality, singer, and author. He was born in Maine on October 9, 1954, and he began his career in entertainment in 1983. He is probably best known for playing J. Peterman in 'Seinfeld', an NBC sitcom. He is also known for hosting the game show 'Family Feud'. Although he is a well-known personality, there are many facts that people do not know about him. Here are 10 things that you probably didn't know about John O'Hurley.
1. He is From a Large Family
O'Hurley grew up as part of a large family in Maine. His father was an ENT surgeon, and his mother was a housewife. The actor has twin younger brothers called Bruce and Neal, and a younger sister called Susan. He also had an older sister called Carol, but she died at the age of 17 from an epileptic seizure in 1970.
2. He Has Been Married Twice
John O'Hurley has been married twice. His first wife was actress and model Eva LaRue. They were married from 1992 until 1994 and did not have any children together. The two have remained good friends, and O'Hurley even gave LaRue a job as a guest panelist on 'Family Feud'. Since 2004, O'Hurley has been married to Lisa Mesloh, with whom he has one son called William Dylan O'Hurley who was born in 2006. The couple gets on so well that O'Hurley claims they have never had a cross word in the entirety of their marriage. An interesting fact is that actor Bryan Cranston was the best man for both weddings. O'Hurley and Cranston had been friends ever since they appeared together in the daytime soap 'Loving' in 1983.
3. He Competed in 'Dancing with the Stars'
In the first season of 'Dancing with the Stars' back in 2005, O'Hurley was one of the competitors. He decided to take part in the show despite never having learned to dance and being one of the older contestants in the show. He was paired with professional dancer Charlotte Jorgensen, and they made it to the final. They finished in second place behind soap opera star Kelly Monaco. From performing in this series, O'Hurley raised $126, 000 for the charity Golfers Against Cancer.
4. O'Hurley Was Once in a Rock and Roll Band
In an interview with Huff Post, O'Hurley admitted that he had once been in a rock and roll band called 'The Whiskey Rebellion'. The band formed when he was just 16, and he has described it as being the worst rock and roll band ever. They only landed one gig in the whole time they were together, and that was for his own junior high school graduation. Unsurprisingly, the band soon realized that they would not make it as rock stars and disbanded.
5. He Can Play the Piano
O'Hurley is a man of many talents, and one of these is the ability to play the piano. He is a self-taught pianist but can play to a standard high enough that he has performed with symphonies. His piano skills have also led to him releasing a two-album project called 'Peace of Our Minds'. He has collaborated with cellist Marston Smith on this project. The albums feature a track called 'For Lisa' that he wrote especially for his wife for their wedding day.
6. He Almost Turned Down the Role in 'Seinfeld'
His role as J. Peterman in 'Seinfeld' is now the role for which John O'Hurley is now best known. However, he initially turned don the job. The day before he got the phone call about the role, his own show had been canceled. He was feeling sorry for himself and didn't want to become part of someone else's show when his own had failed. His manager eventually persuaded him to go to the read-through for the series. He did not think the series seemed funny when he first read the script and considered not accepting the role for a second time. However, he began to see the humor in the series when they started acting through the scenes. He accepted the role in 1995, and he was in the series until it ended in 1998.
7. He Has Lots of Hobbies
According to IMDb, John O'Hurley has many hobbies, despite having a busy working schedule and a family life. One of his many interests is golf, and it was through this passion that he met his second wife. Another passion is collecting fines wines. Some of his other hobbies include tennis, carpentry, and interior design.
8. O'Hurley is an Investor
What many people do not realize about O'Hurley is that he has a career outside entertainment as he is also a financier and investor. He is a principal partner of a company called Round One Investments, which is based in Los Angeles. He is also a principal partner in Atlanta-based Heritage Capital Advisors. Furthermore, he owns an Alaskan airline called Era Aviation, and he has a large share in a restaurant chain.
9. He Was in 'Chicago'
Although he is best known for his work on screen, O'Hurely has also enjoyed a career on stage. Most recently, this involved him playing the role of Billy Flynn in the Broadway production of 'Chicago' and on the National Tour of the musical. He has also played King Arthur in both the Los Angeles production and the Las Vegas production of 'Spamalot'.
10. His Net Worth is $12 Million
According to Celebrity Net Worth, John O'Hurley has accrued a net worth of approximately $12 million. While he has earned most of this money through his work in the entertainment industry, he has also made money from his business ventures.
Tell us what's wrong with this post? How could we improve it? :)
Let us improve this post!