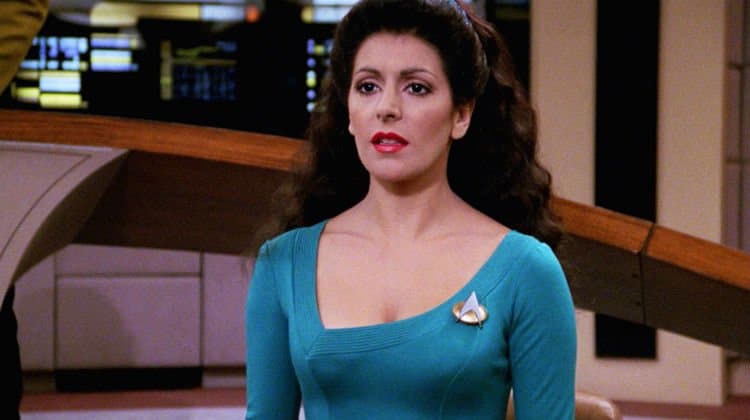 It's not hard at all to believe that Marina Sirtis is still up and active to this day since the one role that has made her so famous, that of Commander Deanna Troi, is the one that people will likely remember her for when the record books are opened after she's finally decided to retire. At this time though she's in her 60s and it still feels as though she has plenty more to offer since she's showed up in a couple of Star Trek spinoffs, those being Picard and Lower Decks for a voice role. She even showed up on The Orville for an episode, which likely excited a lot of fans since seeing anyone from Star Trek on The Orville would be great for fans. But while Marina has performed a lot of roles throughout the length of her career and has been a theater actor as well, she's definitely been thought of most times as Troi since this is one of the roles that has brought her the most fame. What people might not know however is that Star Trek made her into a huge deal, but she'd already had a career at that point since she started back in the late 70s, and had been acting for a while before she took on the role of Troi, who was a counselor back in those days. In fact, a lot of people wondered what in the hell her role was back in those days, but it was established that she was a crucial member of the crew all the same.
She's had the chance to play some roles as herself and take on various other roles during her time in the business, and yet it's still fair to say that none of them really gained her much more attention than her time in Star Trek, which kind of overrode everything she did from that point on and before. She even showed up in NCIS as the director of Mossad at one point and while that was interesting to see it was also pretty fleeting since it was more about Zeeva's storyline than anyone's, meaning that Marina was there and gone for the most part when compared to many other characters. During her career, she's been able to take on many roles, but as it's happened with so many other individuals once they've locked on to a popular franchise, that character becomes hard to shake whether the person wants to or not. Some people spend the rest of their careers trying to shake such a role in order to show that they can do something else, but tend to keep coming back to it for one reason or another. It's kind of hard to say no to the comfort of coming back to a gig that one knows is going to earn them a paycheck, especially when it's a gimme.
Of course, as Star Trek has changed, so has the demand for the characters. It's fair to think that the past characters are still desired by the fans since a lot of people don't want to deal with the change that the years tend to bring, but with the current move forward it's been made clear that the Next Generation crew might come back now and then, but their glory days are far behind them, even with Picard being one of the favored shows that have come along in a while. The future of Star Trek appears to be in question at times since some of the newer shows haven't exactly appeared to experience the same outpouring of love that the fans have given to the older shows. In fact, it feels safe to say that while the viewership hasn't gone down, the fanbase has been waiting for something like Picard for quite a while, as the other shows have been somewhat divisive. While this isn't due to their subject matter, it's usually due to the quality of the shows that fans tend to differ widely in their opinions of the programs, as many people will resort to stating which shows are their favorites and which are just so-so. Out of all the fanbases that exist, Trekkies are by far one of the most discerning groups of people that will give numerous reasons as to why their favorites are that great and why they don't feel that certain shows are really worthy of being followed. Star Wars fans come close and are every bit as toxic at times, but they tend to be a little more and less forgiving depending on the depiction of their favorite characters.
When all is said and done though, Troi was one character that many people could possibly agree was less than polarizing and was easy enough to like. As of now, Marina has been staying busy and has continued to act, and doesn't appear to be slowing down any time soon.