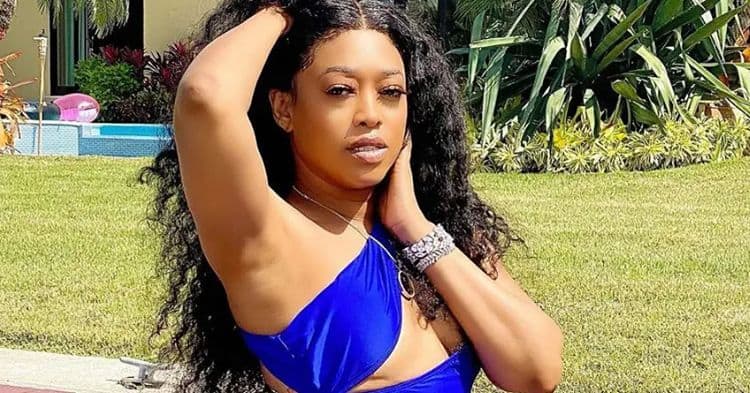 Best-known by the mononym, Trina, Katrina Taylor has been one of the most prominent figures in the female rap game since the late 90s. Trina made her debut on the 1998 single, "Nann N***a" which was featured on Trick Daddy's album, www.thug.com. Since then, Trina released several hits of her own, and she is often referred to as the Diamond Princess. Although her music career has slowed down a bit over the years, her career caught a second wind when she became a cast member on Love and Hip Hop: Miami. Unfortunately, however, all of the hard work Trina has put in stands to be undone after comments she made regarding police brutality and protests were deemed offensive. Countless people have called for her to be 'cancelled,' but only time will tell whether they actually follow through. Let's get into 10 things you didn't know about Trina.
1.She Has Dominican Roots
Trina was born and raised in Miami where she still resides today. However, she comes from a diverse background. Trina's mother is Bahamian and her father is Dominican. Sadly, Trina's father wasn't very active in her life so she didn't grow up around the Dominican side of her family. Even though she doesn't feel as connected to the culture as she'd like, she's very proud of her roots.
2.She Almost Married Lil Wayne
Lil Wayne has had several public relationships over the years, and one of them was with Trina. The pair dated for about a year in 2005 and was briefly engaged. Trina also became pregnant by Wayne but suffered a miscarriage. Even though things didn't work out in their relationship, Trina still has nothing but respect for Lil Wayne.
3. Her Latest Album Was Pulled From All Streaming Platforms
When Trina released her album, The One, in 2019, fans were very excited to get a new project from the rapper. However, within a few months of its release, the album mysteriously disappeared from all streaming platforms. Trina addressed the incident and said the issue arose because one of her business parters failed to pay the producers for their work.
4. She Has Her Own Label Imprint
Trina isn't just the baddest when it comes to music, she's the baddest when it comes to her business as well. In the early 2000s, she started her own label imprint called Diva Enterprises. At the time, she signed a 9-year-old rapper who would eventually grow up to become known as Brianna Perry. The name of Trina's imprint appears to have been changed to Rockstarr Music Group.
5. She Encourages Younger Artists To Learn The Business
Trina has had a lot of ups and downs throughout her career, and as a result she's learned lots of valuable lessons. If she could give one piece of advice to the younger generation of rappers, it would be this: "First and foremost, learn the business of music as you grow as an artist. I am speaking strongly on the business aspect so as a younger artist, you are well-equipped to reduce mistakes in the industry early on in your career."
6. She Used To Ride To School In Limos
It's no secret that Trina has expensive taste. After all, she doesn't call herself the diamond princess for nothing. However, Trina's love for nice things isn't anything new. Her mother owned several successful beauty shops in the area, so Trina was spoiled from a very early age. One of the things she got to do often was ride to school in a limousine.
7. She Was Very Close With Her Mom
Since Trina's father wasn't around very much, she and her mother formed an especially close relationship. Trina was heartbroken when her mother passed away in September of 2019 after a long battle with breast cancer. Many of Trina's fans as well as members of the Miami community mourned the loss as well.
8. She Supports Other Female Rappers
When it comes to women in rap, there seems to be a constant tug of war between old and new. Newer rappers have caught lots of flack for not paying respect to the OGs, and the OGs have been accused of hating on the young talent. However, Trina has never been in the middle of those discussions. She has always made it clear that she supports the new ladies in the game. She even worked with fellow Miami rappers, the City Girls.
9. She Started A Foundation
Giving back to the community is something Trina has always been passionate about. In 2006, she started a non-profit organization called the Diamond Doll Foundation. There doesn't appear to be a website for the foundation, but when speaking about it, Trina said, "Like a diamond, each female on this earth is precious and has a rare story to tell, but some don't get the opportunity to shine, I want to help provide that opportunity"
10. Life Inspires Her
Creative people draw on inspiration from all sorts of places, and for Trina, life is that place. She shared, "Life inspires me as an artist. As a woman, growth and experiences inspire my energy. I get inspiration from the good, bad, great, and ugly in life musically. "