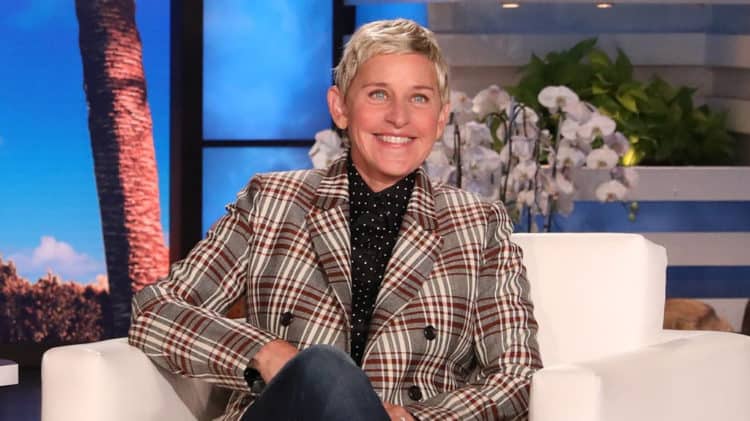 At 21, Ellen DeGeneres was not the critically acclaimed talk show host she has molded herself to be. She was living in a two-roomed basement apartment, surrounded by fleas, mapping out her comedic takeover. Her life now is a shadow of what it used to be. She's managed to carve a stellar career as a talk show host and ranks high up in the list of the highest-paid talk show hosts who are currently on the air. Here's how that happened:
Early Beginnings
Born and raised by an insurance agent and a speech therapist, Ellen DeGeneres grew up in Lousiana. In 1973, DeGeneres' parents separated and eventually got divorced, leading to her living with her mother while her only brother, Vance, stayed with her dad. DeGeneres would go on to experience abuse at the hands of her stepfather, a plight that she detailed when she appeared on the Netflix show My Next Guest Needs No Introduction by David Letterman. After completing high school, she attended the University of New Orleans. She did not finish college and chose to take up jobs instead, working at J.C Penney, as a painter, and also as a waitress.
Getting Into Comedy
During her Netflix special, Relatable, Ellen disclosed that her entry into comedy was because of a tragic incident that happened to someone she loved. Ellen's girlfriend was killed in a car accident when she was 21. Prior to the shocking discovery, she had passed by the accident scene and kept going. It wasn't until later that she learned it was her. During that period, she had not figured out what she wanted to do with her life. She was barely getting by. " I had to move out of where we were living because I couldn't afford to live there anymore. I had no job, I had no car, no money. I moved into this tiny basement apartment, and you could hardly stand up in it. It was two rooms and I had a mattress on the floor. The entire basement was infested with fleas." As she was lying down, Ellen, who was into journaling at the time, started writing what it would be like to talk to God. When she was done, she made a vow that she'd be the first woman to perform on Johnny Carson, and that's exactly what happened.
'Ellen'
Prior to performing on Johnny Carson's show, Ellen DeGeneres, fresh from being inspired in her basement apartment, embarked on a stand-up comedy journey. At first she performed in small settings like clubs and coffee houses. Soon enough, her star grew bigger, and she found a home at Clyde's Comedy Club in New Orleans. By 1984, Ellen was a national comedy sensation, touring various parts of America and earning the attention of big platforms like Showtime. She appeared in a couple of films and landed roles on television shows before starring in her own sitcom, Ellen. Through Ellen, DeGeneres gained a massive following, even being likened to Seinfield. Things however went south when Ellen came out as gay, both in real life and on the show. In May of 1998, Ellen ended its five-season run.
Hitting Rock Bottom
Following 'The Puppy Episode' in which Ellen's character came out and her appearance on The Oprah Winfrey Show, in which she came out to the public, Ellen was yet to face another challenge, that of falling flat on her face. It was like the basement all over, except this time America knew her by name. "I was furious at the time because…I just felt like it was my fault," She said of that particular period of her life."I was so mad that I lost my show, and not just my show but for three years I didn't have any offers. I mean literally, the phone did not ring for three years and I had no money. All of a sudden just because of one revelation, I was the joke. I was the punchline of every late-night talk show, I was made fun of in a magazine, and it felt horrible at the time. Now I look back on it and I am thankful because it gave me a chance to examine myself and say 'Who are you without fame? Who are you without success? Who are you without money?'"
'The Ellen DeGeneres Show'
In 2001, Ellen tried to make a comeback in the sitcom space with The Ellen Show, but it only lasted a single season. Two years later, she would launch a talk show that has become one of the longest-running shows on television. Not only that, but, prior to allegations of a toxic work environment, Ellen DeGeneres was the reigning queen of daytime television. Since its inception, the show has garnered a record 171 Emmy nominations and won 61 of those. It has also won 17 People's Choice Awards. Through the show, Ellen wowed the audience with her witty comedy, thanks to great writing, her love for animals, her authenticity, her ability to get the audience to dance, numerous celebrity interviews, original games, and her ability to track down people who go viral really fast. After 18 seasons on the air, Ellen decided that it was time to pack it up. The 19th season, which premiered on the 13th of September, is the talk show host's final one.
A $370 Million Net Worth
As of December 2021, Forbes ranks DeGeneres at the 82nd position amongst America's self-made women. Ellen commands an eight-figure paycheque from her show and has leveraged her public presence to host big events like the Oscars, the Grammys, and the Emmys. The Ellen DeGeneres Show has birthed several spin-offs, including The Masked Singer. In addition to being in front of the camera on her show, Ellen has raked in big bucks behind the scenes of productions like Little Big Shots, which came to an end in 2020. Her career as an actor has taken a bit of a back seat, but in 2016, she voiced Dory in Finding Dory. Ellen is an author, who has four books on shelves worldwide. Her estimated net worth, $370 million, is, therefore, a result of many moving parts. Her basement-living days are since gone. Ellen boasts a $450 million real estate portfolio, and it all began with one dream; appearing on Johnny Carson's show.David Letterman
Tell us what's wrong with this post? How could we improve it? :)
Let us improve this post!