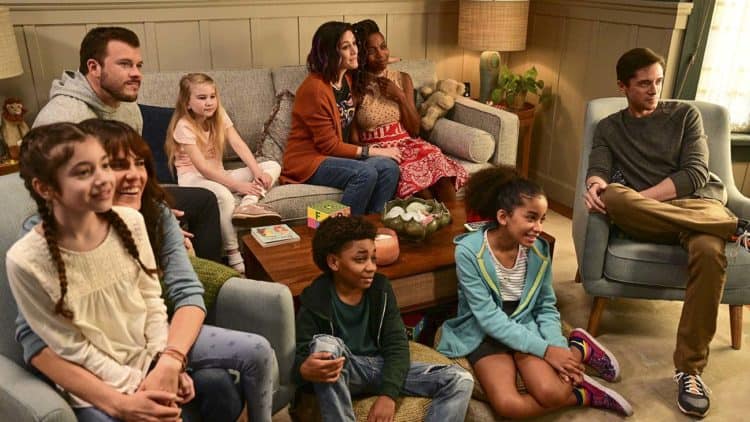 ABC's Home Economics made its debut in April as a mid-season replacement, consisting of only seven episodes. It was uncertain whether it would join the ranks of other long-running sitcom successes on the network like Modern Family or black-ish. However, the Alphabet decided to give it another shot, and while this hilarious show about family drama can be predictable, it's also heartwarming and incredibly entertaining. The primary reason for its charm is, of course, the fantastic ensemble cast. Let's take a closer look at where you might have seen these talented actors before.
Topher Grace: The Charming Tom
Grace began his acting career over two decades ago with a successful stint on Fox's comedy, That 70s Show. The series ran from 1998 to 2006, during which time he also appeared in movies like Win a Date with Tad Hamilton! and P.S. Before Tom Hardy took on the role, Grace portrayed the villain Venom in Spider-Man 3. He starred in a web series called The Beauty Inside, in the first season of The Hot Zone, and he also played real-life white supremacist David Duke in the Oscar-winning film BlacKkKlansman.
Caitlin McGee: The Strong-willed Sarah
McGee has numerous TV guest spot credits, including in the first episode of The Marvelous Mrs. Maisel. Her first series regular role was on NBC's Bluff City Law alongside Jimmy Smits. She also had recurring roles on Mythic Quest and played Emma opposite Dev Patel in Modern Love.
Jimmy Tatro: The Wealthy Connor
Tatro's most significant TV role was on another comedy series, Netflix's American Vandal, where he played a character who, like Connor, doesn't come off as very bright but lacks the millions Connor has amassed. He appeared in season two of The Guest Book and on Modern Family, and he also stars in Roku's The Now.
Karla Souza: The Loving Marina
Souza is an accomplished actress in both Mexico and the United States. Her early TV roles were in Verano de amor and Los héroes del norte, as well as a few major films in Mexico. She starred for six seasons in How to Get Away with Murder, and, most recently, in the Chilean series El Presidente.
Sasheer Zamata: The Hilarious Denise
Zamata has an impressive TV comedy background. She was a cast member on Saturday Night Live from 2014 to 2017. She had the lead role in a movie called The Weekend and starred in the Comedy Central series Robbie. She also had a recurring part in Hulu's Woke.
Shiloh Bearman: The Adorable Gretchen
Bearman's only other credit to date is an appearance on Jimmy Kimmel Live! from 2020 as Fauci on the Couchy.
Jordyn Curet: The Energetic Shamiah
Curet has been acting since she was two, starting with the TV movie Lilly's Light. She guest-starred on The Neighborhood and Raven's Home, and hosted the series Life Hacks for Kids. She also has an uncredited role as Young Ingrid in Black Widow.
Jecobi Swain: The Clever Kelvin
Swain was a trivia kid on the game show Child Support and voiced Freckle on Little Ellen. He also had guest spots on Claws and The Falcon and the Winter Soldier, and appeared in the Amazon Prime Video movie Troop Zero.
Chloe Jo Rountree: The Sweet Camila
Rountree's credits include the horror movie Cut!, the sports comedy 108 Stitches, a few short films, and an episode of I Think You Should Leave with Tim Robinson.
Lidia Porto: The Wise Lupe
Porto has TV credits dating back to 1993, beginning with a guest spot on Walker, Texas Ranger. She's made appearances on numerous series in recent years, including Jane the Virgin, American Housewife, and Better Things. She was also a series regular on Get Shorty.
Nora Dunn: The Feisty Muriel
The second former Saturday Night Live cast member on this list, Dunn was part of that sketch series more than three decades before Zamata, from 1985 to 1990. She's been seen on many shows, including Sisters, The Nanny, and Entourage. She was most recently seen on a new show this fall, Fox's The Big Leap.
Phil Reeves: The Lovable Marshall
Marshall has credits dating all the way back to 1988, guest-starring on numerous TV shows. He was a regular presence on Girlfriends and My Wife and Kids. He has had a handful of truly memorable recurring roles in recent years on shows like Veep, Parks & Recreation, The Detour, and Black Monday.
Justine Lupe: The Ambitious Emily
Lupe's first recurring role was on Harry's Law, and, since then, she's made numerous guest appearances in addition to starring in Cristela and Mr. Mercedes. Audiences probably know her best as Willa from the uber-popular Succession.
Nicole Byer: The Vibrant Amanda
Byer has appeared in many TV series over the past decade. Girl Code helped put her on the map as a commentator, and she was in the Fox sketch series Party Over Here. She's done a lot of voice work, but most will recognize her as the host of the baking competition show Nailed It! She will also be starring as a series regular in the recently-premiered NBC comedy Grand Crew.Nailed It!
Tell us what's wrong with this post? How could we improve it? :)
Let us improve this post!