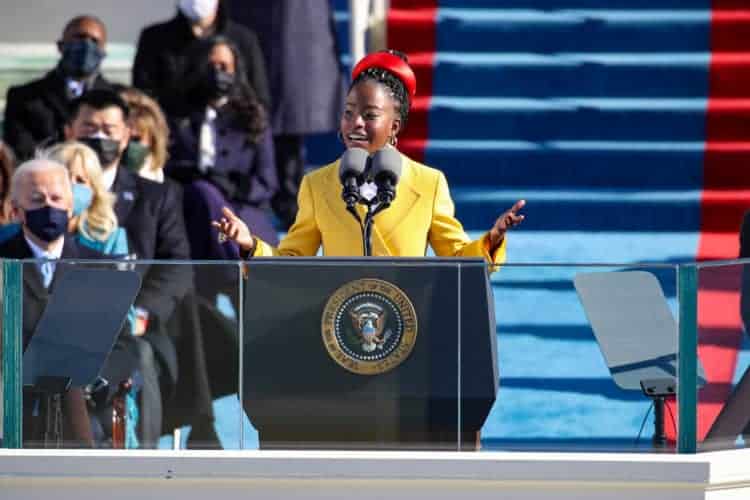 In 2021, Amanda Gorman made headlines across the United States — and maybe even the world — when she was invited to read her poem "The Hill We Climb" at the 2021 presidential inauguration. In doing so, she became the youngest person in the country's history to read a presidential inauguration. Not only was the opportunity a major personal accomplishment for Amanda, but it was also meant to represent the turning over of a new leaf in the country. Although she has been a little low-key since the big event, Amanda is still working on a lot of cool things and we definitely haven't seen the last of her. Keep reading to find out what Amanda Gorman has been up to since the 2021 presidential inauguration.
Amanda's Backstory
Amanda was born and raised in the Los Angeles area. She has a twin sister named Gabrielle as well as another sibling. Amanda and her siblings were raised by a single mother who worked as a teacher and always encouraged Amanda to read and learn new things. At an early age, Amanda was diagnosed with an auditory processing disorder as well as a speech impediment. Instead of letting these things hold her back, she focused on reading and writing and excelled at both things. Amanda excelled through grade school. In high school, she was the Los Angeles Youth Poet Laureate from 2014 to 2015. She was the first person to ever hold the position. Thanks to all of the hard work she put in during high school, she received a scholarship to attend Harvard University. During her college career, she was very active in academic organizations and extracurricular activities. From 2017 to 2018, she was the National Youth Poet Laureate. In 2018, she was also chosen as one of Glamour Magazine's College Women of the Year.
What Has Amanda Been Up To Lately?
After reading her poem at the presidential inauguration, Amanda became an instant star. While some people struggle with suddenly being thrust into the spotlight, Amanda was more than ready. As you might be able to guess, lots of doors starting opening up for Amanda thanks to the inauguration. In February of 2021, she was commissioned to write a poem for the Super Bowl. That same month, she also appeared on the cover of Time Magazine. Amanda also appeared on the May 2021 issue of Vogue Magazine, making her the first poet to do so. Amanda is also still heavily focused on her work as a writer. She is getting ready to release two books: a collection of poems called Call Us What We Carry: Poems and a children's book titled, Change Sings: A Children's Anthem. On top of all of that, Amanda was also signed to the internationally known modeling agency, IMG Models. That wasn't her only venture into the fashion world, however. In September of 2021, she was one of the hosts at the Met Gala. Everything hasn't been good for Amanda since the inauguration, though. In March of 2021, Amanda said that she was racially profiled near her home. In a series of tweets, she explained that she had been followed by a security guard. However, he eventually left her alone when she buzzed herself into the building.
Amanda's Plans For The Future
At this point, I think it's safe to say that Amanda was destined to change the world. That's exactly what she plans to do. Although writing and activism are her main focus at the moment, she eventually hopes to get into politics. According to The Los Angeles Times, Amanda said, "I had a math teacher who said kind of somewhat jokingly because I was a very passionate feisty girl as I am today — 'you should run for president.' I was like, you know what, that tracks. Let's put that on the bulletin board for the future." Amanda added, "it's something that my family takes very seriously because they know when I say something, I mean business, so we all really hold ourselves accountable for the dream." Amanda still has more than a decade to go before she can actually run for president, but she is already doing lots of groundwork. Although there are lots of people who say they want to run for president, we feel completely confident that Amanda is actually going to do it. There are already a lot of people out there who will probably love to vote for Amanda when the time comes. For now, however, she hopes to continue to use her talents to inspire others and make the world a better place.
Tell us what's wrong with this post? How could we improve it? :)
Let us improve this post!