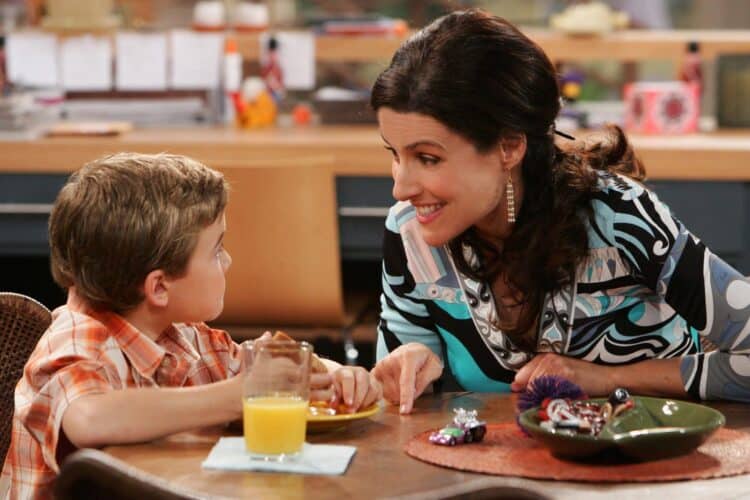 The New Adventures of Old Christine is a television sitcom that aired on CBS from 2006 to 2010. The show revolves around the titular character, a divorced mother who owns a women's gym. Christine is constantly trying to balance her personal and professional life, while also dealing with her ex-husband and his new wife, whom Christine nicknamed "the new Christine." The show was created by Kari Lizer and starred Julia Louis-Dreyfus as Christine. The series ran for five seasons on CBS and aired its final episode in 2010. Although it was never a ratings powerhouse, The New Adventures of Old Christine was generally well-received by critics and earned Louis-Dreyfus several Emmy nominations. Despite its strong support from fans, the show was canceled after five seasons. There are several possible reasons for this decision. First, the show's ratings had begun to decline in its fifth season. Additionally, the show's creator and executive producer, Kari Lizer, left the series after the fourth season. This may have led to creative differences between her and the network executives. Finally, it is possible that the network simply felt that the show had run its course and that it was time to cancel it. Whatever the reasons for its cancellation, The New Adventures of Old Christine remains a beloved sitcom among fans, and its stars have gone on to pursue interesting careers for themselves in the entertainment industry. If you want to learn more about what the cast of The New Adventures of Old Christine has been up to since its cancelation, look no further. Here's an update on the cast members of the canceled CBS sitcom The New Adventures of Old Christine.
Julia Louis-Dreyfus
Julia Louis-Dreyfus starred in The New Adventures of Old Christine as Christine Campbell. Since her starring role in The New Adventures of Old Christine ended in 2010, Julia Louis-Dreyfus has kept herself occupied with a variety of high-profile film and TV projects. In 2013, she lent her voice to the animated film Planes and appeared in the comedy Enough Said. Louis-Dreyfus also returned to television in 2012 with a starring role on Veep. She then went on to star in the series until 2019. In addition to her work on screen, Louis-Dreyfus has also been active off-screen. In 2014, she was inducted into the Television Academy Hall of Fame. In an interview with Interview Magazine, Louis-Dreyfus, a veteran of comedy, shared her insights on whether comedy should "challenge and change," as asked by Stephen Fry. Her response: "A huge laugh is a very worthy thing all by itself, but if there's a huge laugh that also challenges or changes, so much the better. That's why I'm currently working on a limerick that is so powerful it will reduce carbon emissions by 43 percent worldwide. The only thing I need to know is: What rhymes with Nantucket?"
Clark Gregg
Clark Gregg played Christine's ex-husband, Richard Campbell, in the CBS series The New Adventures of Old Christine. After starring in The New Adventures of Old Christine, Clark Gregg became popular for his role as Agent Phil Coulson in the Marvel Cinematic Universe. In addition to appearing in the Avengers movies, he also starred in the television series Agents of S.H.I.E.L.D. In an interview with Entertainment Weekly, Gregg discussed his character's multiple iterations throughout the MCU, saying: "I'm so grateful for just the chance to show up every once in a while to do this stuff. I can't wait to see The Eternals; I can't wait to see Shang-Chi. I just love the way they're expanding [the MCU]. If there's ever a moment when me or my alter ego can be of use and participate in any of that, I would be thrilled but right now I'm just enjoying it as a fan." More recently, Gregg has appeared in the movies Moxie and Being the Ricardos. He is also set to appear as Deputy Sheriff Ketcher in the upcoming series Florida Man. With such a varied career, it's clear that Clark Gregg is a versatile actor who isn't afraid to take on new challenges. Whether he's fighting aliens or playing a small-town sheriff, he always brings his signature charm and wit to every role. He has definitely made it years after his role in The New Adventures of Old Christine.
Hamish Linklater
Hamish Linklater portrayed Matthew Kimble, Christine's live-in brother. After starring in The New Adventures of Old Christine, Hamish Linklater went on to play a variety of roles in film and television. He had a recurring role as Jerry Dantana in The Newsroom, and also appeared in The Crazy Ones with Robin Williams. He also starred in the Netflix horror miniseries Midnight Mass as Father Paul.
Trevor Gagnon
Trevor Gagnon played Christine and Richard's son, Richie, in The New Adventures of Old Christine. Not much is known about what the actor has been up to since leaving the show, and it appears he hasn't been involved much in the entertainment industry after the series' cancelation.
Emily Rutherfurd
Emily Rutherfurd played Liesl Hunter, also nicknamed as "new Christine," in The New Adventures of Old Christine. Emily Rutherfurd has been very active since her days on The New Adventures of Old Christine. She has guest-starred on a number of popular television shows, including The Middle, Veep, Grey's Anatomy, Hot in Cleveland, and Impastor. In addition to her work in television, Rutherfurd has also appeared in a number of films, including Pain & Gain. It seems that there is no role that Rutherfurd can't handle, and she is sure to continue to delight audiences for years to come.
Wanda Sykes
Wanda Sykes played Barbara, Christine's best friend, in The New Adventures of Old Christine. After the show, Sykes has been appearing more on television, including a recurring role on the hit show Black-ish. In addition to her television work, Sykes is also an accomplished author and stand-up comedian. Her most recent stand-up special, entitled Wanda Sykes: Not Normal, debuted on Netflix in May of 2019. With her many talents and her willingness to speak her mind, it is no wonder that Wanda Sykes is one of the most popular comics in the country, and her role in Old Christine definitely uplifted her profile.