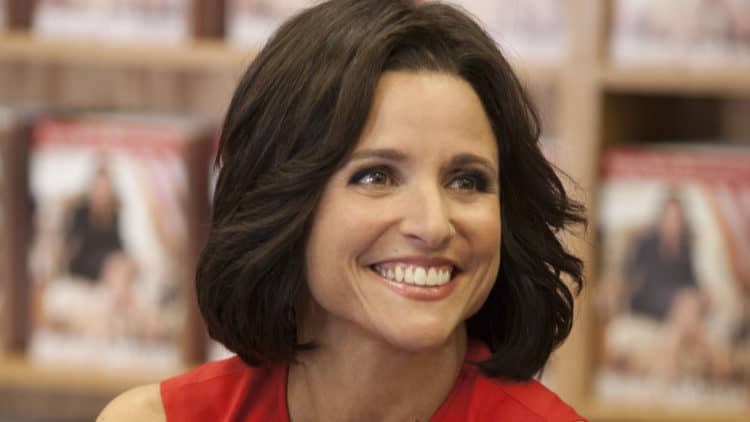 Considered one of the greatest sitcoms to grace television, Veep wrapped up its amazing seven-season run back in 2019. Starring Julia Louis Dreyfus, the show follows Senator Selina Meyer's journey throughout the white house as Vice President and President, with her elite staff following alongside her throughout the way. Veep made audiences laugh, cry, and say every curse word in the book throughout its fantastic run and this list will dive into the best characters of the show. The characters that are exempt are ones who mostly made guest appearances, so while Minna Hakkinen and Cliff had memorable moments during their appearances, neither character qualifies here.
Selina Meyer
The comedic talent of Julia Lous Dreyfus is astounding. The actress made a name for herself as Elaine on Seinfeld and has seemingly gotten better as time went on. However, it's a strong credit to the writing that Selina Meyer is an excellent character. Let's be honest, she's not really fit to be the president of the United States due to her constant messes; However, we follow Selina's journey because she's had strong moments that make her seem like a credible leader and her antics are downright hilarious. Selina's villainous turn in season seven brought many laughs and some sadness, especially when it comes to Gary Walsh. The evolution of her character has provided many thrills throughout the seasons and though Ms. Meyer is gone, she surely won't be forgotten.
Gary Walsh
The right-hand bag man for Selina Meyer has also been a great comedic foil. It helps that the talented Tony Hale was playing the role; however, Gary has provided the show with plenty of riotous moments. The running gag surrounding Gary's sexuality was also fun, but his big moment standing up to Selina as she tried to berate him for the expensive dinner party showcased that Gary was more valuable to the President and the world of Veep. Gary's jealously of Selina's previous boyfriends and his clear love for the senator also made for some fun and awkward moments. Gary taking the heat for the financial improprieties of the Meyer Fund was heartbreaking, though the end result of him being a forgiving man and showing up to Selina's funeral was touching.
Amy Brookheimer
Amy is often the smartest woman in the room; however, the running gag of Selina never showing the political staffer the respect that she deserves also provided a fresh set of jokes. What makes Amy great is her interactions with humans in general, namely her boyfriends that she clearly doesn't care about. Amy often feels like a robot, stoic in terms of human connection, but her constant annoyance every time Karen was in the room, her flirtatious relationship with Dan, and Amy putting Selina in her place on several occasions provided some of the show's greatest scenes. Like Julia Louis Dreyfus and Tony Hale, Anna Chlumsky completely owns the role and it's a shame that she never won an Emmy the eleven times that she was nominated.
Jonah Ryan
A thorn in everyone's side, Jonah Ryan's strange journey to almost becoming the president of the United States was a fun watch that pushed the character to extreme heights. What the writers of Veep do so well is that they make these characters seem incompetent; however, it's not in a way that you're scratching your head wondering how the hell they even scored an interview with the government services. Jonah is pretty much a dumb brute on the other hand, but his rise within the ranks in the last two seasons was logic thanks to clear set of lucky circumstances. Selina finding different ways to tell Jonah to f**k off, his little rivalry with Dan Egan, and his fun banter with Uncle Jeff provided great gags throughout the seasons. Though making Jonah a victim of sexual assault in the hands of Teddy was a bold move that translated to awkward laughs and a good arc for Ryan before his decent into idiocracy.
Richard Splett
Since being introduced in season three, Richard Splett has been consistently one of the best supporting characters in the television series. In a world of insulting and backstabbing, Splett seems unfazed by the nature of it and the characters sunny disposition is a fun contrast to everyone else on the roster. To see Splett go from Selina's lowly assistant, to one of Jonah and Selina's primary members of their campaigns to President of the United States was a fun ride. Selina's sudden appreciation for Richard, his confusion how to masturbate, and his constant mistakes made him an endearing and fun-loving character in a world full of douchebags.
Tell us what's wrong with this post? How could we improve it? :)
Let us improve this post!