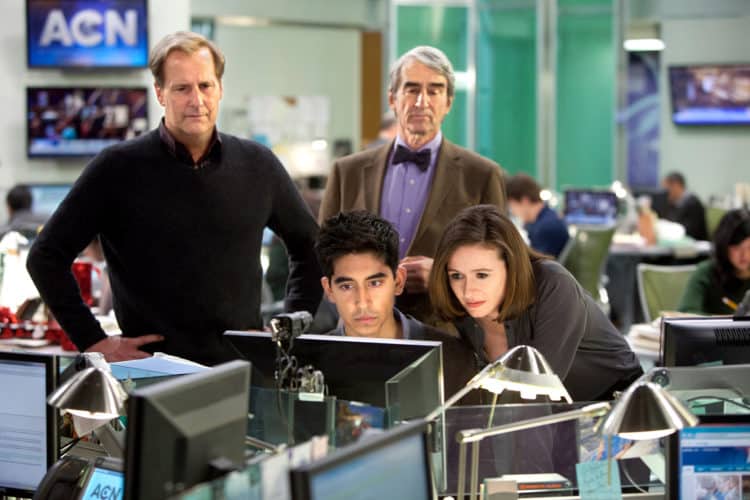 The Newsroom, which aired from 2012 to 2014, portrayed the daily hectic lives of people who worked in a newsroom as they hustled to deliver the news every night. The show was developed by Aaron Sorkin, who also created the political drama The West Wing. In an interview with The Wrap, Joe Peyronnin, the former president of Fox News, talked about the legacy of the show, saying: "It was terrific television, rife with drama, conflict and controversy. The characters were brimming with emotion, passion and righteousness. The scripts were filled with smart, interesting and intense dialog about immensely important issues." The Newsroom built the careers of many actors and revitalized a few on-screen veterans. What has happened to its cast since the show's finale in 2014.
Jeff Daniels
Jeff Daniels played news anchor Will McAvoy on The Newsroom, the head honcho of ACN's News Night and the main protagonist of the series. Outside of Newsroom, most people know Jeff Daniels as the other half of the Dumb and Dumber cast and its sequel, Dumb and Dumber To. However, he's actually had a lengthy career playing roles in dramatic movies. He had a starring role in The Squid and the Whale, appearing alongside Laura Linney, Jesse Eisenberg, and Anna Paquin. He also played a role in Goodnight, and Good Luck, which starred George Clooney. After Daniels' stint on Newsroom, he appeared in high-profile films like Steve Jobs, The Martian, and The Catcher Was A Spy. His most recent film was 2020's Adam, starring Aaron Paul and Tom Berenger. On TV, he appeared in Godless, The Looming Tower, and The Comey Rule, in which he portrayed former FBI director James Comey. On Newsroom, Jeff Daniels' Will McAvoy was most popularly known for a three-minute monologue on why America is not the greatest country in the world. The speech, according to him, saved his career and helped make Newsroom one of the most popular TV shows during the time. "That was the speech I had been waiting 35 years to do," he said to GQ, according to The Hollywood Reporter. "You have to hit a home run with it. It was shot on day three of an 18-day shoot for the pilot. There was no guarantee we had a series. People bigger than Aaron Sorkin had gotten turned down by HBO. This was a key day because not only are we going to find out do we have a Will McAvoy, but do we have a show. Because this is placed in the first five minutes of the first episode when America is still sitting there with the remote deciding whether they want to stay with this or not. So we have to throw a knockout punch to them in the first five to 10 minutes."
Emily Mortimer
Emily Mortimer played Mackenzie McHale on The Newsroom, the producer of the fictional news program News Night. In an interview with The Hollywood Reporter, Mortimer said that her journey towards snagging the role started with her being stood up for lunch by the show's creator, Aaron Sorkin. "I was told that Aaron Sorkin was going to be in New York, and he wanted to have lunch with me. Well, that sounds great. I'd like to have lunch with Aaron Sorkin. So I waited for this date to be made, and it never was. It's a bit like when the handsome boy at the party gives you a look and then never looks at you again — you're a little bit more intrigued. And so I started ringing my agent and managed to weasel a script of the Newsroom pilot from them and was totally engrossed. I became uncharacteristically, fiendishly ambitious about trying to get an audition. It took a lot of trying, but I got the part — but still haven't had lunch with him." Mortimer has since appeared in multiple TV shows and movies since her days on Newsroom, having appeared in the sitcom Doll & Em (which she also co-created) and The Pursuit of Love. On the big screen, she's played lead roles in The Book Shop, Mary Poppins Returns, and Good Posture. In 2020, she appeared in a horror film, Relic, alongside Robyn Nevin and Bella Heathcote.
John Gallagher Jr.
John Gallagher Jr. played senior producer Jim Harper on The Newsroom. Since appearing in the show, he's been busy with roles both on TV and film. On the big screen, he's played roles in 10 Cloverfield Lane, The Belko Experiment, and American Woman. He is set to appear in an upcoming film titled ISS, which is currently in post-production. On TV, he's appeared in Olive Kitteridge, High Maintenance, Westworld, and Love Life.
Thomas Sadoski
Thomas Sadoski played producer Don Keefer on The Newsroom. After Newsroom, he became a series regular on Life in Pieces and Tommy. He also appeared in The Slap, costarring Peter Sarsgaard and Thandie Newton. On film, he's most known for his role in John Wick and John Wick: Chapter 2, playing Officer Jimmy.
Dev Patel
Multi-awarded actor Dev Patel played blog ghostwriter Neal Sampat on The Newsroom. Prior to joining the show, Dev Patel was most known for appearing in Slumdog Millionaire, a role for which he was critically acclaimed. After Newsroom, he's appeared in The Second Best Exotic Marigold Hotel, Hotel Mumbai, and The Green Knight. This year, he is set to make his directorial debut with the movie Monkey Man, starring him and Sharlto Copley.
Alison Pill
A former child actress, Alison Pill portrayed Maggie Jordan on The Newsroom, an associate producer who eventually rises up the ranks. Since The Newsroom, she's appeared in the film Cooties, alongside Elijah Wood and Rainn Wilson, as well as Hail, Cesear! She was also in the movie Vice, portraying Mary Cheney, the daughter of former Vice President Dick Cheney. Currently, she plays a role in Star Trek: Picard.
Olivia Munn
Olivia Munn played Sloan Sabbith on The Newsroom, News Night's resident economist and economics correspondent. Olivia Munn has since appeared in major blockbuster films since Newsroom, including X-Men: Apocalypse and The Predator. On TV she appeared as a lead character in Six, which was canceled after two seasons. Munn currently provides voice in the adult animated series Hit-Monkey.
Sam Waterston
Sam Waterston was already Hollywood royalty prior to joining The Newsroom, having appeared in classic films like The Great Gatsby, Hopscotch, and The Killing Fields. Waterston played Charlie Skinner on The Newsroom, the president of the station where Will McAvoy's News Night airs. Sam Waterston currently stars in Grace and Frankie, costarring Jane Fonda, who also appeared in The Newsroom in a recurring role. He also had a role in Godless, where his former castmate Jeff Daniels played the antagonist. Waterston's last films were Anesthesia, Miss Sloane, and On The Basis of Sex, playing lawyer Erwin Griswold.
Tell us what's wrong with this post? How could we improve it? :)
Let us improve this post!