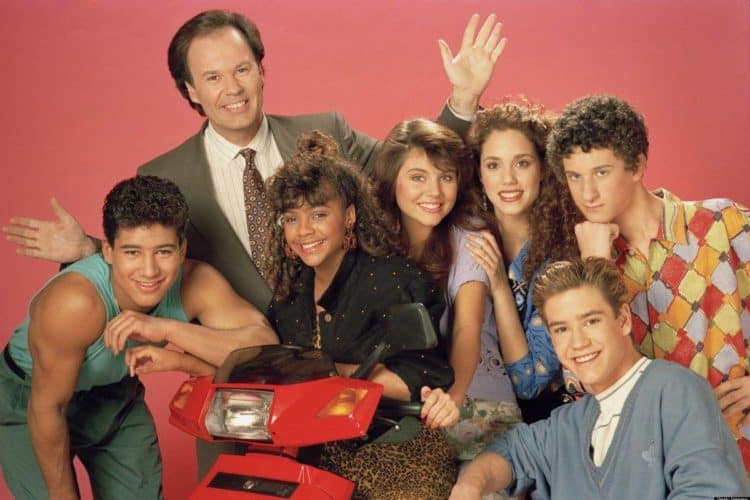 The new Saved by the Bell revival series isn't going to be a return to the same old, same old as it's going to be highlighting the lives of several new students, but it does sound as though the characters are going to be returning to type as planned. Mark-Paul Gosselaar, who plays Zack Morris from the popular show, will still be just as trashy as he was in the original as it's been confirmed by Jeremy Dick of MovieWeb and many others. Anyone that's seen the original show knows too well that Zack was one of the cool kids and along with his pal and rival Slater was always bound to be kind of a jerk since that was his whole persona and it was what worked. Despite that a lot of fans idolized him in a big way and thought that despite being such a tool, Zack was still one of the kings of Bayside and deserved his reputation. Now though, looking back on the show after so long, it's very easy to see with an adult perspective that Zack is the kind of kid that would need some serious disciplining, even back in the 90s. His manipulative and very suspect ways were the type of material that made the character who he was, and yet for one reason or another he was still a popular character and, with his smile and dubious charm, was allowed to be among the most popular characters on TV.
It's a role that Mark knows made him as popular as he is today and yet it's also a role that he didn't follow through with once the show was over and done with given that his fame kind of went away for a while, as it did for the rest of the cast. In fact if anyone's really paying attention the entire main core of the cast didn't really do much once the series was entirely done with, and even reunions weren't exactly a fun time all around since once they grew up the group really grew apart. In fact it's already been established that Lark Voorhies isn't being brought back, apparently, while Dustin Diamond has been doing everything but getting down on his knees to beg for a chance to come back. The careers of each individual have been kind of hit and miss in the last several years even though they've all managed to do something here and there with some moderate to definite success among them. In fact the only really problematic individual has been Diamond since his tell-all book that he blames on a ghostwriter with an agenda kind of burned the bridges that he had with his fellow costars.
Getting back to Zack however, it's been made apparent that he'll still be the kind of individual you might want to think is your friend when in reality he's just as liable to stab you in the front while smiling to you as he is to stab you in the back after smiling at you. It's amazing that such a character has been so popular for so long given the fact that in real life people can't stand others that are this way. If anyone's going to be honest though we stand them because we feel that they won't be that way with us, the people that want to be their friends, even though the truth is that said individuals are bound to do this to anyone when it gains them a desired advantage in life. The fact is that Zack will be the governor of California in this upcoming series and will be every bit the jerk that he was in high school, which is highly possible if anyone's attended their high school reunions since there are always those that have changed immensely and those that haven't changed at all. A lot of times though the people who were jerks in high school end up facing a life lesson that straightens them out in a big way and makes them more compassionate and far more capable of empathizing with their fellow human beings. That doesn't appear to be the case with Zack, as it sounds like he'll be the same charming, smirking, narcissistic individual that we grew so used to the first time around. Gwen Ihnat of AV Club has more to say on this. And with the authority of governor in front of his name he's bound to be even more insufferable, though it's still a wonder what capacity we're going to see the other cast members in since whether they've changed or not will have some bearing on the story as well.
The hope of course is that the story will remain fixated on the new batch of actors coming in and not shift to those that had their time in the spotlight, but we'll have to wait and see.