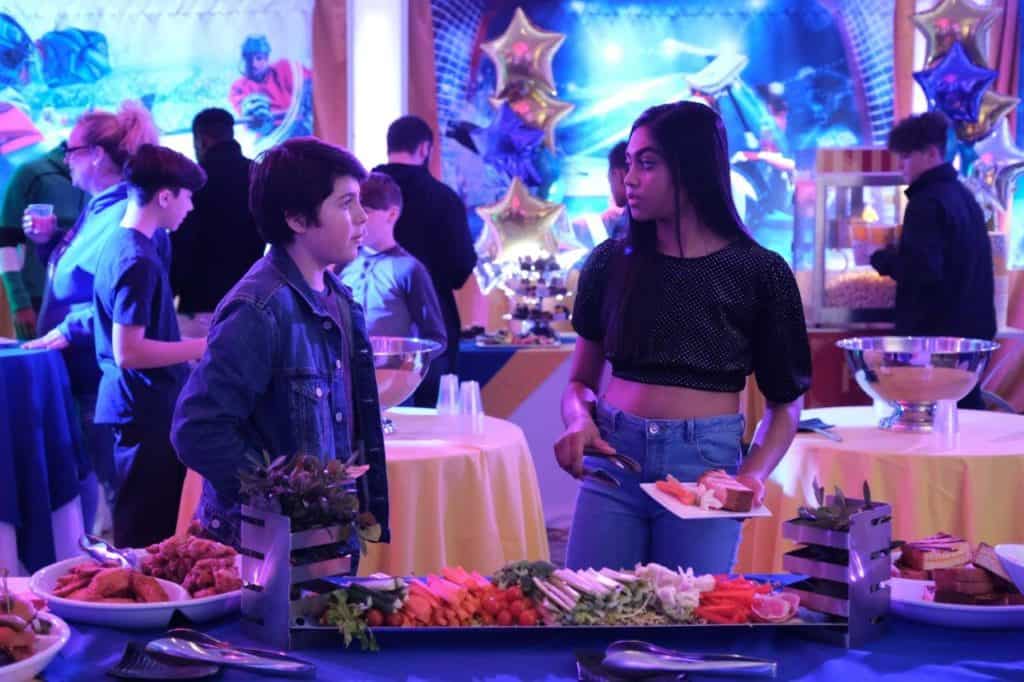 Just when one might think that the Don't Bothers have it all together they come up with another issue in their ranks, romance. Well, that's not the ONLY issue, but it's one that the players deal with as Sofi and Evan find themselves at odds when Evan asks Sofi to attend the party at the state tournament with him, and Sofi decides that she'll spend it with her female teammates instead. But what's funny is that Maya immediately finds herself a cute boy to hang out with, leaving Lauren on her own as Sofi also finds another person to hang out with. In the meantime, the announcer, Mary Joe, apparently mistakes Evan's words as an invitation to attend the party with him, accepting before he can take it back. Sadly, this upsets Nick, who has a crush on Mary Joe and causes a brief rift between Nick and Evan.
The rest of the team is there for support but is otherwise kept occupied with the prospect of being at the state tournament, though Gordon's chances to be involved once again are nearly derailed when it appeared that Coach T has a chance to show that he has at least a little humanity and decency after sitting to speak with Bombay for a while. The sad part of this is that Coach T shows once again that he's a snake and not to be trusted as he takes the story that Bombay has told him directly to those in charge of the tournament, nearly derailing Bombay's shot at coaching, as Alex decides to hang back after Evan speaks to her on behalf of the team. She's not entirely out of touch though as Evan calls her hurriedly to come to Bombay's defense, reminding the folks in charge of a loophole in the rules that allows Bombay to remain and the Don't Bothers to keep their shot at the tournament.
One would easily think that Coach T is getting a little worried about the Don't Bothers since not only are they getting better, but two of them used to be Ducks, and know very well how he coaches and how the team plays. But trying to get a coach kicked out of a kid's hockey tournament for something the coach did a decade or more ago reeks of desperation and shows that Coach T is beyond petty since those that are threatened by others tend to take the most extreme measures when it comes to securing their chance of success. To be quite honest the entire episode felt like a return to middle school with the fly-by-night romances that lasted a matter of hours and could split, mend, split and then mend again in a matter of minutes at times.
It might be an exaggeration, but much of what went on in this episode was enough to make a person recall just what it was like to be a young kid again and to feel a certain way about someone while not knowing how they felt and vice versa. One upside of the episode was that the audience did get to learn a little more about Stephanie and her less than perfect life, as she admitted that she and her husband were getting a divorce and that she felt entirely overwhelmed. Alex, who knew that feeling far too well, and had gone into the office to spend her time catching up on work, happened to be within earshot when Stephanie and her soon to be ex were on the phone, and wouldn't you know, the two women bonded over a few bottles of wine, some stolen cheese, and floor hockey of all things.
Every obstacle that is put in front of the characters on this show has been either knocked down, moved around, or hurdled at some point, and a couple of the hardest are still to come, since not only do the Don't Bothers have to compete at the state tournament, there's also the idea of whether there will be another season. The hope is that a season 2 will be approved since the plan appears to be to have Joshua Jackson return for at least an episode or so since several of the original Ducks managed to pop in during this season to remind people of the true spirit of the Ducks and why the team managed to stick around as long as they did. In the meantime, the Don't Bothers are going to have their hands full and the audience is likely going to be wondering if this will be the same Cinderella story that the original Ducks team went through, or if it's going to be a learning experience that will see the Don't Bothers come together and form an even stronger team for the following season. Either way feels like it would work at this point.