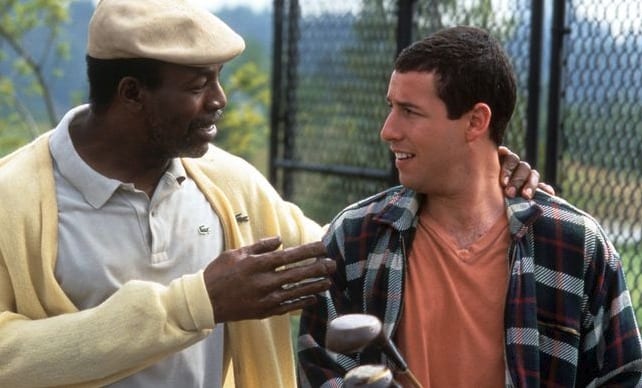 Happy Gilmore made us look at golf in a different way despite the fact that the sport hasn't changed since it came out. The movie was one that allowed a bit of hilarity to finally enter a sport where absolute quiet was considered to be the norm and a lot of people seemed on the verge of falling asleep while waiting for the golfers to take their turns. The cast made the movie just as much as the subject, since without them it might have been another Caddyshack but without the humor. Happy was the kind of guy that would tear your head off one moment and then apologize the next. But the fact that he was so good at golf thanks to his insanely powerful slapshot was something that seemed like only a byproduct of his character. The real fun was watching him interact with the other golfers on the course.
So what happened to the cast?
Frances Bay – Grandma
Frances actually started her career as a radio actress so you can think on how far she goes back. She was also in the film In the Mouth of Madness with Sam Neil two years before starring in Happy Gilmore. A car accident resulted in her leg being amputated below the knee in 2002, and she passed away in 2011 due to complications from pneumonia. She was one of the best characters in the film simply because she was the perfect grandma.
Allen Covert – Otto
Allen has starred in a number of Sandler films including one of his first, Going Overboard, which was as low-budget as they come. But he was also in his own film, Grandma's Boy, which was absolutely hilarious, and has stuck by Sandler for quite a while, taking small and supporting roles in his films, such as Big Daddy, Mr. Deeds, and others.
Carl Weathers – Chubbs Petersen
Carl Weathers has had a great career to date since his time in Predator and the Rocky movies, well, until Apollo's death in part 4. He was a pro football player at one point and today he's still active as he's been in Sandy Wexler and has even done a few voice roles throughout his career. And if you're wondering he did get to meet with Michael B. Jordan when it came to the making of Creed, he just couldn't be in it obviously.
Chris McDonald – Shooter McGavin
Christopher has actually been the perfect bad guy a lot of times but he's also been a decent good guy in films and TV as well. The role of Shooter McGavin couldn't have gone to anyone else that might have been as convincing though since he has the perfect mannerisms and attitude for the character and brought him to life perfectly. To this date he's still busy in both TV and film, sometimes with multiple projects per year.
Julie Bowen – Virgina Venit
Julie has starred with a different comedians and even been the love interest of a few since she was in Joe Somebody with Tim Allen and Horrible Bosses with Charlie Day, Jason Sudeikis, and Jason Bateman. Her biggest ongoing role though has been Claire Dunphy on Modern Family. She's actually managed to catch some heat for this character but has also been highly lauded since while Claire is kind of neurotic she's still a solid character.
Adam Sandler – Happy Gilmore
Sandler has been a busy man over the years. While not everything he's done has gotten the greatest amount of attention or even been particularly liked he's kept doing it. Everything from Eight Crazy Nights to Sandy Wexler to The Do-Over and even his cameos here and there have been scrutinized for months after their release as though people get some special pleasure in deciding just whether he's worth watching or not. One thing you can say about him is that for a long time he did play the man-child that needed to grow up in most of his movies, but he has matured as he's gotten older.
That act that was perfected in Billy Madison has softened and changed throughout the years since it's become apparent that he can't get by on it forever, and has finally adapted to what the people want, sometimes. Movies like Jack and Jill and Blended and Just Go With It aren't great examples of him growing up but they're attempts at the very least. That being said, Happy Gilmore was the right movie at the right time because it allowed him to still be wild and crazy and yet show a side of himself that was growing up just a little bit, not too much. The rest of the cast made this movie even better since they offered a very needed balance to Sandler's antics and vital characters that were necessary to keep him on an even keel. But still, there were some classic moments in the film, like this one:
Tell us what's wrong with this post? How could we improve it? :)
Let us improve this post!