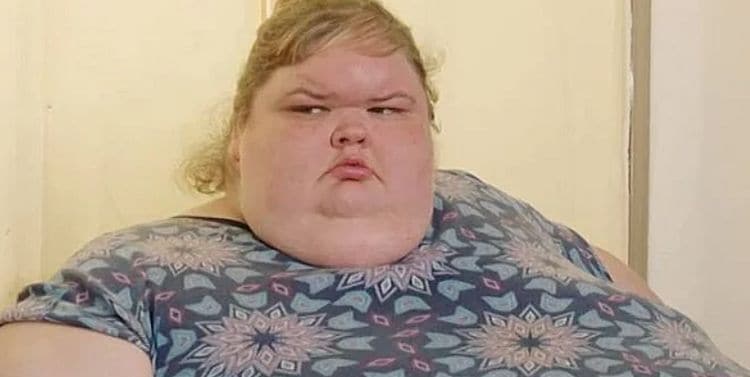 When 1000-lb Sisters debuted on TLC at the beginning of 2020, it quickly became one of those shows that people couldn't get enough of. The series follows the lives of sisters Tammy and Amy Slaton, who together weigh more than 1,000 pounds. On top of dealing with everyday issues, their size has created some serious challenges in their lives. During the show, however, Amy showed an interest in losing weight and living a healthier lifestyle. Tammy, however, seemed to struggle with making healthier choices. This caused a bit of a rift between the sisters and caused many viewers to feel concerned for Tammy. Since the end of season two, lots of viewers have wondered what's been going on with Tammy Slaton. If you're one of those people, you've come to the right place. Keep reading to find out what happened to Tammy Slaton from 1000-lb Sisters.
Tammy's Story
Tammy was born and raised in Kentucky where she currently resides. There isn't a lot of information about her upbringing, but we do know that her father passed away when she was young. Both she and her sister appear to have a very rocky relationship with their mother. Tammy and her sister were primarily raised by their grandmother, and her death had a serious impact on their young lives. In fact, they both started to turn to food to cope with the loss. Unfortunately, years of unhealthy eating resulted in them packing on some serious weight. Over time, it became harder and harder to shed the pounds. Their weight eventually reached a point where it started to impact their overall health.
Tammy's weight got to more than 600 pounds and it became difficult for her to complete even the simplest tasks. She had to rely on Amy for a lot of things which only added to the tension in their relationship. Tammy's size also caused her to develop a fat socket on her forehead which caught viewers' attention during the show. In the early 2010s, the sisters gained popularity online thanks to their YouTube channel. Their success on the platform is what ultimately led to them getting the opportunity to have their own show. When the series started, both women expressed an interest in undergoing weight loss surgery but Tammy quickly fell back on her old habits. While Amy was able to lose enough weight to qualify for surgery, Tammy actually started gaining weight.
What Is Tammy Up To Now?
Season two of 1000-lb Sisters was full of all of the drama that reality TV fans love. Unfortunately for Tammy, however, that drama wasn't always a good thing for her. Since the end of season two, it appears that Tammy has had a few things going on. In July of 2021, she was banned from TikTok although it's not entirely clear why. She also wiped all of the content from her Instagram account, but started posting again shortly after. On top of that, it looks like Tammy has gained even more weight. She has received criticism on several of her Instagram posts from people who feel that she should be trying harder to lose weight.
In almost all of the photos, Tammy has oxygen hoses in her nose which are evidence that her health hasn't improved. It doesn't look like Tammy has responded to any of the negative comments, though. Other than a few posts on social media, though, it looks like Tammy has been staying pretty lowkey. On the bright side, does have an account on Cameo where she records and sells personalized video shout outs for her fans. At the moment, she is charging $33 for personal videos. However, it's important to note that an article from CheatSheet reported that Tammy has been accused of taking money for Cameos and never actually delivering the videos.
What's Next For Tammy?
Even though Tammy has been pretty quiet lately, we're probably going to be hearing from her pretty soon. All of the 1000-lb Sisters fans out there will be happy to know that the show has officially been renewed for a third season. Unfortunately, the premiere date hasn't been released yet but at this point, it probably won't be airing until 2022. In an old TikTok video, Tammy revealed that it can take about a year for them to film an entire season, so fans are just going to have to be patient. In the meantime, there are a lot of people out there who sincerely hope that Tammy is able to get her health on track. If not, the consequences could be deadly.
Tell us what's wrong with this post? How could we improve it? :)
Let us improve this post!