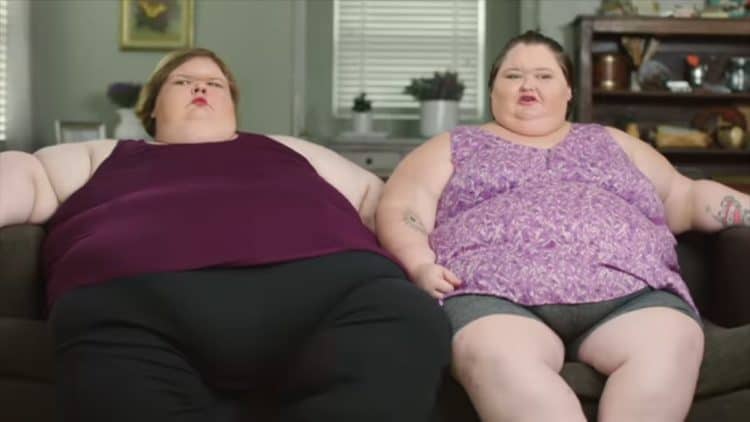 Sisters Amy and Tammy Slaton found themselves thrust into the spotlight in 2020 when they became the stars of their very own reality TV show, 1,000-lb Sisters. The show follows the sisters, who are both severely overweight, as they face the challenges of daily life. Although they both do their best to maintain positive outlooks, things aren't always easy for Amy and Tammy. Still, fans have fallen in love with their story and they have becoming two of the most popular figures on TLC. Now in its second season, viewers are excited to see what life has in store for the sisters. Continue reading for 10 things you didn't know about 1000-lb Sisters.
1. The Sisters Don't Actually Weight 1,000 Pounds
Due to the title of the show, there may be some confusion about how much the Slaton sisters weigh. Neither one of the sisters weighs 1,000 pounds individually. However, together they weight just over 1,000 pounds – or at least they did. When the show started, Tammy weighed 605 pounds and Amy weighed 406.
2. The Bulge On Tammy's Forehead Is Due To Her Weight
Anyone who has seen 1000-lb Sisters probably remembers the unusual lump on Tammy's forehead. Lots of people were curious what caused the bump, and they may be surprised to know that it's simply a result of her weight. The lump is actually called a fat socket.
3. The Sisters Want To Lose Weight
The sisters' weight may be the focal point of the show, but they are working to change that. Contrary to popular belief, the sisters aren't happy about their size. They are both working hard to lose weight and they have each made significant progress towards their goals and they plan on losing even more weight.
4. The Sisters Got Their Start On YouTube
1000-lb Sisters may be their first time on TV, but it's not the Slaton sisters' first time being in front of a camera. The sisters actually got their start on Amy's YouTube channel where they gained popularity online for posting a variety of videos. In 2014, the sisters went viral after posting a video of them playing the Chubby Bunny game. The video has since gotten more than two million views.
5. The Sisters Have Dealt With Depression
Not only have the sisters dealt with lots of physical health challenges because of their weight, but it has impacted their mental health as well. They have both struggled with anxiety and depression, particularly Tammy who admitted that she once attempted suicide.
6. Amy Didn't Start Gaining Weight Until Experiencing A Tragic Loss
For the first several years of her life, weight wasn't a problem for Amy. During an interview with with the Courier Journal, she shared that she didn't start gaining weight until she was about 10-years-old after her grandmother passed away. The loss sent Amy into a spiral that resulted in her over eating.
7. The Show Has Strengthened The Sisters' Relationship
Being on a reality TV show can be stressful experience. As a result, lots of people have had major fallings out with people close to them after doing a reality show together. Fortunately for the Slaton sisters that hasn't been the case for them. While talking to the Courier Journal Amy shared that the show has actually brought the sisters closer.
8. The Sisters Hope The Show Will Inspire Others
There are lots of people who find the 1000-lb Sisters to be funny, but they didn't agree to do the show to become a laughing stock. Instead, they hope that their story will help inspire other people who may be struggling with weight or other things. If there's anyone who knows about working to overcome the obstacles of losing weight, it's Amy and Tammy. So far, there are a lot of people who genuinely do seem to be inspired by the sisters' journey.
9. The Sisters Have A Strained Relationship With Their Mom
One of the reasons why Amy and Tammy are so close is because they've always had to rely on each other. When they were growing up, their mom spent a lot of time at work and they were primarily raised by their grandmother. After her death they were forced to rely on each other. Their relationship with their mother continues to be a little strained, but they are working to improve it.
10. They're Still Active On YouTube
Amy and Tammy may be reality stars now, but that doesn't mean they've turned their back on their roots. They're still very active on YouTube and have been uploading new content on a regular basis. At the moment, Amy's channel has 235, subscribers and more than than 37 million views.
Tell us what's wrong with this post? How could we improve it? :)
Let us improve this post!