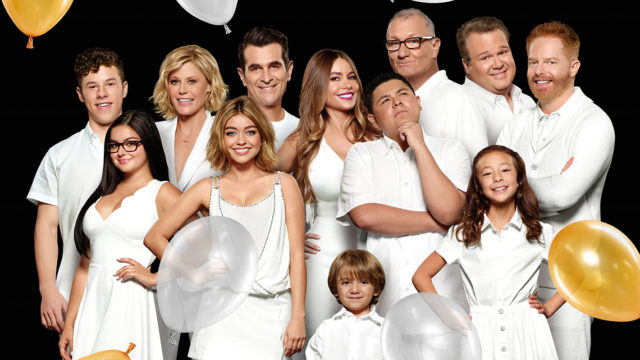 It's been one of the most successful, long-running shows for a while now and has managed to get the attention of millions of viewers, but Modern Family has still harbored its own secrets behind the scenes. While it features some of the most well-known and liked actors from movies and TV shows the popular sitcom has had its share of issues and controversies behind the scenes that most people don't know about unless they've taken the time to read.
The controversies aren't exactly that bad, but they're noticeable so of course people want to know about them.
10. Ariel Winter had serious family issues.
She had herself emancipated when she was 17 due to an abusive relationship with her parents. Once she managed to get away from them her life became much better.
9. Julie Bowen has a serious dieting habit.
She would only eat one meal a day at times and would work out obsessively on the set. People were starting to get worried about how thin she was getting.
8. Ariel had a reduction surgery.
When she hit puberty it was pretty obvious because it showed quite a bit. She was uncomfortable with the attention being given to her chest and had back problems as well, so she opted for a reduction.
7. Lilly isn't the original Lilly.
The twins that were originally cast as Lilly were very hard to work with and as a result they were switched out with the current version of Lilly.
6. The cast stuck together when negotiating a raise in salary.
They actually boycotted the table reads in order to renegotiate their contracts since the show was doing so well. The kids did this as well, and thankfully as a group they stood united and didn't budge until their salaries were bumped up. Say what you want about them getting paid but at least they showed some unity.
5. Sofia Vergara dyes her hair for the show.
If you can believe it she's a natural blonde despite being of Colombian heritage, which should make it pretty close to impossible.
4. Stella got replaced.
Apparently the dog had an agent and that agent quit on her, so she got switched out for another French Bulldog and people just barely noticed.
3. Nolan Gould is a literal genius.
Despite playing the dimwitted Luke, Nolan graduated high school at the age of 13 and is an actual member of MENSA. Not bad for a kid that plays such a dullard.
2. Sarah Hyland had boyfriend troubles.
It would seem that Hyland's boyfriend, who played in High School Musical 3, was highly abusive and had no trouble showing it. She eventually had to get a restraining order against him.
1. Lilly's adoption wasn't likely all that legal.
At the time the show first aired Cam and Mitchell's adoption status was not legal as homosexuals were not allowed to adopt, and in Vietnam it seems far less likely. So honestly it would have had to have been a black market deal, which you know Mitchell would be freaking out about. Cam would too but it would take longer.
So the controversies weren't so bad, especially since they didn't involve the cast members sniping at each other.