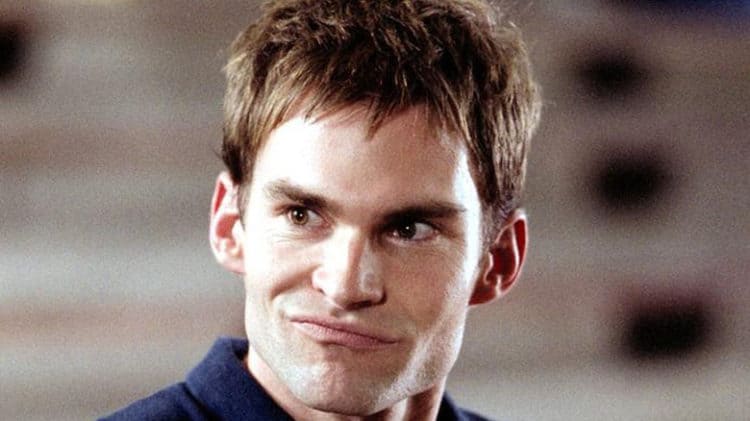 During the late 1990s and early 2000s, Seann William Scott made a huge name for himself as one of the stars of the American Pie film franchise. His character, Steve Stifler, is arguably one of the most memorable of the era and he has carved out a special place in pop culture history. Throughout the mid-2000s, Seann continued to appear in some pretty popular comedies, but by the time the 2010s rolled around he had started to fade from the spotlight. In the years since he played Stifler, lots of people have wondered what Seann is up to. The good news is that he's still around and you'll probably be seeing him much sooner than you think. Keep reading to find out what happened to Seann William Scott.
Seann's Acting Journey
Seann was born and raised in a small city in Minnesota called Cottage Grove. As you can probably imagine, it's not the kind of place that comes to mind when people think of the entertainment industry. Still, however, his experiences there helped inspire him to get into acting. He eventually decided to move to Los Angeles to give himself a shot at breaking into the industry. Like many other actors, thinks weren't easy for him. He had to work odd jobs to support himself between gigs. However, within just a few years of being in Los Angeles, Seann was cast in American Pie which proved to be a massive break for him. Seann also reprised the role in the sequels.
Unfortunately, though, even though Stifler was an iconic moment for his career, it ultimately made it harder for him to be cast in other projects. Seann told The Star Tribune, "I didn't think Martin Scorsese was going to cast me in his next movie. I understood why I wasn't getting cast for other things. I would have been a distraction". He continued, "I kind of pigeonholed myself, but I felt really lucky to get the chance to make people laugh." Despite feeling like Stifler essentially led to him being typecast, Seann has nothing but positive feelings about the role. That said, he hopes that one day he will be known for more than just playing Stifler. Being typecast isn't the only thing that has held Seann back, though. Seann has also struggled with some personal issues. In 2011, he checked himself into rehab although the reason was never made clear. However, these types of things can cause producers to lose interest in working with actors.
Where Is Seann Now?
Stifler continues to be Seann's most well-known role, but he has still managed to work pretty consistently over the years. Between the big screen and small screen, he has managed to find a good amount of opportunity. Chances are you've seen him in at least one thing outside of American Pie. Some of his more recent work includes the TV series Lethal Weapon in which he played Wesley Cole from 2018 to 2019. Seann's latest role is in an upcoming series on Fox called Welcome to Flatch. The show will give him an opportunity to continue to make people laugh, but it will also be somewhat of a departure from playing Stifler. According to the show's IMDB page, Welcome to Flatch is about a "A documentary crew, who go to a small town to study young adults and their current concerns.
Their focus is the daily lives of cousins Kelly and Shrub Mallet and their idiosyncratic surroundings." A premiere date for the series has not yet been released. In addition to his live-action work, Seann has also done a good amount of voice acting over the years. He is the voice of the character Crash in the Ice Age franchise. Seann has also made a couple of video game appearances. Seann has always been a pretty private person, so there isn't much known about his life outside of his career. He doesn't make many public appearances or do many interviews. On top of that, he doesn't have any verified social media profiles. One thing we do know, however, is that he has been married to Olivia Korenberg since 2019. From what we can tell, he doesn't have any children.
What's Next For Seann?
At the moment, Seann doesn't appear to have any projects in the works, but we hope that we'll be seeing more of him in the years to come. Hopefully, he'll get the chance to truly show his range as an actor and he'll get another opportunity as big as the one he had with American Pie.